Sendiio 3.0 Review – The Best Autoresponder for Email Marketing and Affiliate Marketers
Sendiio 3.0 Review – What is Sendiio?
Sendiio 3.0 is the latest version of the revolutionary autoresponder that combines email, Twitter, and Facebook messenger marketing.
It is the first and only autoresponder that integrates real artificial intelligence, allowing users to take full advantage of the power of email in their marketing campaigns, making it the best autoresponder for affiliate marketing.
Sendiio 3.0
PRICE

FEATURES

QUALITY

SUPPORT

EASY TO USE

BONUS
SENDIIO 3.0
Sendiio is an online email marketing software that helps you to create and send email campaigns, manage your contacts, and track the performance of your emails.
You can create:
Unlimited Email lists
Import unlimited email contacts
Create unlimited option forms
Create unlimited follow-up emails
Unlimited Broadcasts campaigns
Send unlimited emails by connecting your SMTP or Sendiio SMTP IPs
Easy integration with the premium SMTP providers (I use MailJet)
Stats and analytics for your broadcast and emails
Resend new email to non-openers a few hours later
With Sendiio, you can easily create and automate personalized emails for your subscribers, track and analyze their performance, set up triggered messages, and more.
The new features include advanced segmentation capabilities to target specific audiences with relevant content, improved user experience with a redesigned interface, and enhanced automation capabilities for increased efficiency.
Sendiio 3.0 also provides a comprehensive suite of analytics tools to help you monitor your progress and make campaign decisions. With its robust feature set and powerful analytics tools, Sendiio makes reaching out to your customers easier than ever with effective email marketing campaigns that will drive sales and engagement.
Sendiio 3.0 – How does the platform work?
Sendiio allows users to create and manage their email, text, Twitter, and Facebook campaigns from one central dashboard. It features a variety of tools, such as high-converting sales copy, subject lines for emails, A.I. headlines, and more.
All are designed to help you maximize the effectiveness of your marketing efforts. With Sendiio 3.0, you can easily automate tasks and streamline processes so that you can better focus on creating content and increasing conversions.
Learn Everything About Emails
The intuitive interface makes it easy to use, even for those new to email marketing or who don't have a lot of experience in the field. Whether you're a beginner or an experienced marketer, Sendiio is an excellent choice for anyone looking to make the most out of their marketing efforts while saving time and money at the same time.
If you are new to this and want to learn everything about email spam, soft and hard bounce, text/HTLM templates, and more settings, you must inbox your email. I invite you to the Email Academy Program, where you can access six free courses and 11 tools to test your settings or see what your email looks like on the other side.
I'm a Sendiio user from 2021
First, I want to mention that I have been using Sendiio since 2021, version 1.0/2.0, at that time, and it has been a great help to my journey in affiliate marketing. Back then, I tried a few other email platforms, but they did not survive, or they destroyed my email deliverability.
I register for free to mxtoolbox.com to monitor my reputation, and I proudly can say that Sendiio is helping marketers to inbox their emails.
See the photo below, where you can see my status as "Not Blacklisted" is nearly two years. Compared with the famous email platforms that can close your account without the possibility of saving or exporting your email list because they can, you can Google a bit about this topic and see hundreds of people's businesses destroyed because of this.
Sendiio 3.0 Features Review
Let's get you up to speed on how to use all the Sendiio 3.0 features by watching the video below. Plus, 8 Video Courses as a Bonus if you buy Sendiio from my affiliate links. (see bonuses at the end of this review)
You will discover all the features and see how easy it is to use Sendiio to bust your email marketing business. Also, you will discover some cool bonuses at the end of this training video – watch till the end.
Create and Send Unlimited Email Campaigns
Sending email campaigns can be an effective way of marketing your business or product, but the fees can add up quickly if you're not careful. Fortunately, there are opportunities to create and send unlimited email campaigns without paying a monthly fee.
Sendiio 3.0 is basically doing that in a very smart way. Sendiio is an online email marketing software that helps you to create and send email campaigns, manage your contacts, and track the performance of your emails.
You can create:
Unlimited Email lists
Import unlimited email contacts
Create unlimited option forms
Create unlimited follow-up emails
Unlimited Broadcasts campaigns
Send unlimited emails by connecting your SMTP or Sendiio SMTP IPs
Easy integration with the premium SMTP providers (I use MailJet)
Stats and analytics for your broadcast and emails
Resend new email to non-openers a few hours later
Sendiio 3.0 – List Cleanup (one of the most desired tools)
Do you have an email list that needs some serious attention?
Are you overwhelmed with the prospect of cleaning up your list and getting it back in shape?
If so, Sendiio 3.0 email list cleanup services could be just what you need. This option allows users to analyze their lists for accuracy, remove duplicates and outdated emails, and gain valuable insights into their subscribers.
To access List Cleanup go to:
Create a new list (for example, "List Cleanup")
Then go to – List Cleanup
Choose – Start Cleanup (Sendiio service)
Choose 3rd party services if you want to connect with millionverifier.com to use a premium service.
Go to the new list designated to collect all the nasty emails and delete all the emails.
Keeping your email list clean is an excellent practice for maintaining your reputation. Don't delay and delete a bad email or an email that never opens or clicks on your links.
Email list cleanup can help businesses improve their campaigns by ensuring they are reaching out to the right people at the right time. You can use Sendiio cleanup in the house option, or you can use API Key from millionverifier.com
What are Hybrid Sequences on Sendiio 3.0?
Sendiio Hybrid allows you to combine a marketing campaign by sending emails, SMS text, Voice messages, Facebook posts/comments, and Twitter. Also, you can combine any of them. For example, send an email, and after that, an SMS text and some social media posts.
Note: Use this option after you set up all your setting and build your lists. It is very important to watch the tutorials that are situated in the "Help" section.
How To Create Hybrid Sequences on Sendiio?
From your dashboard, choose "Hybrid Sequences."
Create a template first for emails, SMS, Facebook, and Twitter.
Select "Sequences and choose "New Sequence."
Name your Sequence.
Press Create.
Choose the mixed messages you want.
Add and save your campaign.
How to Create a List in Sendiio 3.0?
Create A List on Sendiio
Go to the "Email" option from your dashboard.
Select "list"
Choose "Add List"
Name the list and write a description.
Select STMP or 3rd party service.
Select the sender's email, account, and name.
Add some settings for inactive subscribers.
Set up inactive after – months.
Set up inactive by not opening an email.
Set up non-clickers.
Set up an action to move or delete inactive emails.
Add tags and list option mode (normal/double).
Press Create.
Note: For the list to work, you need to set up your "settings" first as the STMP, sender email, name, and more.
Using Tags on Sendiio 3.0
Using tags on Sendiio is getting better, and I love it. You can add or remove the tag in automatic mode without any problems. Also, the new feature, "Sendiio Tags Cleanup," is an excellent addition to the new version, as sometimes I forget the tags I create and do not use anymore.
To access Tags Cleanup, go to:
Choose the Email option from your dashboard.
Select My Tags to see your tags.
Choose Add Tag to create a new tag.
Select Tags Cleanup to delete, move or combine the tags created on your entire platform.
Add Email Template on Sendiio
I usually use the same intro and end of emails, which is time-consuming if you don't somehow automate your work. Here is where Sendiio is helping to create a template one time and keep using it on daily campaigns.
To add email templates on Sendiio, go to:
Choose the Email section from your dashboard.
Go down to My Templates to edit existing templates.
Select Add Templates to create a new one.
How to Add "Ad Blocks" on Sendiio 3.0?
This new fantastic feature is available in the new version, and I really love it.
What is the Ad Block feature on Sendiio?
The Ad Block is the last part of your email. Basically, it can be a PPS text, an image, a gif, a signature with clickable links, and more. As an affiliate marketer, I love to increase my chance of making extra sales (commissions), so my chances increase by adding a promo block at the end of every email.
Note: As a tip, please make sure that the "Ad Block" is promoting a similar or alternative product that is promoted on the email body. (Per Example, when I promote Sendiio, I can insert an alternative service called Systeme that offers a free account with an autoresponder included.)
To Add "Ad Blocks" on Sendiio, Go To:
Choose the Email section from your dashboard.
Scroll down to "Ad Blocks."
You can choose "My Ad Blocks," where you can see and edit your existing blocks.
Select "Add New Block" to create a new one.
Add a New Broadcast on Sendiio
What is an Email Broadcast?
Broadcasting an email is the process of sending a single email message to multiple contacts at once. It is a great way to communicate with a large group of people quickly and efficiently.
Broadcasting emails can be used for any purpose, from sharing important information to launching campaigns to promote products or services. Emails are one of the most popular methods of communication, and broadcasting them has become increasingly popular in marketers' world.
How To Create A New Broadcast In Sendiio?
Choose the Email Section from your dashboard.
Select Add Broadcast
Give a name
Write the email subject with the help of AI using the"Subject Generator." to be inspired by an idea, from keywords, or from email content already written.
Select a list or tags.
Also, You can exclude a list or a tag.
Select from which email (provider) to send in case you have more providers activated.
Write your content, or just let the AI assistant write for you.
Next is the Ad Feature, where you can promote cross offers
Select a tag if needed.
Resend to non-openers (the most excellent option is sending the same or different email after a few hours).
Also, in Sendiio 3.0, you can translate your email into different languages.
Press "Save Draft" or "Create" to send it instantly.
How to Add Sequences in Sendiio 3.0?
To add a sequence connected to an email list, you need to do some settings first and build emails similar to a broadcast.
How To Create A New Sequence In Sendiio?
Give a name to be able to connect your list to your email sequence.
Select "lists or tags."
Select the List or Tag that when someone is subscribing, the autoresponder will start your email series.
Choose the sender and email if you have more activated.
Select an ad block. (you can change this when you build your emails)
Enable "Days or Hours" if you want
Press "Create"
You create your first email from this new sequence on the next page. (this is sent automatically after a person subscribes or the setting you do).
On the second email, it will appear the option "Send After Days."
Press Create and keep building your automated responder.
Note: "Send After Days." sometimes this option is complicated to understand, so if you set one day, it means that the email it will be sent one day after the last one. (let's say you have 30 emails and want to send an email every day; you will set all the emails to one day).
Manage Email URLs in Sendiio
Let's say that you are promoting an offer and sending 1000 emails, but you quickly realize that your affiliate link has an error, and you panic as 1000 already received it. Don't worry, as Sendiio has got you covered.
Let me explain how it works:
Every embedded link is saved on the Sendiio servers, and every time someone clicks, the link is pulled out from the Sendiio database. Here comes the possibility of going back and changing a link on the already sent email so the following openers will have a good link and not an error.
It helped me a few times when I did not test the link before sending an email. I sent an email to the 500 addresses list, and only 17 opened the email having a broken link. I quickly rectified my link, and the rest of the people had a working link just because Sendiio made it possible. Fantastic option, to be honest.
How To Manage Email URLs in Sendiio?
Choose Email From the dashboard menu.
Go down to "Email URLs"
Select the link by clicking "Edit."
Change the link
Click "Save," and you save yourself from embarrassment by sending a new email with a good link.
Personal SMTP on Sendiio 3.0
Here at Sendiio, you can use your personal SMTP. The instructions and tutorials are made to help you set up your domain in seconds.
Also, you have the 3rd party mail services that are made to send emails, and I recommend using one. To mention that all the services have safety protocols in place, and if you plan to buy a list and start sending spam emails is not going to work. Even Sendiio has an email reputation check, and with a complaint rate exceeding 0.5% will not be able to send new emails!
To use the 3rd part services, you can choose from Mailjet, Amazon SES, SendGrid, ElasticMail, Mailgun, Postmark, Sparkpost, and many more to be added.
How To Connect an Email Service in Sendiio?
First, visit the chosen email service (most of them have a free account – free 100/day)
Signup and follow all the instructions
Come back to Sendiio 3.0 and complete all the details to connect the two platforms.
Test the connection with one of your emails.
Note: If you are a beginner, go to the top of this page and register free for "Email Academy" to learn everything about warming up your IPs and domain, or use a warm-up Ip tool.
Ten short tips to warm up a domain before starting to send emails
Send personalized emails to people in your domain who have opted in.
Use double opt-in when gathering email addresses at signup.
Develop clear and consistent branding across all your emails.
Craft compelling subject lines that will draw in the reader.
Warm up your IP address by sending consistent and low-volume emails over a period of weeks.
Utilize a feedback loop service with your email service provider.
Ensure you follow best email practices (such as clear unsubscribe links).
Double-check the accuracy of any contact data you use.
Monitor your email reputation closely with a tool like SendForensics.
Invest in email Hygiene and verification services to continually clean and update your email lists.
How to add a new email form in Sendiio
You can't build your email list without a subscription form; this simple form builder is everything you need. Sendiio subscription forms are easy to build and can be embedded. HTML or IFRAME. Also, you can copy the form link.
How to create a new email form in Sendiio
Click the Email option from your dashboard.
Go down and click Forms.
Select Add Form.
Choose a name form.
You need to designate an email list to save the subscriber's emails (make sure you have an email campaign in place).
Choose successfully and already subscribers links.
You can use the Captcha option.
Press "Create Form."
To use your form, you can embed it on any website blog or funnel. Also, you can use the Sendiio link to share the form page. Most online services have a Sendiio integration already in place, which is making easy to connect without using the form. (Use Zappier to connect anything you want).
How To Create Unsubscribe Footer In Sendiio 3.0?
Having an unsubscribe footer is essential for any email campaign. It adds a degree of professionalism and trustworthiness to your emails and helps you stay within the law.
It's essential to give your recipients the ability to opt out of receiving emails, as this helps maintain a decent sender reputation which is essential for emails getting delivered successfully.
Additionally, it helps you avoid any potential legal issues by allowing people to opt out of your emails. The ability to unsubscribe from your emails quickly also helps to reduce unnecessary emails from reaching people, increasing the effectiveness of your email campaigns. Having an unsubscribe footer is required for any email campaign and should not be overlooked.
Note: It also complies with the CAN-SPAM Act, a law protecting consumers from unsolicited emails.
How To Create Sendiio Unsubscribe Footer?
Choose the "Unsubscribes" option.
Name the Footer block.
Enter your business address.
Write a message or copy the tag %unsubscribe_url% to have the unsubscribe link.
You can choose to use an affiliate link on your footer (optional).
Change your message after people unsubscribe (optional).
Press "Add" to save your footer.
If this is the only one-footer block to use, select "Use Globally" to be added to every email.
HOW TO USE THE MOBILE FEATURE ON SENDIIO 3.0?
Sendiio has incorporated the mobile version to take advantage of the phone numbers when you collect email addresses together with the phone numbers. See below all the features and how to connect Sendiio with a Twilio account.
TWILIO SETTINGS ON SENDIIO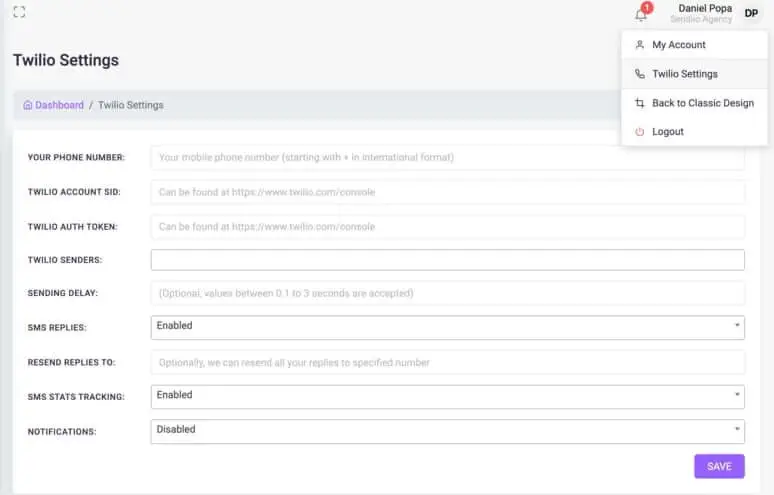 HOW TO CONNECT TWILIO TO WORK WITH SENDIIO
The first thing to do is to access Twilio Settings by clicking the round icon upper right.
Choose Twilio Settings
Go to Twilio.com and open an account.
Access https://www.twilio.com/console to get all your details and paste them on the Sendiio dashboard.
Press Save.
HOW TO ADD A NEW SMS BROADCAST ON SENDIIO 3.0?
Sending an SMS Broadcast is the same as email broadcasting. The only difference is that you are sending a text message, not an email.
Select Mobile from your dashboard.
Select SMS Broadcasts.
Choose "Add Broadcasts."
Give a name to the Broadcast.
Add Lists.
Choose the sending phone number.
Write or let AI generate your SMS text.
Choose if you want to run your campaign immediately or later.
Press "Create."
Add an SMS Bot Reply to have a follow-up text message.
Also, you can RMV Broadcast, a prerecorded voicemail ending in the owner's phone. Another feature is making a call straight from the Sendiio dashboard.
HOW TO AUTOMATE YOUR FACEBOOK PAGE WITH SENDIIO?
HOW TO ADD YOUR FACEBOOK PAGE TO SENDIIO?
Choose the Social feature from your dashboard.
Select Facebook.
Press My Facebook Pages to edit existing ones.
Choose "Add New Page" to create a new one.
Follow the instructions, and you will need to authorize your Facebook Page
Press "Save."
YOU HAVE 4 OPTIONS TO AUTOMATE YOUR PAGE ON SENDIIO:
Send a welcome message.
A bot replay (keyword need it)
Set up an auto-reply message.
Set up an auto-comment replay for your post.
SENDIIO AGENCY FEATURE (UNIQUE FOR A AUTORESPONDER SERVICE)
Sendiio Agency allows you to hire any email manager to send and work on your email marketing campaign without having the access and possibility to steal your email list. So you have the power to outsource without risking your business. (Awesome)
Honest Sendiio 3.0 Review – My Opinion: Is it worth using?
I have been using Sendiio 1.0 and 2.0 and think they are worth using. Sendiio allows you to manage all of your email marketing, autoresponder, and text message campaigns from one central dashboard. This means you can save time and money by not having to pay for multiple marketing tools.
The open rate on emails sent through Sendiio is also much higher than other solutions, giving you an edge over other marketers.
Additionally, Sendiio is the first and only autoresponder that allows you to integrate with Mailjet, Amazon SES, SendGrid, ElasticMail, Mailgun, Postmark, and Sparkpost, saving you a lot of monthly fees compared to other services. Most of these providers have free accounts where you can send emails for free.
I believe Sendiio 3.0 is an excellent solution for any business looking to maximize its email marketing success without breaking the bank. Secure your autoresponder below.
New Features In the 3.0 Version of Sendiio?
The 3.0 version of Sendiio is one of the most potent autoresponders on the market because it can send emails without writing a single word. It allows you to create highly effective emails with high open rates that will engage your audience and help drive conversions.
This new version makes creating engaging emails even easier with its intuitive interface, allowing users to design campaigns from start to finish. The AI is trained to omit any spammy words making your email to inbox much easily.
It also includes a bonus feature that allows you to use templates for greater customization, or you can build a master block to insert in any email you send. Users can now create powerful and engaging emails faster than ever before, making this one of the most powerful autoresponders available today.
With its advanced features, it's easy to see why Sendiio 3.0 is quickly becoming one of the most popular autoresponders on the market for businesses looking to get more out of their email marketing efforts.
Why Should We Use Sendiio 3.0?
Sendiio is an all-in-one marketing automation platform that makes your marketing campaigns more efficient. It allows you to use various channels such as email, SMS, and Facebook Messenger to reach customers quickly and easily.
The writing engine in Sendiio helps you craft compelling subject lines, while the powerful autoresponder provides automated follow-up messages.
In addition, Sendiio 3.0 makes creating and managing Facebook Messenger marketing campaigns easier than ever with its intuitive interface.
Furthermore, Sendiio integrates seamlessly with other popular platforms like FlipGuardian, Shopify, GroovePages, Zapier, and ProductDyno, making it an excellent choice for businesses of all sizes. With so many features and benefits, there's no doubt that Sendiio is the best choice for anyone looking to automate their marketing efforts and save time in the process.
Sendiio 3.0 Review – Features and Benefits
Sendiio is an excellent tool for email marketing and autoresponder campaigns. You can send unlimited emails with an open rate that is higher than most other solutions. This allows you to create effective follow-up sequences that will engage your subscribers.
You can also add subject lines and text messages right into Sendiio, so you don't have to worry about creating separate campaigns for each message type.
In addition, you get all the benefits of an autoresponder without paying a monthly fee. As a bonus, if you use Sendiio, you can add additional features like segmentation and tracking, allowing you to target your audience better and measure the success of your campaigns.
Sendiio 3.0 – My experience in using Sendiio
My experience in using Sendiio 3.0 has been great. I paid for Sendiio -Agency package back in 2021, connected with MailJet. I found it to be a handy tool for my business. The text message feature is one of the best features of this platform, as it allows me to keep in touch with my customers quickly.
It also allows me to send bulk emails and newsletters quickly and efficiently. One of the famous email platforms terminated my account after I ran some solo ad campaigns without the possibility of saving my list. This is just one of the advantages of using Sendiio.
I highly recommend Sendiio to anyone looking for a powerful yet user-friendly marketing automation solution. This is a tool that any affiliate marketer must hold in his hand.
Sendiio 3.0 – Pros & Cons:
The Sendiio 3.0 is an incredibly comprehensive look at the pros and cons of the email marketing platform. As far as pros go, Sendiio 3.0 offers a competitive one-time fee and has a great open rate, making it an effective solution for businesses looking to get their message out to customers.
Additionally, they offer bonus features like automation and follow-up sequences to further improve email campaigns' effectiveness.
The cons are that no free trial option is available. However, overall reviewing Sendiio 3.0 is a positive experience for most users as it provides great value for money, given its features and benefits.
Comparison of Sendiio 3.0 (A.I Version) to other similar autoresponder and marketing software
Sendiio is an innovative autoresponder and marketing software that stands out from the competition due to its powerful features. With Sendiio 3.0, you can easily create high-converting sales copy for your emails, subject lines, text messages, and Facebook Messenger Marketing campaigns in one central dashboard.
What sets Sendiio apart from other autoresponders and marketing software is its ability to generate personalized content through its AI technology, allowing you to better engage with your customers and increase your ROI.
Additionally, Sendiio provides robust reporting tools that allow you to see which of your campaigns are performing well and identify areas of improvement. With Sendiio 3.0's robust suite of features, you can be sure your email marketing efforts will succeed every time. Secure your Sendiio account now…
Sendiio 3.0 Prices: Everything You Need to Know
Sendiio Agency
Sendiio Agency is a marketing platform that offers full access to all three platforms: email, text, and Facebook Messenger, at a price of $65, but it will go up to $95. The platform allows you to import unlimited email leads and phone numbers and collect unlimited Facebook Messenger subscribers.
With Sendiio Agency, you can create unlimited lists for your email and text subscribers, connect unlimited Facebook pages to automate their Messenger and build unlimited email and phone number campaign opt-in forms. You can create unlimited follow-up sequences for email, text, and Facebook Messenger and send unlimited emails, texts, and Facebook Messenger messages.
The platform lets you view in-depth stats for all your email campaigns, including full-click stats for your text campaigns, and set up an automatic welcome message for every new Messenger subscriber. Additionally, you can also set up chatbot replies for your Facebook pages.
The platform offers an agency license to offer all three services to clients, as well as bonuses such as a Twitter autoresponder and ringless voicemail drops. It also includes full access to all new 3.0 features and step-by-step training tutorials for every part of Sendiio. The best part is that there are zero monthly fees.
Sendiio 3.0 Upsells
#1 Sendiio Academy Training.
For a one-time payment of $67, you can get access to a training program that teaches you how to build your first 1,000 subscribers in the next 30 days or less. The program includes over ten free traffic strategies you can use today to start building your list.
With this training, you'll be able to learn how to grow your list and increase your engagement with your subscribers, which can lead to more sales and revenue for your business.
#2 Automated List Profits Membership
The Automated List Profits membership is an upsell to Sendiio 3.0 that offers over 300 premium done-for-you eBooks, squeeze pages, and follow-up sequences in the hottest niches to help skyrocket traffic, leads, and profits. The package includes two new DFY packages every month, each with a proven squeeze page and an entire email follow-up sequence with monetization already included.
These are exclusive eBooks, squeeze pages, and follow-up emails written and designed by their in-house team. The cost to unlock all 300 packages is a one-time payment of $197 and a monthly fee of $27 to receive two new DFY packages every month.
#3 Sendiio Booster
The third upsell for Sendiio is the Sendiio Booster feature, which is exclusively available in Sendiio. This feature automates sending an email to those who did not open the first email later in the day, which is one of the most profitable email strategies.
Other autoresponders require you to log in again in the evening to schedule the second email. However, with Sendiio 3.0, you only have to set up the email once in the morning, and it will automatically send the second email to your unopen later in the day. The user can specify how many hours after the first email they want the second email to be sent and set a different subject line as well.
#4 Sendiio VA License
This feature allows you to give access to your virtual assistant (VA) to run campaigns for you without giving them access to your leads. With this feature, you can outsource your campaigns without compromising the security of your leads.
This feature is unique to Sendiio, as other autoresponders require you to give access to your entire account if you want someone to run campaigns for you.
#5 Access To EmailRamp
With EmailRamp, users can access preloaded high-converting emails that they can copy and paste directly into their Sendiio account. The tool includes over 1700 emails in 9 different niches and ten different types of emails, such as storytelling, re-engagement, product launch, emotional emails, and more.
The Club Upsell allows users to customize and personalize the emails and send them to their VA within the app. These features are available for a one-time payment of $67, and there are no other upsells beyond this point, and all upgrades are optional.
Exclusive Invitation: Transform Your Life with Our FREE Webinar
Empower Your Future: Create a Residual Income in 12 Months by Working 1 Hour Per Day
Dear Friend,
If you're eager to enter a world where you work less and earn more, we have an exclusive opportunity for you. We invite you to attend our FREE WEBINAR – "How to Create a Walk Away Residual Income in 12 Months Working 1 Hour Per Day by Leveraging These 7 Critical Steps to Success". This offer is exclusive to our dedicated blog readers like you.
In this comprehensive webinar, you'll discover a robust strategy that could redefine your financial freedom. But the value doesn't stop there.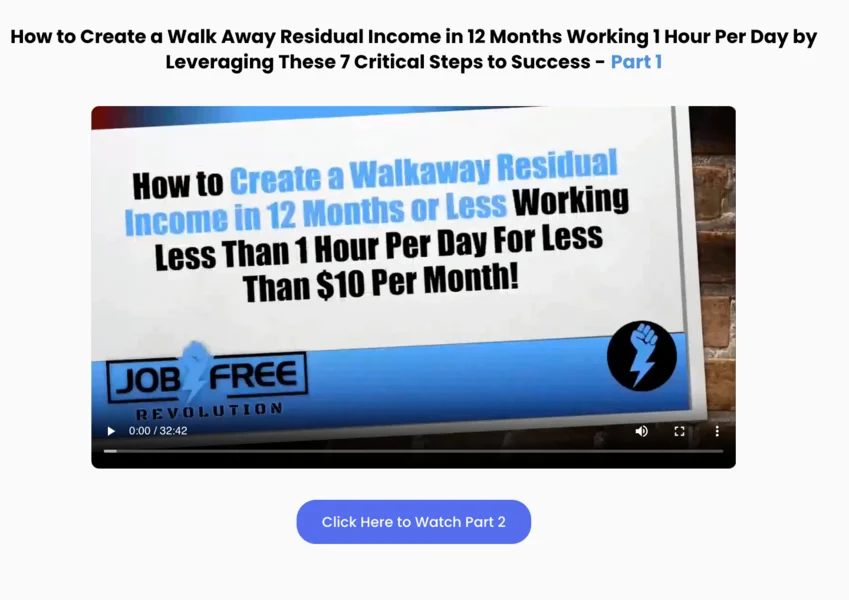 As a LiveGood member of our team, you gain access to the following:
Done-for-You LiveGood Funnels: Skip the stress of setup with our ready-made, high-converting funnels.
Email Swipes: Streamline your marketing with our pre-written, effective email copies.
24-hour Chat on Telegram: Stay connected, and get instant answers and ongoing support in our members-only chat group.
Training on Launching, Building, and Scaling Your LiveGood Business: Master the art of starting, growing, and expanding your business with our in-depth training modules.
Strategies for Promoting and Finding People in Need of Wellness Products: Learn tried-and-true techniques for reaching the right audience.
Website Access for Your Team: Provide your team with the tools they need to succeed, empowering them to start building their own business.
Your journey towards residual income, more free time, and financial freedom is just a click away.
Don't miss this chance to rewrite your financial story. We look forward to seeing you at the webinar!
Sendiio 3.0 Alternative
I can promote hundreds of email platforms to make commissions from you, but I will not do that.
I recommend only the products I use, and Systeme.io blends nicely with Sendiio. You can read my Systeme.io review here.
Sendiio 3.0 Bonuses Included If You Buy From Our Affiliate Link
The bonuses are included in the JVzoo platform. Make sure you are using an incognito page when you are buying, or check that you see that you have been referred by Daniel Popa (#1565937) to make sure you get access to the following video courses.
Extra BONUS #6 The new system to launch an online business
Extra BONUS #7 How to write copy that sells
Extra BONUS #8 The financial freedom formula
Extra BONUS #9 Launch it! Create your course and sell it for up to $997 in the next 7 days
Extra BONUS #10 Business coach: Turn 1h of work a week into $2,000 a month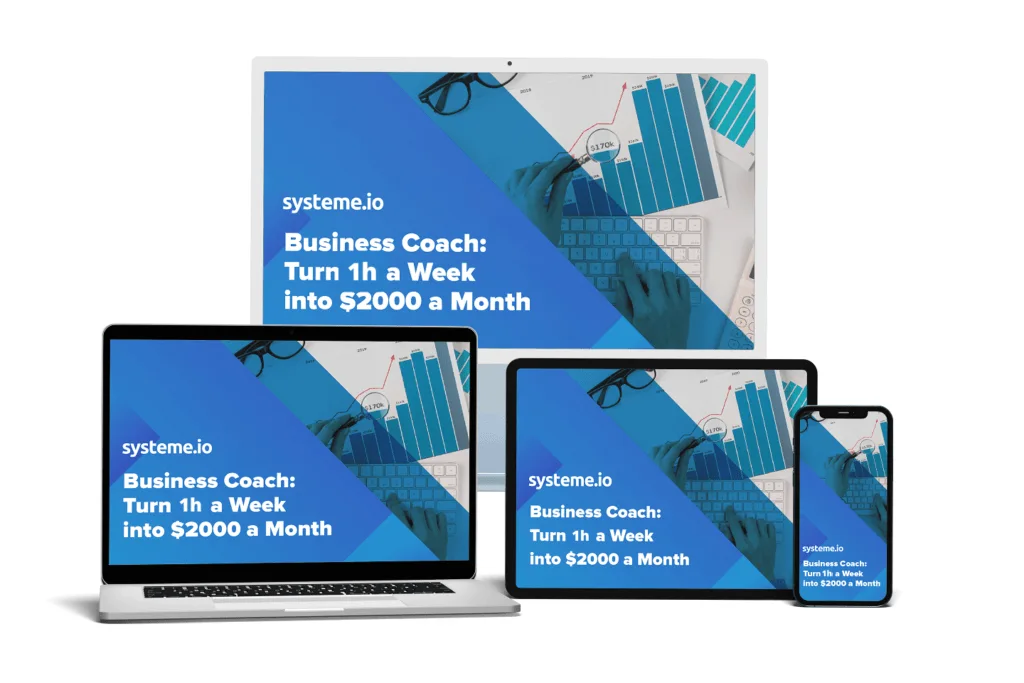 Extra BONUS #11 How to make your first $1,000 online
Extra BONUS #12 $60k in 4 weeks: Email marketing made easy
Extra BONUS #13 How to make $100 per day with your email list
*Disclaimer: Some of the links are affiliate links, meaning, at no additional cost to you, I will earn a commission if you click through and make a purchase. I appreciate your love and support!