ClickFunnels 2.0 Features Training Course 
Give Me Sixty Minutes, And I'll Show You How to Use ClickFunnel's 2.0 Features To Sell Products and Services
You could lose sales and opportunities by not using ClickFunnel's 2.0 features to their fullest potential.
In this video course, I'll show you how to use all of ClickFunnel's 2.0 features so that you can make the most out of them. I'll cover topics such as setting up funnels, designing and customizing pages, integrating with other services, and more.
By the end of this course, you'll know how to use ClickFunnel's features like a pro, and you'll be able to increase your sales and conversions. You'll be able to use ClickFunnel's features to create beautiful and effective funnels, track your sales and conversions, create email campaigns, run A/B tests, integrate with other tools, and more. You'll also learn how to use the best practices for creating effective funnels that convert visitors into customers.
Get the video course now and learn how to use ClickFunnel's features to your advantage.
The Technical Side of Implementing Clickfunnels 2.0 In Your Business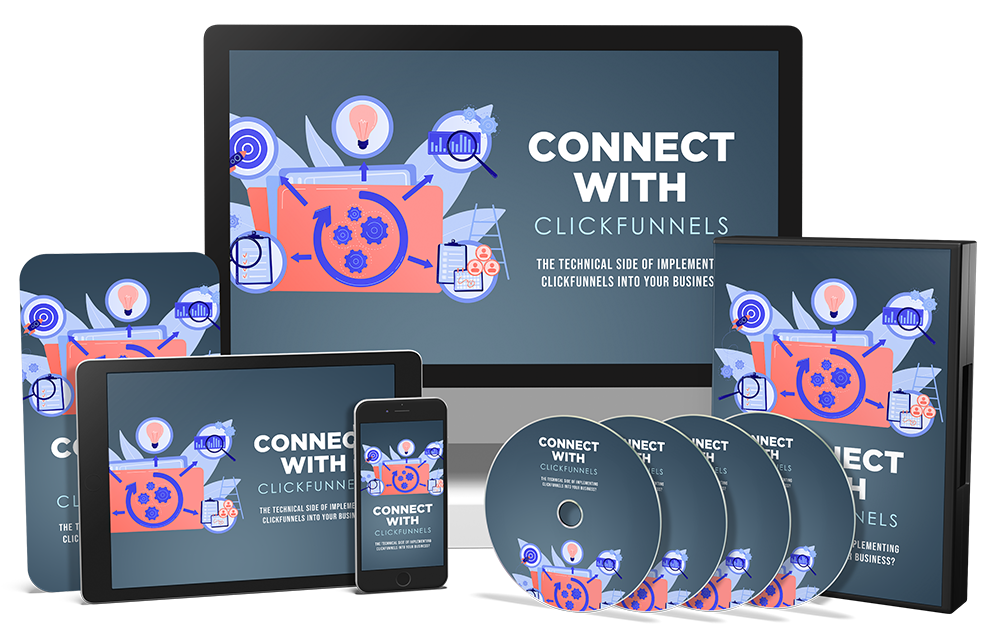 Here's precisely what you'll get inside the course:
20 HD Step By Step Over the Shoulder Instructional Tutorial Videos
What you'll discover in these videos:
Overview of Clickfunnels 2.0
Account Settings and Sub Users
Creating a Digital Product
Uploading a File Asset
Uploading Videos to Clickfunnels 2.0
Publishing Your Course
Customize Your Website or Funnel Hub
Customize the Appearance
Set Up Your ClickFunnels Blog
Creating a Blog Post
Set Up the Payment Platform
Marketing Assets Set Up
Customize the Customer Center
Website Customization
Stand Alone Pages
How To Set Up A Funnel
Customize the Funnel
Manage Your Site Domain
Customizing URLs
So, Is It a Deal?
How Can I Start Using a Clickfunnels Right Now?
You can grab Connect with Clickfunnels 2.0 with all of our bonuses for just $17.00
When you consider all of the ways you can turn this into a profit, this is a fantastic deal.
I know you'll love Connect with Clickfunnels 2.0 and work on it month after month.
…and to think, you're getting all of it for just $17.00, 50% off
**BONUS**: The 50% Beginner's discount is active.
Hurry and secure your deal before it disappears – write 50OFF above, then press "Apply."
Click the Buy button now to get this valuable course Today.
730+ customers and counting took this course to familiarize themselves with the New Clickfunnels 2.0 Version!
Invest in Yourself And Secure Your Future
Upgrade Your Skills And Expertise With Our Advanced Video Training…
We know that you don't have time to waste on clunky integrations with unreliable products. That technical headache is never worth it.
Dear Friend,
I know you're tired of paying considerable money for various tools to run your business.
I'm talking about tools like Autoresponder, shopping cart, site hosting, site builder, and many more.
This is where you need ClickFunnels 2.0!
Why?
Because ClickFunnels gives you everything, you need to build a sales funnel and run your business.
When I'm talking about everything…
…it means everything starting from web hosting, websites, blogs, email marketing platform, opt-in pages, sales pages, and even a shopping cart, is available for you.
And guess what that means…
It Can Save A Lot Of
Your Time And Money!
So YES, this is a solution for little guys like us.
But…
Using all the features available in ClickFunnels may feel like rocket science for new users.
That's too bad.
Think of this:
All the features available in ClickFunnels 2.0 are built with one single mission…
Build a high-converting Business.
So if you don't know how to use all the features, you won't get the highest conversion possible.
I know it's normal. And I know it happens to us every time we use new stuff.
But still, that's just too bad!
And listen…
You pay for all the features from the first time you use it.
So if you don't use them, you waste the money you've invested!
But…
What if you can harness all these features to get the highest possible conversions since the first time you used ClickFunnels?
More Conversions And No Money Wasted!
That's precisely what I'm going to help you with.
I'll show you exactly how to optimize ClickFunnel's 2.0 features. You must watch over my shoulder as I show you how to use them.
And you know what that means?
It means you don't need to worry about being overwhelmed with all the features and wasting them all.
Instead, you can start building your profit-sucking sales funnel, even if you just started using ClickFunnels now!
Enroll Today and Get These Bonuses
Bonus 1: DFY LIVE Masterclass on the new version of Clickfunnels 2.0 (Recorded on November 2022)
Bonus 2: Connect with Clickfunnels 1.0 Course (classic version)
Bonus 3: Affiliate Marketing Emails Templates to Help You Build Your Autoresponder (200+days)
Bonus 4: Bamf Bible (pdf) 30+ Case Studies of The Best Growth Hacks for Your Online Business
Bonus 5: The Butterfly Marketing Strategy (pdf) – How to Achieve a Viral Marketing
Bonus 6: Email Marketing Newbie to Professional (pdf)
Extra Bonus If You Take Action NOW
Copy-Rocket Your Sales Copy ( FREE Bonus Course)
The Video Series Covers In Step By Step Detail
Lecture 1: The #1 Way To Make More Money
Lecture 2: How to Write Captivating, Cash-Pulling Headlines
Lecture 3: Crafting Compelling Sales Letter Openers
Lecture 4: How to Create Irresistible Benefit Statements
Lecture 5: Sales-Record Shattering CTAs
Lecture 6: How to Write a Slick Risk-Reversal
Lecture 7: Pssst… They Think You're Lying
Lecture 8: The Conversion-Boosting Power of a P.S.
Lecture 9: Good Things Come In Small Packages?
Lecture 10: Video Killed the Sales Letter Star?
I look forward to having you in the member's area and being able to help you get started today.
I've shared by best tips and tricks inside.
So with that said, I wish you a lot of success ahead.
Are you using Clickfunnels to its full potential?
You're losing out on valuable leads and sales if you're not.
I'll show you exactly how to use all of ClickFunnel's 2.0 features so that you can generate more leads and sales for your business.
Get this video course now, and I'll show you over my shoulder how to use Clickfunnels to its fullest potential.
Clickfunnels is a powerful online marketing platform that allows businesses to create custom sales funnels. This suite of tools helps companies increase conversions, develop effective lead-generation strategies, and build customer relationships.
Clickfunnels 2.0 features an improved drag-and-drop editor, enhanced design options, and new integrations such as Shopify and Stripe. It also offers an array of templates to help users quickly create their desired funnel without any coding experience. Additionally, Clickfunnels 2.0 includes advanced analytics reporting and optimization capabilities to track user behavior and measure the success of campaigns.
What is ClickFunnels 2.0?
ClickFunnels 2.0 is an online sales funnel builder that enables you to launch your business online and build funnels in a workflow. The 2.0 version of ClickFunnels was launched in 2022 and is a newer version of the original ClickFunnels software.
With ClickFunnels 2.0, you can launch your business online and build sales funnels with the help of the funnel builder. You can also use the sales funnel builder to create a sales funnel for your business.
ClickFunnels 2.0 Pricing: How Much Does It Cost?
ClickFunnels 2.0 pricing is very reasonable, especially considering all the features and benefits you get with this powerful funnel builder. You can try ClickFunnels 2.0 for free with their 14-day free trial offer. After that, plans start at just $127 per month, which is a lot when you compare it to other online business tools.
With ClickFunnels 2.0, you can easily build professional-looking funnels to help grow your business. Plus, many valuable features, such as the ability to split-test your funnels and track your affiliate conversions, are included. If you're serious about growing your online business, then ClickFunnels 2.0 is worth considering.
What's New in Clickfunnels 2.0?
Clickfunnels 2.0 is a powerful sales funnel builder that helps businesses increase their online sales. With Clickfunnels 2.0, businesses can easily create beautiful, high-converting sales funnels.
Some of the new features in Clickfunnels 2.0 include websites, online shops, CRM funnels, blog builder, workflow, membership site, follow-up emails, global products, real-time analytics, and visual funnel flow builder. Clickfunnels 1.0 was a great tool, but Clickfunnels 2.0 takes it to the next level with its amazing new features.
The ClickFunnels 2.0 Overview
ClickFunnels 2.0 is the latest version of ClickFunnels, and it comes with many new features and improvements. The most notable changes are the new pricing model and the free trial. With ClickFunnels 2.0, you can now get a 14-day free trial instead of the 7-day free trial that was previously offered. This is a great way to try out the software and see if it's right for you.
In addition, ClickFunnels 2.0 now has a 2022 release date, so you can be sure that it will be around for a while. Finally, the biggest change is the addition of Russel Brunson as an advisor. He is known as the "mastermind" behind ClickFunnels, and he brings a wealth of knowledge to the table. If you're looking for a comprehensive overview of ClickFunnels 2.0, look no further!
**BONUS**: The 50% Beginner's discount is active.
Hurry and secure your deal before it disappears – write 50OFF above, then press "Apply."
*Disclaimer: Some of the links are affiliate links, meaning, at no additional cost to you, I will earn a commission if you click through and make a purchase. I appreciate your love and support!