Groove.cm Review 2023 – What You Need to Know?
With more than 100k new active users in 60 days, Groove.cm has proven its potential for marketing automation and customer relationship management (CRM) services in the international market.
This famous platform features around 18 apps in a single package that can help you take the business to a new level.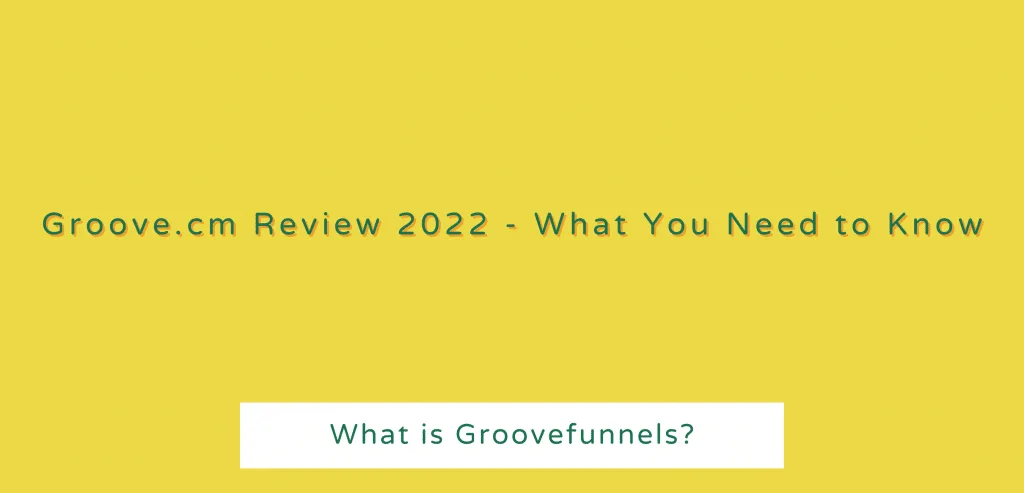 However, before investing in this bundle, you might be interested to know more about Groove and its working.
Don't worry! The article below may guide you better to make a confident decision about this product.
What is Groove.cm?
Groove.cm is a top-rated tool for marketing automation and CRM. The platform is loaded with an extended range of powerful tools that are a must for any digital marketer these days.
When you create a free Groove account online, you can receive immediate access to 18 useful apps such as GrooveMail, GroovePages, GrooveSell, GrooveFunnels, GrooveMember, GrooveVideo, GrooveAffiliate, GrooveKart Stores, GrooveWebinnars Live, GrooveWebinars Automated, GrooveDesk, GrooveBlog, GrooveDesk, GrooveCalendar, GrooveSurvey, GrooveProof, GrooveAds and more to add every year.
Note: Some of these apps are required Premium access.
In simple terms, Groove.cm can provide digital marketers with almost everything they need to start running and leading their businesses online. However, the free account includes lifetime access to all valuable apps included in this bundle with limited features.
But if you become a premium subscriber by paying a one-time fee of $2497, you can enjoy an incredible performance with all advanced tools and interactive features on this platform. A one-time fee makes you a founder of this platform and you have access for life, which means you never pay something else while using the Groove platform. Pretty cool…
Groove is the best Clickfunnels 2.0 alternative. The price of Groove – LIFETIME is equivalent to a 1-year subscription on Clickfunnels.
Lock in Your Savings for Life Now.
Note: You need to register for a free account and upgrade from your dashboard.
Several tools loaded in the Groove.cm platform can help businesses store essential customer information online, grab valuable sales opportunities, generate revenue, fuel up marketing campaigns, and handle potential after-service issues. These services can automatically help a business maintain solid uphold while ensuring enhanced customer satisfaction online.
What is included in Groove.cm, aka Groovefunnels?
Before you invest in Groove.cm, you might be interested in its potential features and apps. Well, here we have presented a few essential details about all the impressive tools offered by Groove.cm:
GroovePages
GroovePages is a powerful landing page builder with drag-and-drop abilities that make it easier to create opt-in business pages in very little time. It is more suitable for online marketers because it helps them build a solid business or product pages online with seamless functionality. Anyone can start using this tool to instantly build funnels, websites, and landing pages.
Groove.cm
Another great Groove.cm platform tool allows business owners to create unique sales funnels, landing pages, and website pages to sell products online. With Groove, business owners can build an impactful online store (GrooveKart) to serve customers' needs under a single platform.
GroveMember
GrooveMember is meant for digital marketers to create effective membership sites to boost their impressions online. It comes with an interactive Online Course Platform and Membership Content Management System. You can host your virtual summits, membership sites, and courses online using this system.
The platform comes with various levels of access and drip content. You can control whom to offer paid or free access using the gated member area. It also enables business owners to create landing pages and websites using easy drag-and-drop features. Groove also allows easy hosting of existing promotional videos and relevant posts.
GroveBlog
GrooveBlog changes the way people used to publish content online. Mike has years of experience in the field of online marketing, and he understands the importance of publishing well-optimized content online. GrooveBlog allows business owners to target a specific audience from set demographics on the Facebook platform.
GroveVideo
You cannot ignore the power of video marketing. It promises fruitful results to all businesses with interactive and engaging content delivery. Using the GrooveVideo platform, you can turn videos into potential marketing tools, automate all the processes, and optimize videos for effective lead generation.
GrooveSell
GrooveSell can help businesses create attractive and smart checkout pages loaded with custom offerings, down-sells, and upsells. This all-in-one CRM tool can enhance the overall checkout experience of users on your business platform.
With such a convenient and memorable experience, it gets easier to turn visitors into customers and further into loyal buyers in the long run. In addition, the enhanced user satisfaction level can automatically help your business maintain enhanced revenue and sales.
GrooveKart
This tool helps businesses promote online physical products while encouraging customers to buy them. It allows companies to present their goods to an extended range of target audiences in an organized, concise, and effective manner to boost sales.
GrooveKart is one of the most relevant tools for every business owner to enhance the overall shopping journey of the buyers.
GrooveMail
GrooveMail is another incredible addition to Groove.cm platform with its ability to offer amazing email automation, servicing, and marketing needs. With the easy creation of email lists and managing customer information on a single platform, it gets easier to send relevant emails to the right people.
As a result, you can enjoy more leads and convert prospects into interested buyers within very little time. In addition, email sequences, autoresponders, broadcasts, and many automatic emails can be sent via this tool to ensure enhanced customer engagement.
GrooveDesk
GrooveDesk is another built-in help desk designed to ensure every customer receives a satisfactory purchase experience on your business platform. It works with a creative and solid ticketing system that keeps all customers well-organized on a single platform while enabling you to handle their queries more efficiently.
In addition, GrooveDesk makes it easier to provide after-sales services with the ability to respond to potential customer problems instantly.
GroovePay
This Groove.cm product allows users to make easy, secure payments for eCommerce shopping online. This leading payment merchant solution offers quality services for running a business with multiple payment options that are suitable for customers around the globe.
It is also integrated into the platforms like gateways, NMI and authorize.net. Furthermore, the super-fast approval systems can make the entire process genuinely hassle-free.
Now you have gone through some of the most essential tools available within Groove.cm bundle. It is time to check out the important features offered by this all-in-one platform.
GrooveSolo, You can buy solo ads straight from the platform and use the traffic for your business. Get targeted traffic to your site with Groove's trusted solo ad source packages.
Don't Let Your Copywriting Skills Be a Faux Pas – Let Groove.ai Help You Shine!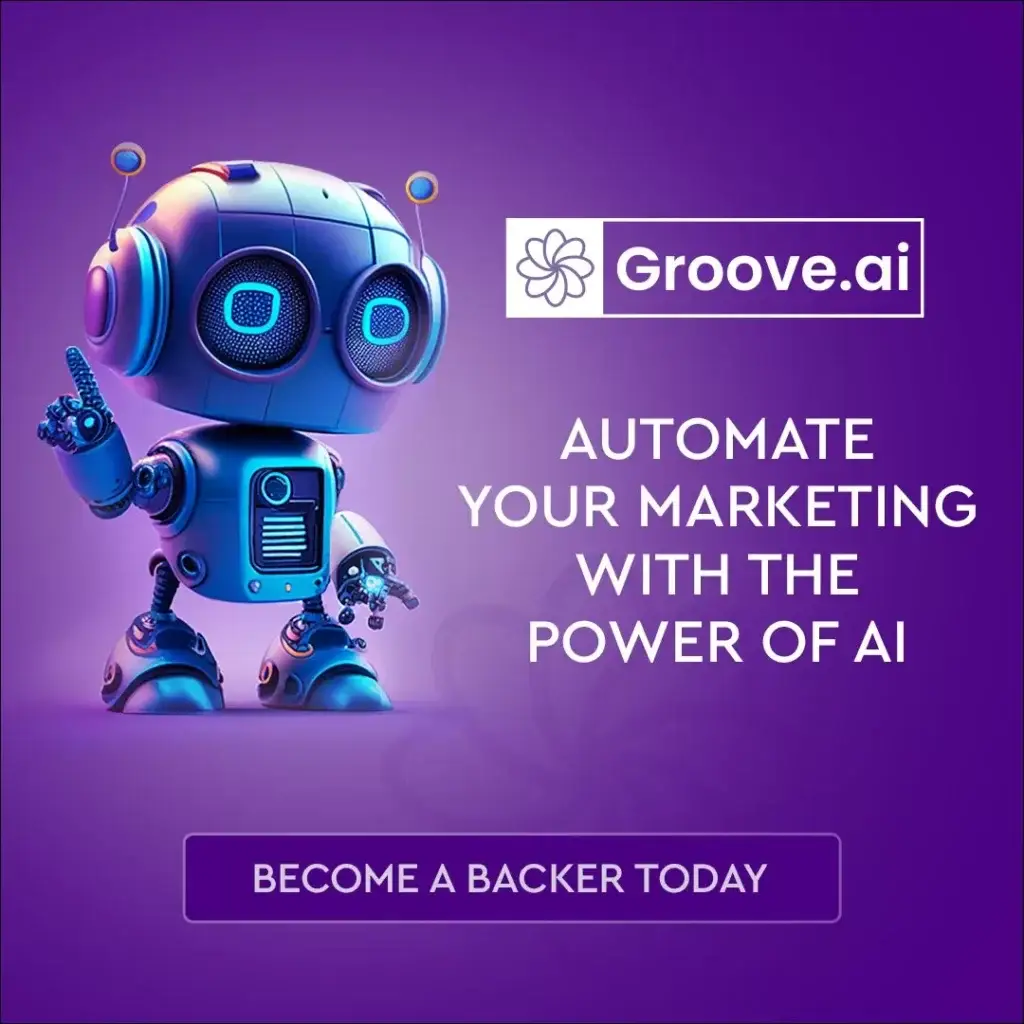 Are Your Copywriting Skills a Faux Pas?
Groove.ai's AI-Powered Copywriting Platform Can Help You Shine
Do you find yourself struggling with copywriting and making faux pas?
Let Groove.ai help you shine with our AI-powered copywriting platform. Our deep learning technology uses preset prompt engineering to generate copy that is tailored to your unique style and tone of voice, making it easy to produce high-quality content that truly represents your brand.
Impress Your Audience with Groove.ai
With Groove.ai, you can create content that will impress your audience. From blogs and articles to emails, press releases, website copy, funnel copy, landing pages, social media posts, video scripts, freemiums, reports, mind maps, outlines, process maps, worksheets, workbooks, and even books, our platform can help you create engaging content that resonates with your readers.
Make Your Copywriting Skills Shine with Groove.ai
Don't let your copywriting skills be a faux pas – let Groove.ai help you shine. Our platform is designed to help you save time and resources while producing high-quality content that engages your audience. Plus, our wholesale pricing model means you can save thousands per year compared to leading AI companies.
So why wait?
Make your copywriting skills shine with Groove.ai, and sign up for our free launch webinar today. Our experts will walk you through all of the features and benefits of Groove.ai, answer any questions you may have, and provide a special offer for webinar attendees. Don't miss out on this opportunity to transform your content creation process – register now!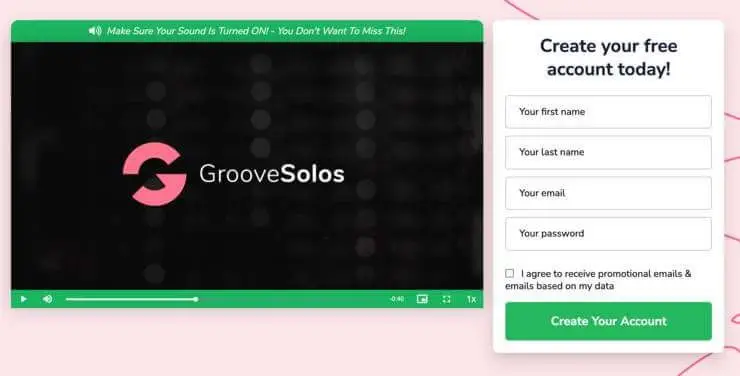 Incredible features offered by Groove.cm:
There are several potential features loaded into Groove.cm platform. A few of them are listed below to boost your knowledge base:
Custom Domains
Groove.cm offers an extensive range of custom domain options for designing business websites that best fit the desired tone and vision. It can help growing businesses to band all their affiliate links, swiftly checkout from pages, and track the links conveniently.
In addition, custom domain creation offers an easy way to promote business online while capturing the attention of a wider range of audiences to enjoy enhanced leads.
Unlimited funnel pages
Groove.cm can help you create unlimited funnel pages with a stunning, attractive, and professional look. These funnel pages can soon help you generate enhanced leads and sales to take your business to a whole new level.
In addition, you can add as many new pages to the business platform with the growing demands of the business. This platform also provides access to a drag-and-drop builder to create exciting landing pages, web pages, and upsell pages.
Unlimited bandwidth and hosting
When you subscribe to Groove.cm, it allows easy access to unlimited bandwidth and hosting without requiring you to make any extra payment.
As a result, as your traffic starts growing, generating more leads gets easier in the long run. The best part is that Groove.cm doesn't pose extra charges with your platform's rising traffic size, making it a more reliable choice than online hosting platforms.
Video Marketing
No business can grow in the competitive market without a solid branding strategy, and video marketing plays an essential role in this journey. It allows users to edit and modify videos by implementing automation based on their unique behaviors. This process further ensures enhanced quality and precision with video marketing efforts.
Range of design elements
The platform is loaded with hundreds of blocks, designs, elements, and wireframes that can help to enhance the overall quality of the pages. In addition, it opens doors to generating more sales and revenues by simply running pages faster using blocks that don't require serious coding efforts.
The design teams find it easier to add wireframes, elements, pop-ups, countdown timers, and process bars to enhance the life of business pages.
OWN A WEBSITE/BLOG – FREE FOR LIFE!
If you are looking just for a blog that will rank on Google using free tools:
Build your blog/website for free.
Groove will host your blog for free.
You can have a different name but will need to buy it from NameCheap.
You can access landing pages, capture pages, websites, emails, membership, sale-affiliate software, video, survey, online shop/store, and many more, all for free using my invitation link on the Groove platform.
Affiliate Program
Groove.cm has a robust affiliate program that can further support your needs to manage and communicate an extensive range of affiliates online. This promotional tool permits easy selling activity while associating more and more affiliates with your business.
You can set unique affiliate commission rates and get custom tracking links for all the campaigns and promotions. Groove.cm also has its own affiliate program, which provides 40% commissions to the paid members and 20% to the free members.
This tool opens doors to setting up healthy relationships between businesses, customers, and affiliates.
Pre-built websites
Groove.cm is loaded with more than 190+ pre-built websites that can be accessed and launched in a few minutes. Business owners can choose and edit any desired template for their business and launch the created website with a custom domain name to capture audience attention.
It opens doors to affordable and interactive web design solutions.
These interactive features can help business owners maintain an enhanced online reputation while leading to a more satisfied customer base.
Groove Funnels Pricing
Groove Funnels Pricing has four plans to choose from:
Free ($zero)
Start-Up ($39.99 – paid annually)
Creator ($83 – paid annually)
Pro ($124 – paid annually)
Premium ($166 – paid annually)
Premium + (Lifetime Offer – Owned for Life / $2497 one-time payment)
Groove is the best Clickfunnels 2.0 alternative. The price of Groove – LIFETIME is equivalent to a 1-year subscription on Clickfunnels.
Lock in Your Savings for Life Now.
Note: You need to register for a free account and upgrade from your dashboard.
Free Plan
The Base Plan is free for everyone, especially for beginners who want to start their online business.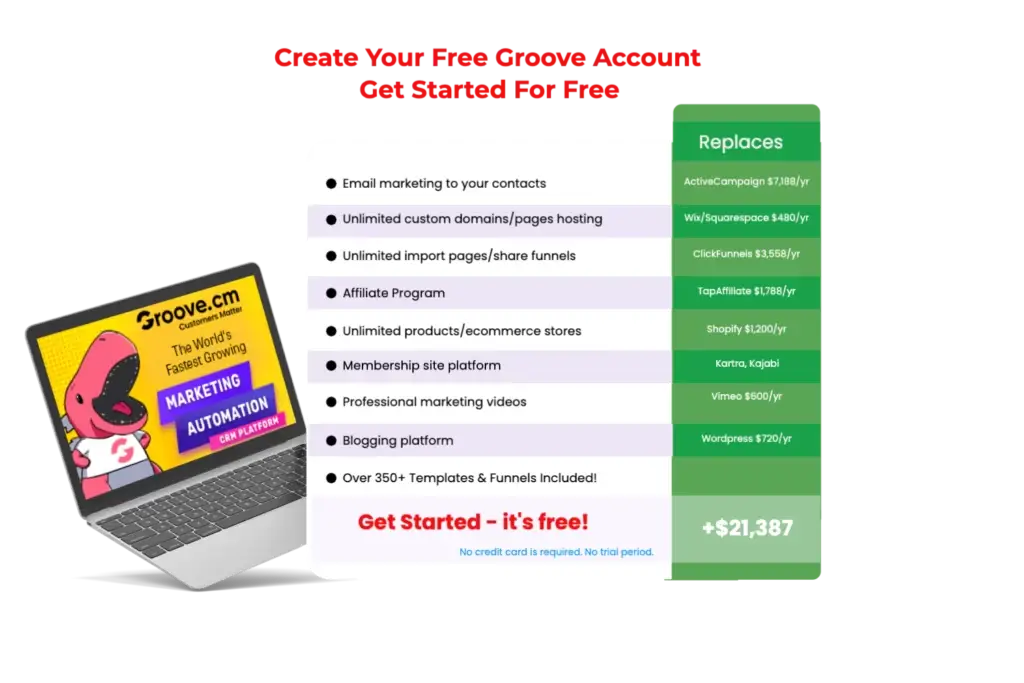 It is Free and contains several features:
GrooveSell
GrooveAffiliate
GroovePages
Affiliate Program 20% recurring commission.
GrooveMail – Autoresponder
GrooveKart (online shop)
GrooveVideo (Video platform)
GrooveMember (Membership Site).
Start Plan
The Start-up Plan contains some of the popular apps needed for beginners to start running and running an online business.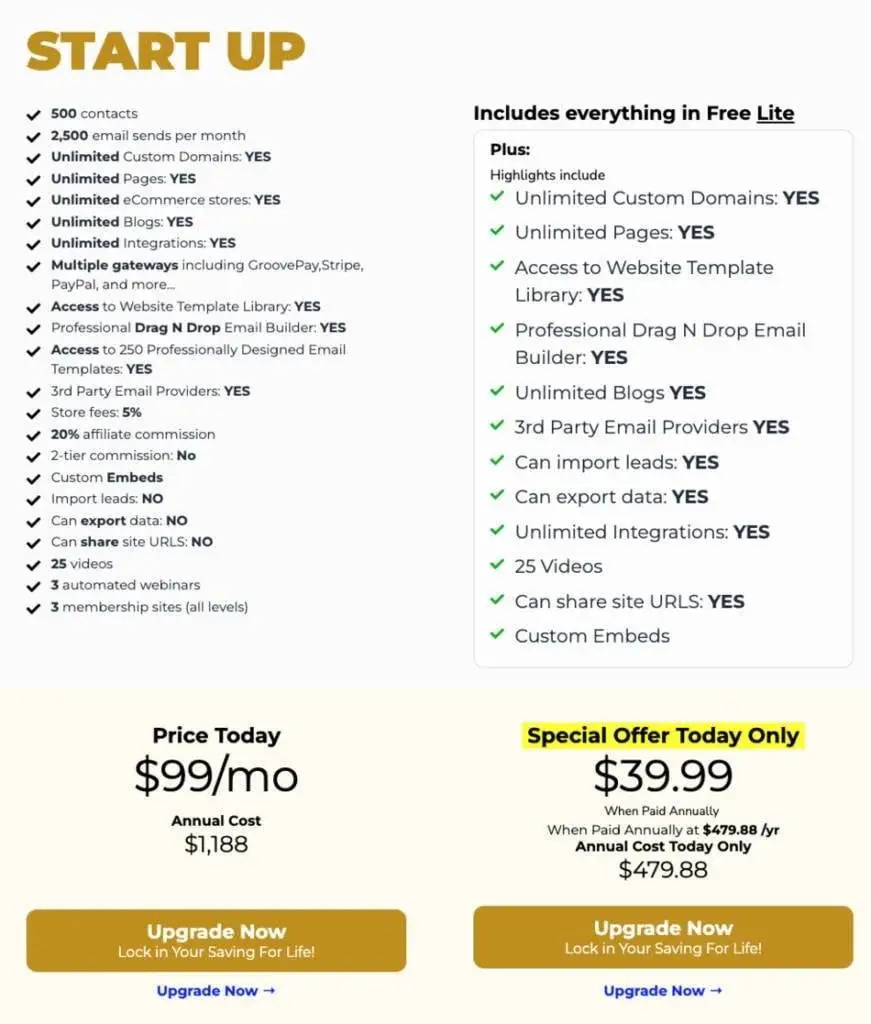 Groove is the best Clickfunnels 2.0 alternative. The price of Groove – LIFETIME is equivalent to a 1-year subscription on Clickfunnels.
Lock in Your Savings for Life Now.
Note: You need to register for a free account and upgrade from your dashboard.
Groove Creator Plan
On the Creator Plan, you get GrooveMail with 5k contacts and can send 50k emails monthly. As an affiliate marketer, you get 30% off your sale. Unlimited funnels, blogs, and 50 videos storage.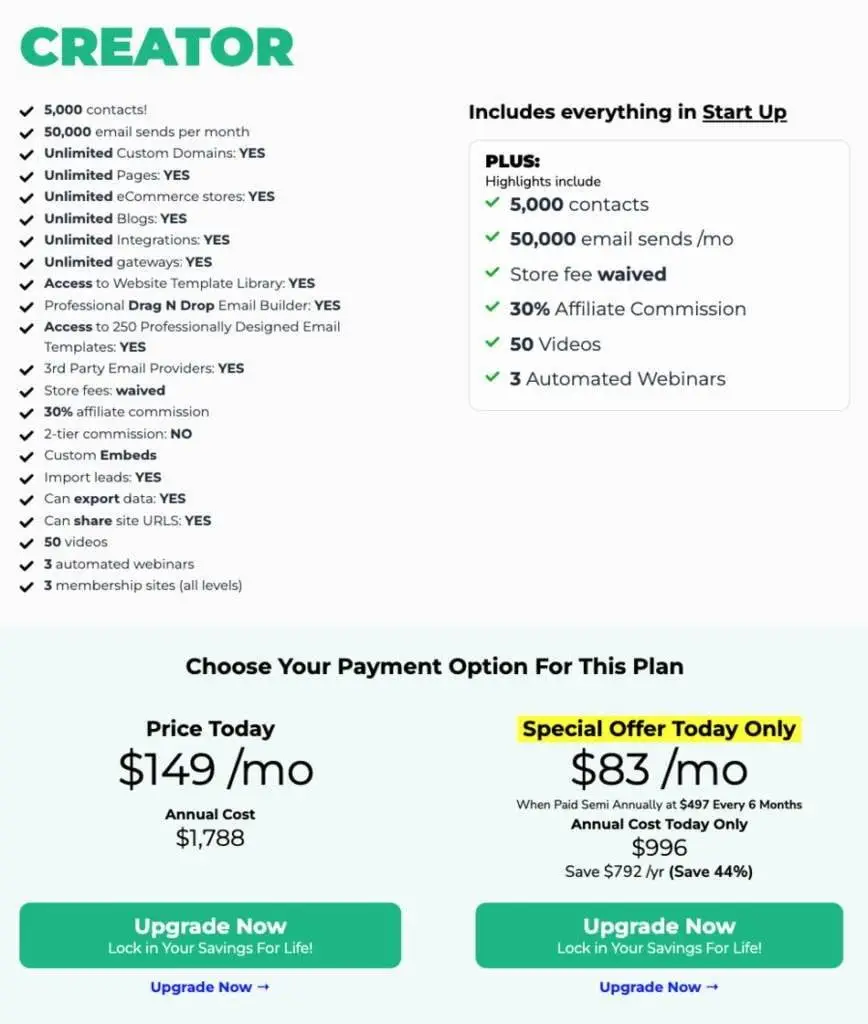 Creator Plan has most of the core apps that every professional must run their online business in the internet market.
The features include:
GrooveSell
GrooveAffiliate
GroovePages
GrooveMember, GrooveBlog
GrooveVideo, GrooveDesk
GrooveMail, GrooveCalendar
Groove Pro Plan
On the Pro Plan, you get GrooveMail with 30k contacts and can send unlimited emails monthly. As an affiliate marketer, you get 40% off your sale. Unlimited funnels, blogs, and video storage.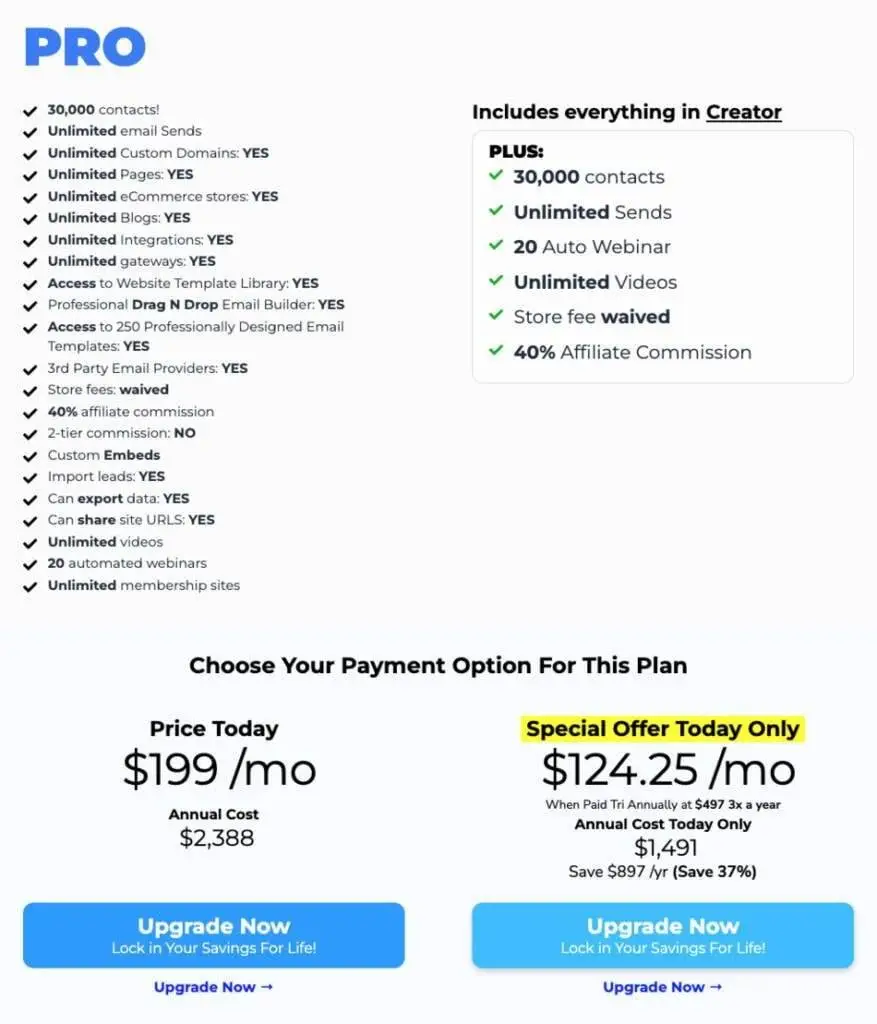 Groove is the best Clickfunnels 2.0 alternative. The price of Groove – LIFETIME is equivalent to a 1-year subscription on Clickfunnels.
Lock in Your Savings for Life Now.
Note: You need to register for a free account and upgrade from your dashboard.
Groove Premium Plan
On the Premium Plan, you get GrooveMail with 50k contacts and can send unlimited emails monthly. As an affiliate marketer, you get 40% off your sale, and then everything is unlimited.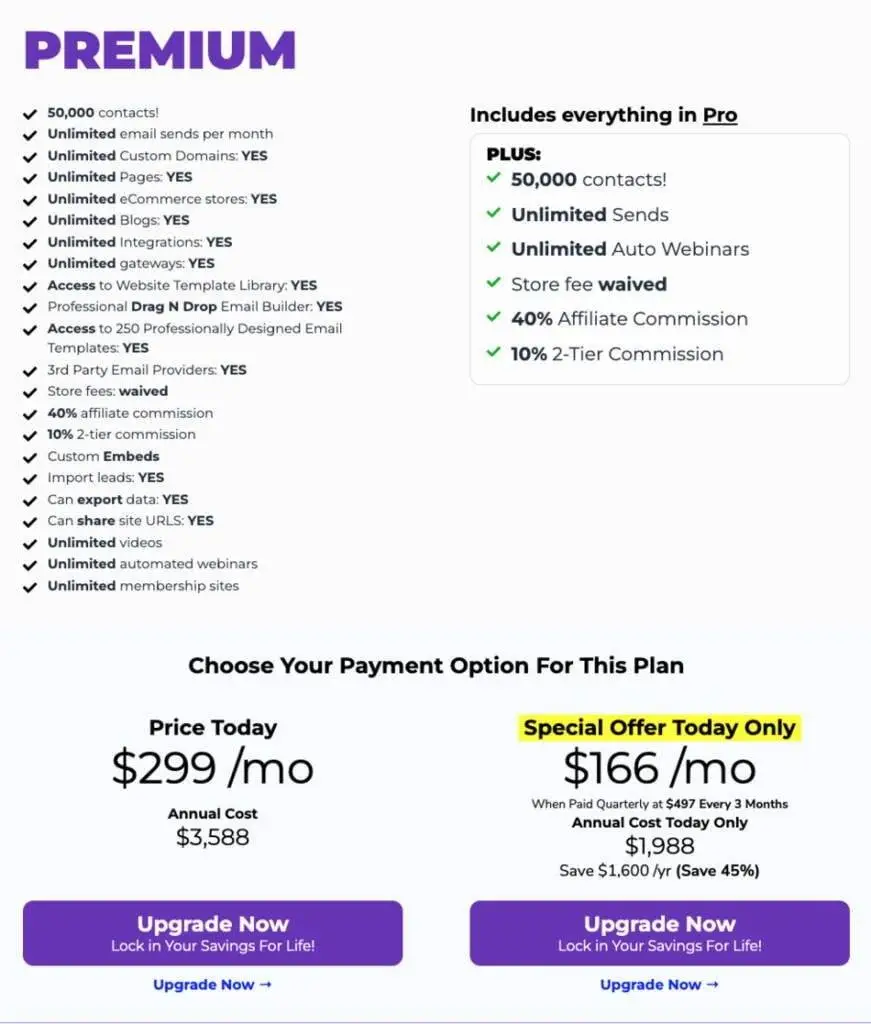 Platinum+ Plan
On the Premium Lifetime, you get the Premium plan plus everything unlimited access to GrooveDesignerPro. One-time payment of $2497 to have a CRM platform for Life.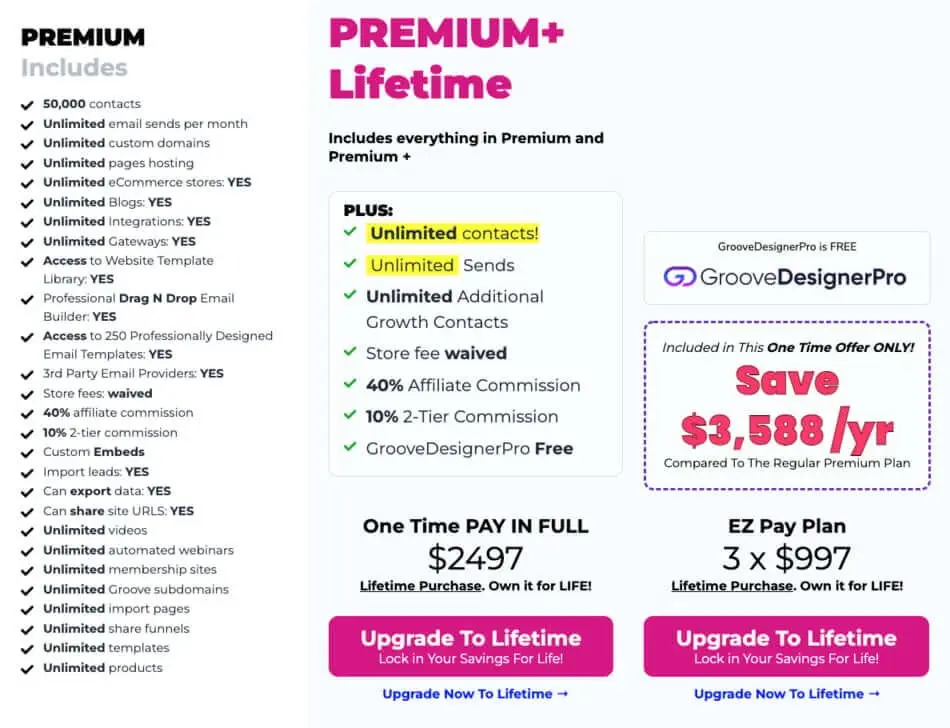 Groove is the best Clickfunnels 2.0 alternative. The price of Groove – LIFETIME is equivalent to a 1-year subscription on Clickfunnels.
Lock in Your Savings for Life Now.
Note: You need to register for a free account and upgrade from your dashboard.
Groove.cm Lifetime plan
However, you will be happy to know that most of the Groove.cm bundle tools are available for access under the free plan, with limited features. Once you opt for the paid plan, you can enjoy an extensive range of advanced features under the same platform.
The free plan includes:
Ability to sell unlimited products online with upsells, order bumps, and down sells.
Free host provider and brand website building solution.
Robust funnel and page builder.
Converting website templates with engaging blocks.
CRM tools to lead automated marketing experience with email, SMS, direct mail, and voice calls.
Membership site creation and course creation.
Automated webinars and affiliate management.
Professional video hosting solution.
The payment processing system, blog, video hosting abilities, and custom domains.
However, the features of Groove.cm are not restricted to this list. A one-time payment for the Groove.cm bundle provides lifetime access to the extensive range of advanced features online.
You have to invest $2497 for the LifeTime access (monthly plan available), and soon you will be able to get access to unlimited import pages, videos, memberships, share funnels, email sends, blog posts, and custom domains.
Just take a minute and see what Groove.cm has to offer below:
Groove is the best Clickfunnels 2.0 alternative. The price of Groove – LIFETIME is equivalent to a 1-year subscription on Clickfunnels.
Lock in Your Savings for Life Now.
Note: You need to register for a free account and upgrade from your dashboard.
Get Started with Groove (Free Course)
Are you looking to get started with online marketing? If so, our free course for Groove is perfect for you!
Our course features 20 over-the-shoulder videos that will guide you through every process step, from setting up the platform to collecting leads and educating customers.
With our course, you'll learn everything you need to know to succeed with Groove. We cover all the essential topics, including selling products and services, building pages, hosting content, email marketing, and more.
Best of all, our course is entirely free! So by registering to a free account today, you will get your free copy today (the Groove platform automatically delivers the access). With our help, you'll be able to build your online business easily and confidently.
So, if you want to learn how to use the Groove (Groovefunnels) platform to grow your online business or become an affiliate marketer, take advantage of this free course offer. You can start your online marketing journey today by securing your free account.
When you decide to stop duct-taping together a dozen different software applications to make your business work and can make a small payment today, you will be rewarded with Lifetime Access to our highest-level platinum account for life. For just one low payment, you never have to make another payment again.
Upgrade to Lifetime Premium now.
Pros:
Extremely cheap and impactful solution for business.
Robust and powerful tools.
Monthly updates for a complete makeover.
Compatible with any business model.
User-friendly and interactive design solution.
Cons:
The Verdict Of Groove.cm
Groove.cm is better recognized as the most powerful software solution for CRM and marketing-related needs. It can serve businesses to extend their reach to potential customers while serving their needs more effectively.
It allows entrepreneurs to set up their websites, landing pages, and funnels from scratch and fill them with interactive elements to enhance customer satisfaction. In simple terms, Groove.cm can help you enjoy a complete makeover of your business.
If Groove.cm is not your type, see the Systeme.io review. I use both platforms to drive my business.
To your success! Take Action Today…
*Disclaimer: Some of the links are affiliate links, meaning, at no additional cost to you, I will earn a commission if you click through and make a purchase. I appreciate your love and support!