GrooveMember Vs Teachable: Which One to Choose in 2023?
GrooveMember Vs. Teachable
Member-driven organizations are always eager to grow their chain; however, they all share a common problem in this process. The work required to manage those members also increases with the membership growth. It demands your continuous focus and dedication to ensure a reliable experience for all members.
We understand that the process may be difficult to manage manually at some growth stage. When your business is scaling, it is better to find a reliable membership management software tool to help you easily manage an extensive amount of data.
The best membership management software comes with easy-to-adopt tools that can easily manage member information and ensure easy access to authorized members whenever needed.
Why do you need membership management software?
A good membership management software can help you save much of your time by avoiding juggling several platforms to manage and consolidate data. The advanced tools are even tailored to meet your specific needs with streamlined administration options.
Once you get associated with a well-designed membership management software, you will fall in love with your work again as everything becomes easier to manage in routine.
Membership Management Software
With membership management software, you can automate the billing and mailing process. You can batch emails and lead impactful marketing campaigns as well. When the business starts growing and your member count increases from 20 to a few hundred, data management may become a little bit challenging.
A dedicated membership management software can facilitate you with easy management of scaling your business. It is even possible to enjoy online booking and website integration as well. The smart dashboard and creative tools also make it easier to report things. Membership management software keeps data accessible, streamlines complex works, and automates routine administration tasks.
The market these days is loaded with plenty of membership management software. Beginners in the business industry may find it a little difficult to choose the best tool to manage their growing needs.
Well, if you are also experiencing the same trouble, it is better to check reviews of a few top-rated software tools. However, if you are facing a lack of time to explore multiple platforms, we are here to ease the selection process for you. Here we have reviewed two top-rated membership management software tools to help you easily choose the best one.
GrooveMember Vs. Teachable: Review
The two selected membership management software tools in the list are GrooveMember and Teachable. Both of them have their individual pros and cons for online business owners.
The main purpose of a good membership site is to engage users, people, or members of your business in such a manner that they join the platform in the long run.
There are so many creative ways and strategies that you can use to enjoy a rewarding experience. But it is better to pick a reliable membership management platform for the best results.
Let us go through a detailed review of both of these competitive software platforms. This information may help you to pick the most reliable solution with ease.
GrooveMember Review: Everything You Need to Know
GrooveMember is an integral part of the Groove platform, which is basically an all-in-one solution to convert random visitors into potential leads for the business. As the name indicates, the GrooveMember program is dedicated to working with growing membership sites, building membership sites, and managing membership sites.
The GrooveMember platform can help you grow your member count on a professional scale without requiring any additional tools. It is basically an all-in-one solution that offers full control and enhanced flexibility over all activities on your membership site. It is important to mention that GrooveMember is a brand-new software tool launched just recently.
This advanced membership management platform is gaining huge popularity due to its extensive range of features. It can help you deliver training, digital products, password-protected courses, and recurrent content subscriptions. GrooveMember ensures easy development of membership areas without paying a huge monthly fee.
GrooveMember Features
Here we have listed a few amazing features of GrooveMember to boost your knowledge base:
Access Levels: The paid and tiered access levels ensure a reliable experience at each membership level. This platform can help you build a stronger audience base with convenient access levels.
Delivery Options: No matter what kind of membership site you are running, this software tool makes it easier to deliver content to all associated members at once, and it is also possible to unlock based on the tags. (On the Lifetime version, you can email to a list of 50k contacts forever, no extra fees.)
Modern Designs: In order to achieve a professional look for your business, you can find many custom themes with the GrooveMember platform. They can enhance the overall impression of your business with ease.
Drag and Drop: This software tool is designed with a simple drag-and-drop interface that can help you enhance performance. There is no need to learn a specific coding language of design tactics. You can create a memorable impression with just a few clicks on the software tool.
Unlimited Memberships: You will be happy to hear that the GrooveMember platform offers an easy solution to design memberships for different sites. It is possible to manage products in different niche categories without even investing an additional amount. You can have a portal where you can promote unlimited courses, memberships, etc.
GrooveMember part of GrooveFunnels Suite
Another amazing thing to know about the GrooveMember platform is that it offers easy integration to other GrooveFunnel suit apps. It means you can get an all-in-one solution for complete business management in one go. It is designed to work straight with GrooveMail, GrooveAffiliate, and GrooveSell GrooveVideo; hence, developing multiple sales platforms or membership sites is not necessary. You can directly link the products to different locations to lead to fast affiliate sales.
You can start with the free account on the Groove.cm platform, and if your business starts scaling, you can also upgrade to the paid plan. There are three paid account options: go ahead with silver, gold, or choose a platinum account. Lifetime access ends soon (which means you pay once and use unlimited forever).
The features keep on varying depending upon the type of subscription. It allows you to create emails, beautiful websites or funnels, drop content, get access to videos and downloads, and enjoy some drag-and-drop publishing features as well.
Besides this, GrooveMember also has certification options, making it one of the most reliable membership platforms for digital courses. You will be happy to hear that Groove apps are designed by a team of professionals with more than 20 years of experience. You can rely on their expertise and knowledge. This software platform generates leads, gets more members, and reoccurring sales.
Those who are new to the platform and need additional guidelines to make the best out of it can find some tutorials online from GrooveAcademy. Even beginners can also learn to use this software tool more effectively to achieve great returns.
Pros of GrooveMember:
It is one of the most valuable tools among 17+ essential GrooveDigital apps that can take your business to new heights.
This software tool is designed with robust software technology that offers breathtaking design.
It is integrated with most of the valuable Groove apps that could ease the journey.
The GrooveMember platform has one of the most amazing service teams that can help you get instant solutions for all your troubles.
The tools are easier to access; even beginners find it simple to learn and use.
The plan is not that expensive.
You can find several tutorials and video lessons online to learn using the GrooveMember platform.
Unlimited, unlimited on everything with the Lifetime version.
Groove Funnels Pricing
Groove Funnels Pricing has four plans to choose from:
Free ($zero)
Start-Up ($39.99 – paid annually)
Creator ($83 – paid annually)
Pro ($124 – paid annually)
Premium ($166 – paid annually)
Premium + (Lifetime Offer – Owned for Life / $2497 one-time payment)
Groove is the best Clickfunnels 2.0 alternative. The price of Groove – LIFETIME is equivalent to a 1-year subscription on Clickfunnels.
Lock in Your Savings for Life Now.
Note: You need to register for a free account and upgrade from your dashboard.
Free Plan
The Base Plan is free for everyone, especially for beginners who want to start their online business.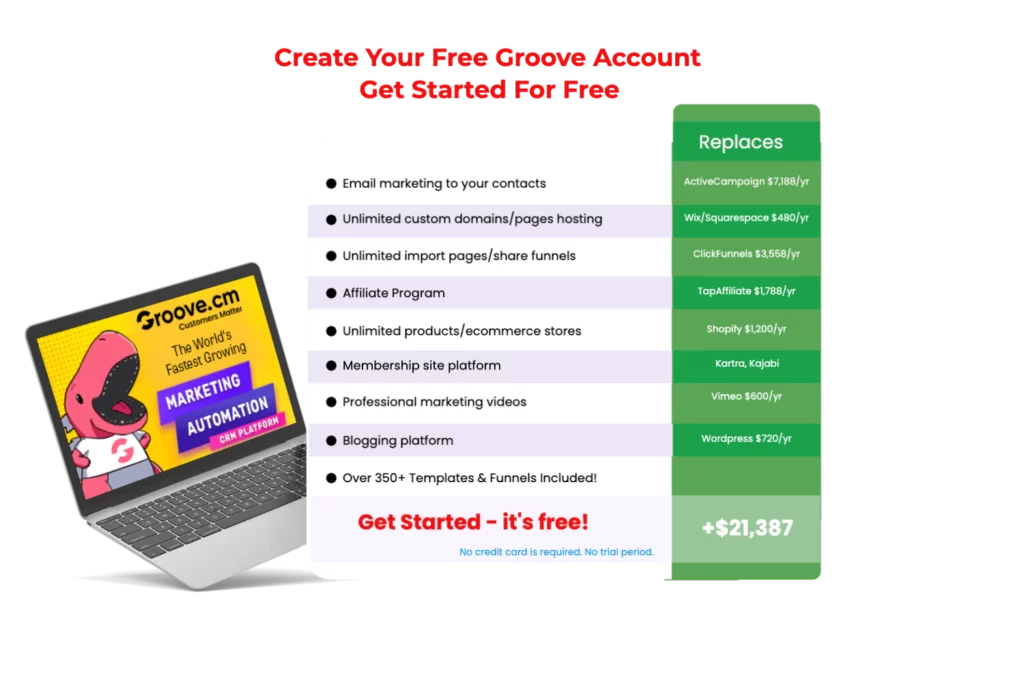 It is Free and contains several features:
GrooveSell
GrooveAffiliate
GroovePages
Affiliate Program 20% recurring commission.
GrooveMail – Autoresponder
GrooveKart (online shop)
GrooveVideo (Video platform)
GrooveMember (Membership Site).
Start Plan
The Start-up Plan contains some of the popular apps needed for beginners to start running and running an online business.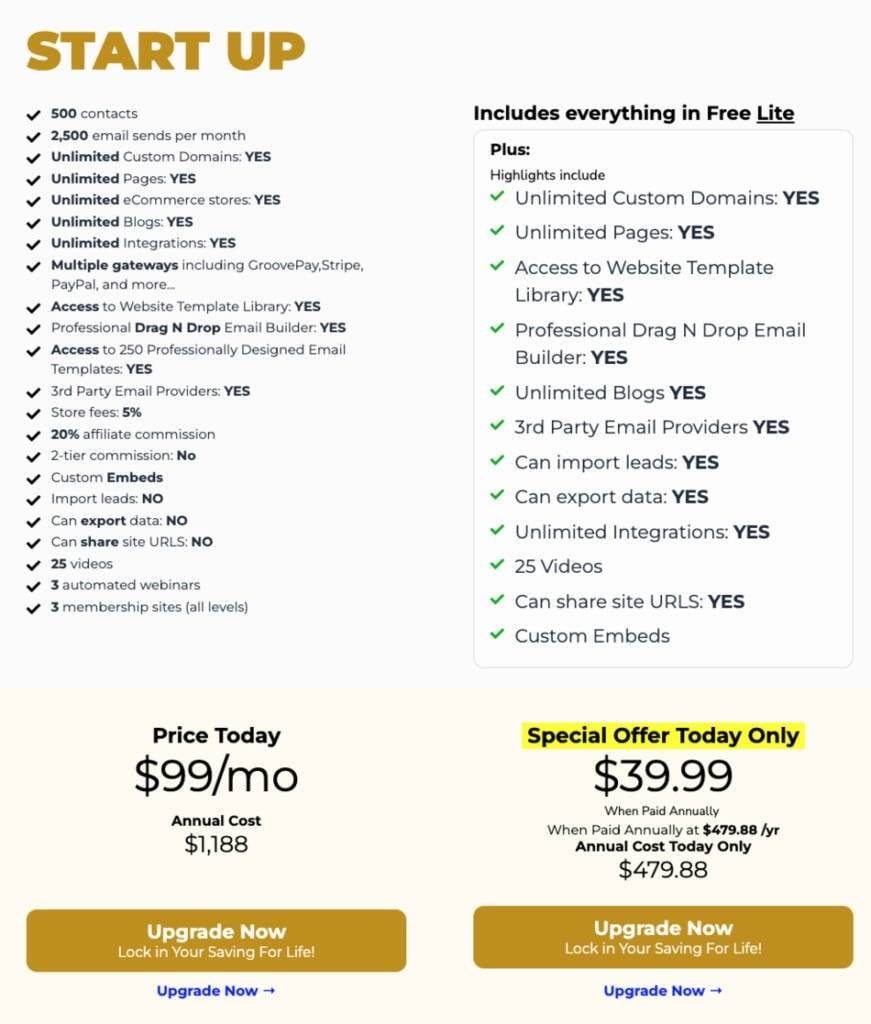 Groove is the best Clickfunnels 2.0 alternative. The price of Groove – LIFETIME is equivalent to a 1-year subscription on Clickfunnels.
Lock in Your Savings for Life Now.
Note: You need to register for a free account and upgrade from your dashboard.
Groove Creator Plan
On the Creator Plan, you get GrooveMail with 5k contacts and can send 50k emails monthly. As an affiliate marketer, you get 30% off your sale. Unlimited funnels, blogs, and 50 videos storage.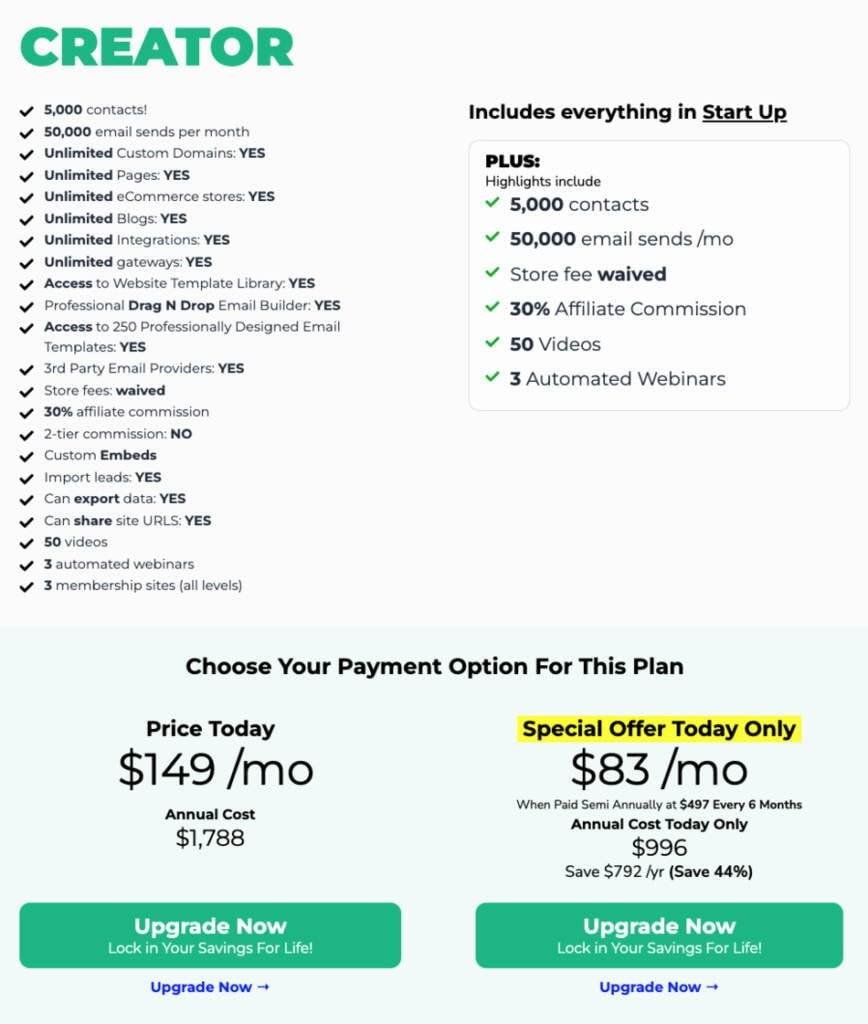 Creator Plan has most of the core apps that every professional must run their online business in the internet market.
The features include:
GrooveSell
GrooveAffiliate
GroovePages
GrooveMember, GrooveBlog
GrooveVideo, GrooveDesk
GrooveMail, GrooveCalendar
Groove Pro Plan
On the Pro Plan, you get GrooveMail with 30k contacts and can send unlimited emails monthly. As an affiliate marketer, you get 40% off your sale. Unlimited funnels, blogs, and video storage.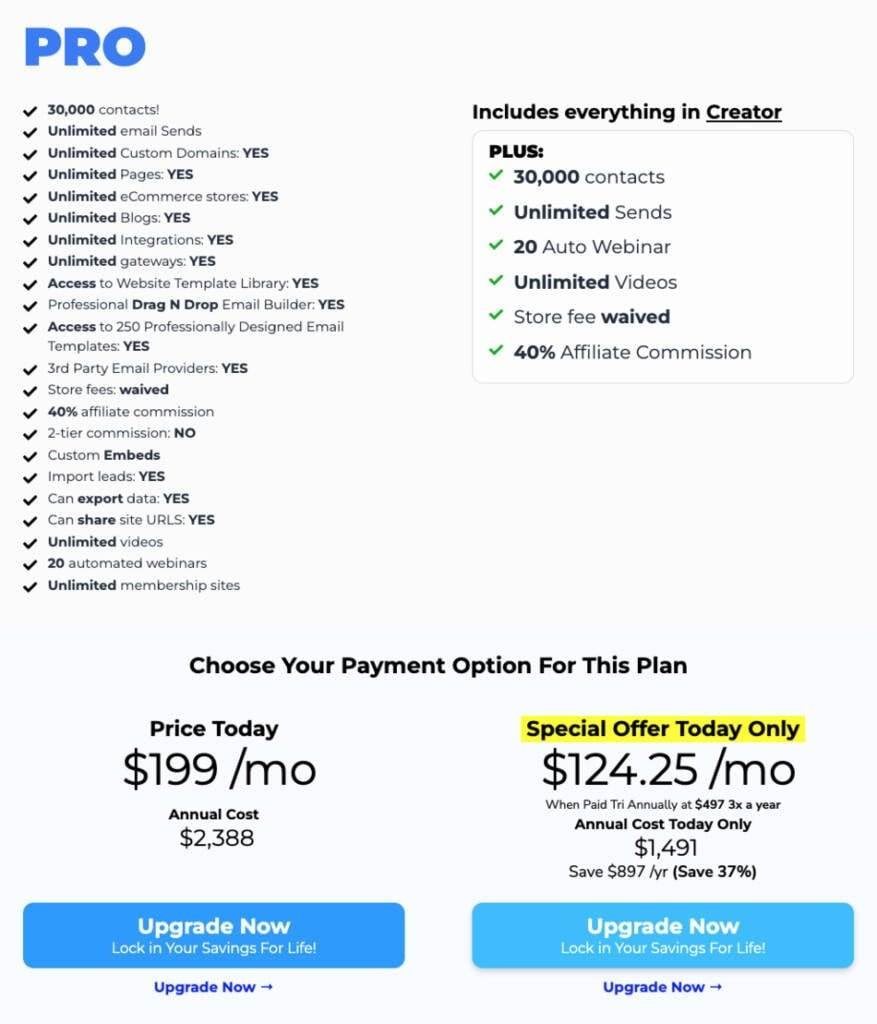 Groove is the best Clickfunnels 2.0 alternative. The price of Groove – LIFETIME is equivalent to a 1-year subscription on Clickfunnels.
Lock in Your Savings for Life Now.
Note: You need to register for a free account and upgrade from your dashboard.
Groove Premium Plan
On the Premium Plan, you get GrooveMail with 50k contacts and can send unlimited emails monthly. As an affiliate marketer, you get 40% off your sale, and then everything is unlimited.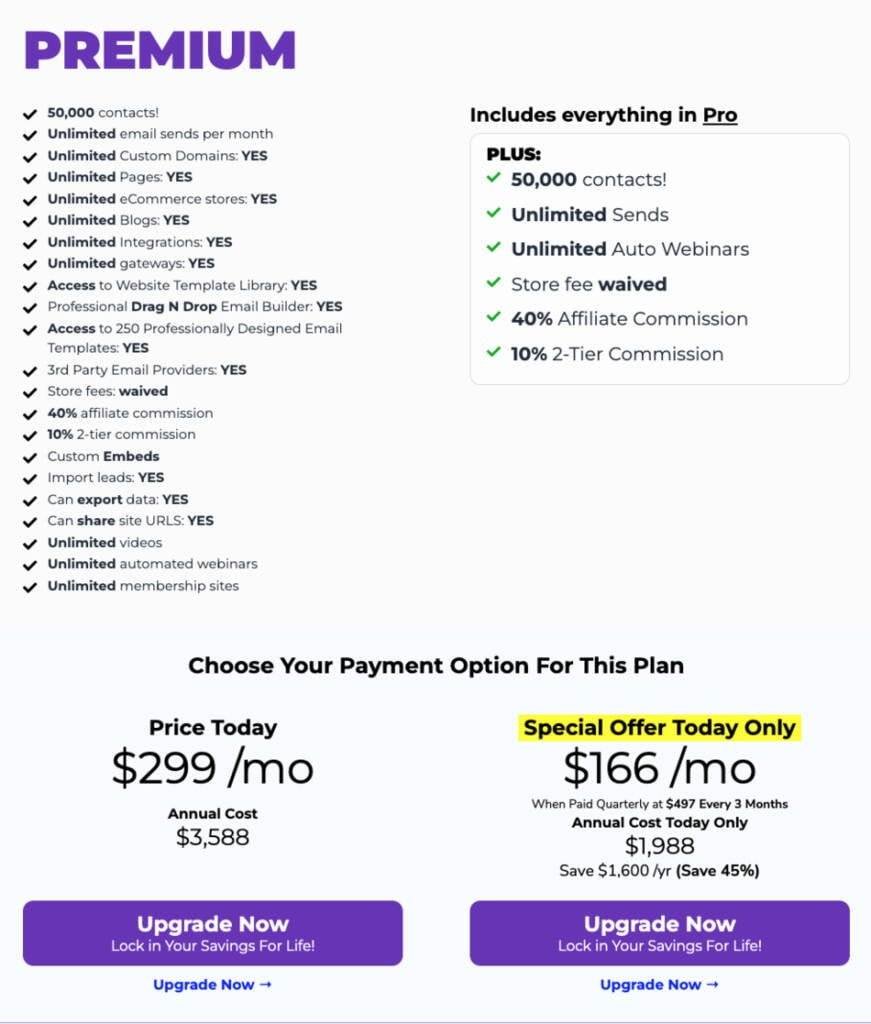 Platinum+ Plan
On the Premium Lifetime, you get the Premium plan plus everything unlimited access to GrooveDesignerPro. One-time payment of $2497 to have a CRM platform for Life.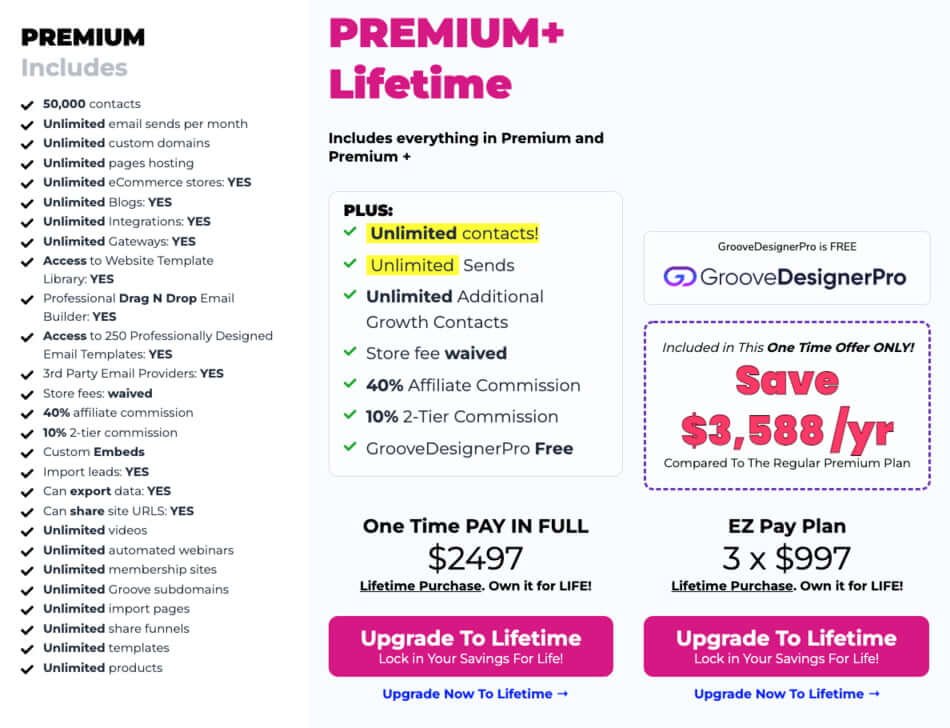 Groove is the best Clickfunnels 2.0 alternative. The price of Groove – LIFETIME is equivalent to a 1-year subscription on Clickfunnels.
Lock in Your Savings for Life Now.
Note: You need to register for a free account and upgrade from your dashboard.
Cons of GrooveMember:
This tool is released just recently; you need to learn how to use the platform using GrooveAcademy or Groove-YouTube channel.
Teachable: Everything You Need to Know
Teachable is another straightforward and solid solution for learners interested in gaining new knowledge online.
It is a learning management system for online educators, creative tutors, and bloggers. Teachable can help you create a membership site to communicate with the students. 
Statistics reveal that more than 22000 teachers have already accessed this platform to run around 34000 courses. There are almost seven million students that are learning through Teachable around the world.
Teachable helps educators set up their schools online while representing a brand. They can create courses and modules on specific subjects while uploading lesson materials for students. The teachable sales page makes it much easier to publish and sell your courses to connected members online.
Here we have listed a few amazing features of Teachable to help you know more about this membership tool:
Creative themes: The best thing to know about Teachable is that it provides a user-friendly interface that can help you to adjust key elements of your website. You can enhance the appeal by uploading a custom logo, adding a new background image, or by changing colors and fonts. With Teachable, attracting more audiences to your nice-looking membership site becomes easier.
Custom domain: With Teachable, you can design a custom domain for your membership site. However, the free plan allows users to get a domain name with teachable acting as a subdomain. Once you start with the paid plan, you can create a custom domain to lead the online professional appeal.
Navigation links: Teachable comes with many pre-loaded default navigation links and stock web pages. However, the great news is that you can also edit them. You can add links to footer menus as well as other sections of the membership site. It helps to enjoy enhanced control on member activities while ensuring easy crowd management.
Blog: As Teachable is an educator-specific membership program, it can help experts to publish relevant blogs on their school website. They can make posts from time to time to connect visitors to the courses while enjoying many valuable assets online. Changing the default text language on the web pages to target a specific audience is possible.
Custom code: One can also add custom CSS in the specially designed Code Snippets area of the Teachable platform. The powerful editor of Teachable makes it easier to handle documentation with the power to make extensive modifications as per need.
Like most other online course platforms, Teachable also offers easy integrations to some other platforms. If you have a paid plan for Teachable, you can easily gain access to Zapier. However, for those using it with a free account, it is better to insert a Google Analytics code that can help you connect to Sumo.
Note that this marketing platform can be accessed for free only when you have subscribers of less than 200; otherwise, you may need to find a paid plan of $29 per month. The paid plan also provides easy integration with Mailchimp and ConvertKit as well. With these tools, you can easily enjoy an engaging membership site management experience online.
Pros of Teachable:
This software tool is easy to use.
You will find it affordable.
The developers keep on adding new features regularly.
Cons of Teachable:
It doesn't offer email integration.
For most beginners, drip emails are quite difficult to set up.
The user interface is quite complicated.
Final Verdict:
Now you have gone through a detailed review of both these membership management platforms. The pros and cons are also listed above. There is no doubt to say that Teachable offers a great set of features for running courses or a school online.
It is also suitable for entrepreneurs who want to run digital courses to address client concerns. But GrooveMember offers plenty of unique features to ease business development.
This software platform also provides easy integration with many other Groove apps (GrooveMail, GrooveVideo, GrooveSell, GrooveFunnels, GroovePages, GrooveDesk, GrooveKart, GrooveWebinars, GrooveCalendar) that can ease the business-building process.
If you are looking for an all-around solution to take your business to a new level and wish to impress your customers, the GrooveMembers platform can help you better. Moreover, it can also assist you in running affiliate membership programs to boost sales easily.
The member data management becomes pretty simple with GrooveMembers; there is no longer need to mess with the manual operations.
OWN A WEBSITE/BLOG – FREE FOR LIFE!
If you are looking just for a blog that will rank on Google using free tools:
Build your blog/website for free.
Groove will host your blog for free.
You can have a different name but will need to buy it from NameCheap.
You can access landing pages, capture pages, websites, emails, membership, sale-affiliate software, video, survey, online shop/store, and many more, all for free using my invitation link on the Groove platform.
Get Started with Groove (Free Course)
Are you looking to get started with online marketing? If so, our free course for Groove is perfect for you!
Our course features 20 over-the-shoulder videos that will guide you through every process step, from setting up the platform to collecting leads and educating customers.
With our course, you'll learn everything you need to know to succeed with Groove. We cover all the essential topics, including selling products and services, building pages, hosting content, email marketing, and more.
Best of all, our course is entirely free! So by registering to a free account today, you will get your free copy today (the Groove platform automatically delivers the access). With our help, you'll be able to build your online business easily and confidently.
So, if you want to learn how to use the Groove (Groovefunnels) platform to grow your online business or become an affiliate marketer, take advantage of this free course offer. You can start your online marketing journey today by securing your free account.
Get Started With Groove.cm Now!
Discover the Benefits of Groove.ai's AI-Powered Copywriting Platform for Your Business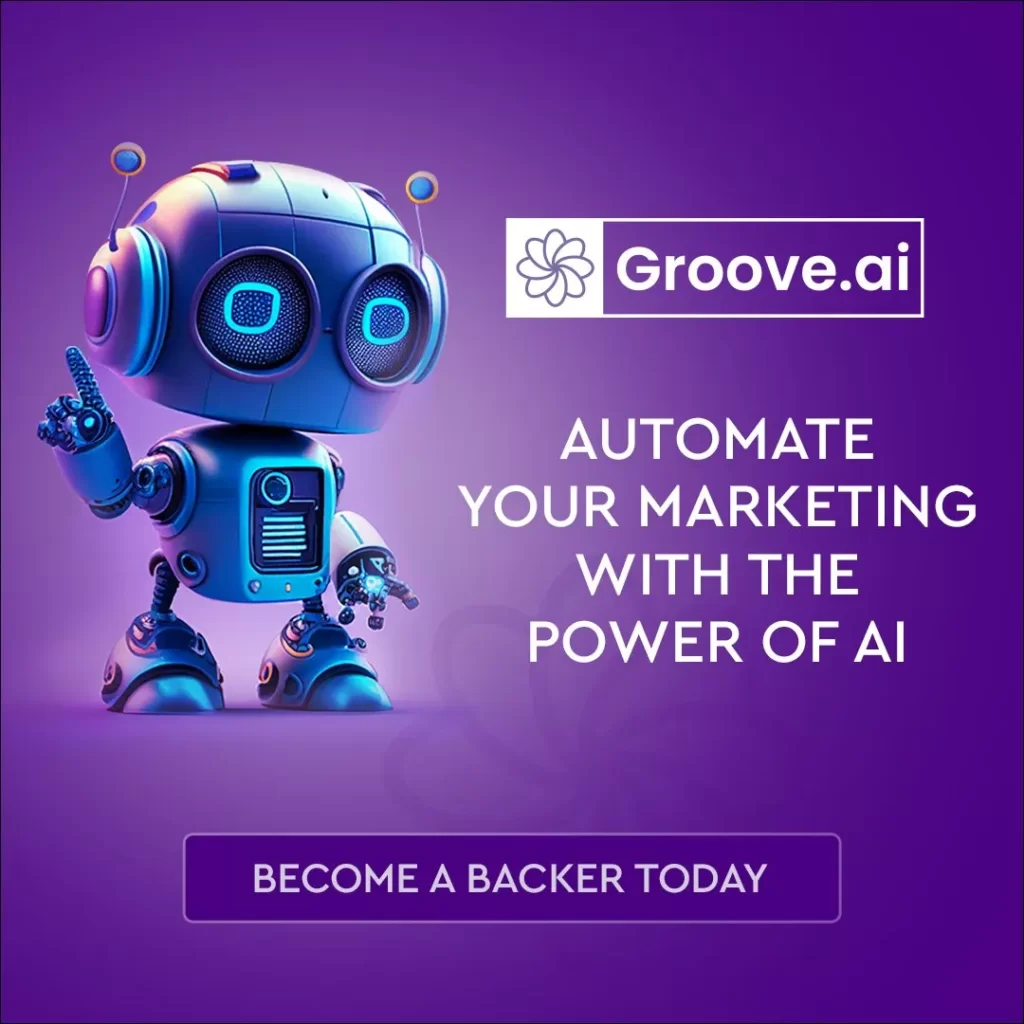 Say Goodbye to Writer's Block and Hello to High-Quality Content
Create All Types of Content 10x Faster
Are you tired of staring at a blank page, struggling with writer's block, or spending hours crafting copy that doesn't convert? If so, then you're in luck! Introducing Groove.ai – the AI-powered copywriting platform that can revolutionize the way you create content.
With Groove.ai, you can create all types of content 10x faster, from blogs and articles to emails, press releases, website copy, funnel copy, landing pages, social media posts, video scripts, freemiums, reports, mind maps, outlines, process maps, worksheets, workbooks, and even books. Our deep learning technology uses preset prompt engineering to generate copy that is tailored to your unique style and tone of voice, making it easy to produce content that truly represents your brand.
Build a Professional Online Presence in Minutes
But that's not all. Groove.ai also offers a brand website builder, allowing you to build a professional online presence in minutes. Our intuitive drag-and-drop interface makes creating stunning websites easily without prior web development or design experience. Our optimized copy, images, and title tags will help your website rank higher in search engine results pages (SERPs).
Collaborate with Your Team Anywhere
Collaborating with your team has never been easier with Groove.ai's ChatGPT integration. You can create tasks on the go and work with other writers on your team, no matter where you are. Plus, our Chrome extension allows you to extend Groove.ai anywhere you can type, making it easy to write copy for subject lines, marketing emails, blog posts, product descriptions, and more.
Save Time and Money with Wholesale Pricing
And the best part? Groove.ai's wholesale pricing model means you don't have to pay for AI. Instead, you can connect your free-to-get APIs with companies like Google, OpenAI, and StabilityAI, saving you thousands per year compared to other leading AI companies. Plus, when you back our project, you can get lifetime access to Groove.ai for just a one-time payment of $897 or 2 payments of $497.
In summary, Groove.ai is the ideal solution for businesses of all sizes looking to streamline their content creation process and create high-quality, engaging content that resonates with their audience.
So why wait?
Sign up for our free launch webinar today and discover how Groove.ai can help you save time, money, and resources while transforming your content creation process.
Revolutionize Your Marketing Strategy with Groove.ai's Funnel Builder
In today's digital world, landing pages and sales funnels are the linchpins of successful online marketing campaigns. The ease with which businesses can set up these pages directly influences their ability to capture leads and drive conversions.
What Makes Groove.ai Stand Out?
Groove.ai's Landing Page Funnel Builder provides a comprehensive solution, allowing businesses to create optimized, high-converting funnels in record time.
The Need for an Effective Funnel Builder
Traditional methods of building landing pages involve multiple steps, from designing to copywriting, often requiring several professionals. Groove.ai streamlines this process, ensuring your marketing campaigns launch faster and more effectively.
Key Features of Groove.ai's Funnel Builder
Intuitive Drag-and-Drop Interface
No coding, no fuss. Groove.ai's user-friendly interface lets you design your pages effortlessly, even if you're not tech-savvy.
AI-Driven Content Creation
From compelling copy to eye-catching images, Groove.ai ensures your pages aren't just functional but also aesthetically appealing.
SEO Ready Pages
In the battle for online visibility, SEO optimization is paramount. Groove.ai auto-optimizes your pages to boost organic traffic.
Smooth Integration with Leading Platforms
Whether you prefer GroovePages or Webflow, Groove.ai's seamless exporting capabilities save you time.
Budget-Friendly
By consolidating multiple functions into one platform, Groove.ai cuts down on the costs of hiring separate professionals.
Reap the Rewards of a Superior Funnel Builder
With Groove.ai, you can expect:
Higher Lead Captures: Craft pages that captivate and compel visitors to take action.
Efficient Sales Navigation: Create funnels that effectively guide prospects, enhancing conversion likelihood.
Boosted Conversion Rates: Benefit from optimized design and copy that engages and converts.
Consistent Branding: Present a unified brand image, building trust with your audience.
Resource Optimization: Save both time and money by utilizing Groove.ai's multifunctional capabilities.
Conclusion: Stay Ahead with Groove.ai
In the competitive world of digital marketing, Groove.ai's Landing Page Funnel Builder stands as a beacon for businesses, providing an efficient and effective way to establish a strong online presence. This all-in-one solution ensures that your marketing efforts aren't just streamlined, but also supercharged for maximum impact.
For More Information:
Dive deeper into what Groove.ai can offer by clicking here.
*Disclaimer: Some of the links are affiliate links, meaning, at no additional cost to you, I will earn a commission if you click through and make a purchase. I appreciate your love and support!