Groove Vs Elementor: Which One to Choose for Your Business?
|
Groove Vs Elementor Review
Business owners worldwide are always interested in finding trustworthy marketing solutions to build a solid brand impression online. If you are also planning to sell some products and services online, it is good to set up a reliable marketing strategy.
Irrespective of the niche you are trying to promote, every business needs to build solid credibility in the market. There are numbers of competitors that are already selling the products, same as that of you. In this scenario, you need to find some creative ways to build a reputation online.
Related: 7-best-sale-funnels-software-on-marketing-industry
Experts believe that no business can grow without sales funnels, landing pages, and engaging web pages. After all, they help to transfer more traffic to your business platform while ensuring an enhanced conversion rate online.
Therefore, it is necessary to look for a feature-rich funnel builder online that can help you grow in the competitive market.
Although there are numbers of software tools that you can access for branding online, not all of them can equally meet your digital marketing needs. Hence, an in-depth comparison is essential to pick the best performing tool.
Here we will talk about the two most popular funnel builder software tools: Groove vs Elementor.
Both of them have influenced the business industry by a considerable level within the past few years. The detailed comparison below may help you choose the most powerful solution for building a solid brand impression online.
Groove Vs Elementor: What You Need to Know?
There are so many amazing things to know about both these software tools. But let us first start with the basic introduction. This overview may help you understand why these tools are designed and how they can serve your business.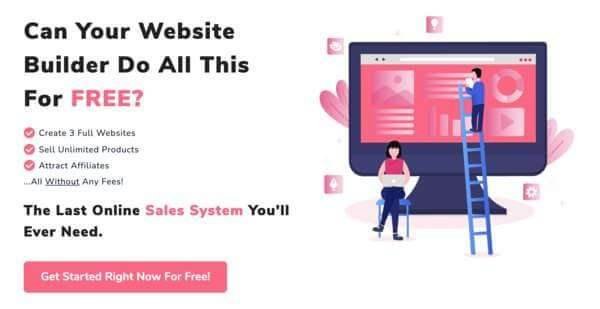 Groove: Overview
GrooveFunnels is one of the most superior, all-inclusive, high-quality, and durable advertising and marketing solutions for the new age business owners. It enables internet entrepreneurs to build and lead a brand online.
GrooveFunnels is a SaaS-based business solution that brings everything under one roof. This software package is developed by Mike Filsaime and his team and launched under the roof of GrooveDigital.
There are plenty of advanced applications available under a single package and can help you lead your brand ahead of competitors.
You can use GrooveFunnels to build funnels, pages, and websites. At the same time, it has all the essential features that are necessary for leading email and social media marketing campaigns. The growing business owners will find it a reliable choice for holding a solid brand reputation among the target audience while managing and organizing online events and meetings with ease.
GrooveFunnels has been launched recently in the year 2020. However, it has gained the attention of marketing professionals and business owners around the world. Its drag and drop-based dashboard offer easy development opportunities to beginners as well. Furthermore, powerful modern technology is capable enough to improve SEO ranking online.
Elementor: Overview
Elementor is a new drag and drop-based plugin that works as a WordPress page builder. It allows users to create original-looking pages and posts instantly by using templates that work perfectly with the existing WordPress theme.
When you gain access to Elementor, it can help you get a separate interface for the funnel design. There is no need to learn typical coding languages and high-end technical skills; even beginners can handle everything with ease using this handy interface.
Elementor works perfectly well with the front end of the website. You can use this tool to create desired page layouts and content layouts. There are hundreds of modules and elements to choose from; the list includes progress bars, testimonials, counters, carousels, buttons, headings, and images.
The pages developed using Elementor are SEO-friendly and mobile responsive. Also, users can modify and customize pre-made templates.
When you access the Pro version of Elementor, it can also provide you easy access to the Theme Builder software.
You can easily modify theme elements using single post templates, footer, header, and blog archives. Other than this, developers can also access the display settings where you can change fonts, colors, padding values, margins, and backgrounds.
Groove Vs Elementor: Features
After going through the basics of both these software tools, now you might be interested to know more about their features. Well, here we have listed a few important ones to build your knowledgebase.
Groove: Features
Let us first start with the GrooveFunnels features. They are many in numbers; however, here you will find a few to get quick highlights:
Build landing pages and funnels.
GrooveFunnels can help you to design converting landing pages and funnels. The GroovePages app is designed to assist beginners with accessible developments using simple drag and drop features.
There is no need to learn specific coding languages. You can handle everything conveniently with its powerful modern technology. Furthermore, GrooveSell can assist growing businesses in designing engaging sales funnels that can ensure enhanced sales online.
Email and affiliate marketing
No business can grow without a converting email marketing campaign. It is usually tricky for business owners to keep track of conversations for unlimited subscribers and prospects online. Don't worry! GrooveMail makes this task easier with automated tools and responsive design.
You can lead behavioral email marketing campaigns to capture audience attention. Other than this, GrooveAffiliates can help you to design and promote premium and high-quality affiliate programs. You can also run impactful membership programs via GrooveMember to achieve enhanced conversion rates.
Online promotions and advertising
GrooveFunnels make it pretty easier and convenient to lead advertising and promotional campaigns online. You can use GrooveVideo, GrooveBlog, GrooveSurvey, GrooveQuiz, and GrooveWebinars to manage easy promotions online.
It will help you to enjoy enhanced engagement on social media channels and blogging platforms. Make sure you stay active to respond to audience comments and reactions to build healthy relations online.
Event organization and management
It is usually difficult for most busy business owners to manage routine meetings, events, and gatherings. But GrooveFunnels can ease the process for you without disturbing your overly occupied routines.
You can access GrooveDesk and GrooveCalendar to set up event timings and dates. It will send you immediate reminders to conduct operations from time to time. GrooveFunnels can help you ensure enhanced business management that could automatically build a solid brand reputation in the market.
Elementor: Features
Now let us talk about the innovative features of Elementor to understand how it can serve your business:
Convenient funnel and page building
Elementor comes with simple drag and drop tools that ensure a fast and intuitive design with easy customization options. There are more than 300 designer-made templates with 90+ widgets. Furthermore, the responsive editing elements ensure a perfect look on any device. You can access popup builder, theme builder, and WoCommerce builder to achieve enhanced performance online.
Intuitive workflow management
There is no need to worry about typical coding languages and design practices. Elementor is loaded with plenty of easy workflow management options. The navigator, full site editor, finder, hotkeys, shortcut cheatsheet, redo undo, autosave, revision history, draft mode, copy-paste, copy style, inline editing, dark mode, global widget, and site setting, all these features make workflow management pretty simple.
Advanced design and development tools
When you start working with Elementor, it provides easy access to global fonts, global colors, global custom CSS, background gradients, background videos, background overlay, enhanced background images, background slideshows, Elementor canvas, blend modes, CSS filters, shape divider, box-shadow, absolute position, one-page websites, and motion effects.
Other than this, you will be able to access the icons library, SVG icons, and theme styles to enhance the funnels and pages' overall appeal.
Ability to lead engaging marketing campaigns
There are plenty of advanced tools and techniques that business owners can use to create and manage marketing campaigns online. You can manage and create landing pages, form widgets, popup builder, testimonial carousel widgets, countdown widgets, rating star widgets, multi-step forms, and action links.
The typography features can further enhance quality with easy to customize options, title HTML tag, custom fonts, and editor elements.
Groove Vs Elementor: Pricing
After going through the extensive details about the features of GrooveFunnels and Elementor, it is the right time to move ahead to discuss the details about pricing plans.
Groove: Pricing
GrooveFunnels is rated high for its budget-friendly package. You can get started with the base plan, which is accessible for free. It is possible to gain lifetime free access to three main apps: GroovePages, GrooveSell, and GrooveAffiliate. However, if you are looking for an enhanced version with advanced features, you can go ahead with Silver Plan.
By paying $99 per month under this plan, you can access all three features included in the base plan along with GrooveVideo, GrooveMember, GrooveMail, Email Leads, Email Buyers, Email Affiliates, and Email Cart Abandons.
The Gold Plan is available with a payment of $199 per month, and it provides easy access to all the above-listed apps and features along with GrooveBlog, GrooveDesk, GrooveSurvey, GrooveCalendar, and GrooveQuiz. For the big agencies and big brands, the GrooveFunnels Platinum plan is more suitable. It provides access to the whole suite of applications and all the above-listed apps along with GrooveWebinars Live, GrooveWebinars Automated, and GroovePages for Shopify. To save more, you can grab the lifetime deal opportunity for the Platinum plan of GrooveFunnels.
Elementor: Pricing
The best thing to know about Elementor is that it is available for free. You can access many amazing features of Elementor under free offer; however, the pro edition is suitable for business owners interested in building a solid impression online. This software's main plugin is available via WordPress repository, and users need not worry about any hidden cost, registrations, and signups.
The Personal package is available with a price tag of $49 per year for one site, and it provides easy access to 90 plus pro widgets, 300+ pro templates, theme builder, popup builder, WoCommerce builder, support for one year, and updates for one year.
The Plus plan further provides easy access to all the above features with the payment of $99 per month, but it works for three websites. Whereas the Expert plan available with a price tag of $199 can work up to 1000 sites.
It is more suitable for the Expert plan and can ensure enhanced returns in the long run. With an annual subscription, you will also receive professional support 24×7 from taking your business to a whole new level.
Groove Vs Elementor: Pros and Cons
After going through the extensive details about both these software tools, let us discuss their pros and cons. These highlights may help you better understand how well both these software packages can help you grow your business.
GrooveFunnels: Pros
All in one solution for businesses.
Robust software technology with a modern program.
Top-notch and well-experienced team.
Long-term vision with SaaS-based development solution.
Easy drag and drop system for instant page and funnel design.
No need to look for third-party integrations.
GrooveFunnels: Cons
Many apps are still in the development phase.
It is not integrated with the WordPress platform.
Elementor: Pros
Most of the features are available for free; many businesses need not upgrade to the pro plan.
Exceptional range of features with easy-to-use design.
Ability to customize page layouts without requiring coding skills.
Real-time previews and inline text editing.
Ability to adjust views on tablets, mobile, and desktop.
Details settings and enhanced controls for margins, alignments, and padding values.
Elementor: Cons
Many of you may be stuck with the default color settings and typography of Elementor.
Complicated page margin settings.
It cannot be recognized as an all-in-one solution for businesses.
Groove Vs. Elementor: The Final Recommendation
Now you have gone through the excellent features, pricing details, pros, and cons of both these software tools. However, Elementor may appear a budget-friendly solution initially. I get so lost on building pages on Elementor that I give up and switch to a free theme for this blog.
I recommend GrooveFunnels as the best solution for those who need an all-in-one branding solution for business. You can access the free plan of GrooveFunnels with a lifetime offer without even providing any credit card information.
If you are using WordPress and don't think of changing platforms, use Elementor.
Suppose you are using any other platform. Check this comparison to find more on how you can save more money. Break Free of monthly payments and grab a Lifetime-offer!