HBA Funnel Builder Vs. Groovefunnels Review – 2023
The business industry worldwide is growing fast with digital media and social media marketing support. Irrespective of the type of business you are running online, you may always be interested to find some reliable ways to capture audience attention.
Generating sales for business requires a huge commitment and hard work. But if you follow the right strategies for improving customer experiences, it can bring you great returns in the long run. The great news is that you will find some funnel builders in the market to generate more leads for your business.
There are plenty of competitive options in the market for funnel building; here, we will talk about two main tools named Groove.cm and HBA Funnel Builder to enjoy progress in the lead generation process. But you may be interested to find the best tool among these both to meet your needs. Don't worry!
The article below may guide you better in choosing the best funnel builder among HBA and Groove.cm.
HBA Funnel Builder Vs. Groove.cm Review
The main task of sales funnels is to divert prospective customers toward your business terminal so that they can invest. But the process is difficult; you may have to develop trusted strategies and techniques to lead your business online.
A funnel builder is one of the best tools for every business; you may need to pick tools from a reliable service provider. Here we will compare two main tools: HBA Funnel Builder and Groove.cm. The detailed information below may help you proceed with a careful selection.
What is HBA Funnel Builder? Aka Home Business Academy
Paul Hutchings and Mike Hobbs established Home Business Academy (HBA) to help new business owners to lead their brands online. They offer everything ranging from a premium coaching solution, funnel builder, and several DIY email swipes. This platform is rated high for its step-by-step guide on trusted and tried processes to build converting funnels.
HBA funnel builder is considered the most effective solution to establish an affiliate marketing business online. HBA follows a mission of freedom through principle-centered leadership, and it provides quick access to several trusted online marketing tools to support customer demands. This funnel builder can help you drive traffic through YouTube, Facebook, SEO, blogging, and many other website monetization solutions.
HBA funnel builder makes it easier to design unlimited marketing pages and sales funnels for any product, business, and service. It includes a few additional features such as membership sites, digital products, order/checkout pages, sales pages, thank you pages, and lead capture pages. The package offers a step-by-step course on digital education to assist business owners with easy marketing solutions. The All-In-One $25 Digital Business is a game changer for affiliate marketers. It provides everything an affiliate needs to get started and be successful online.
What is Groove.cm? Aka Groovefunnels
Groove.cm is better recognized as an all-in-one business builder online that can help entrepreneurs and marketing teams to sell and create digital products, membership sites, and courses. This platform also has a potential email marketing tool, built-in payment processor, and affiliate marketing program.
Groove was launched in the year 2020; among these, Mark is a successful software developer, and Mike is a reputed internet marketer. Groove is an excellent product for online entrepreneurs that are interested in selling and creating courses, memberships, and digital products. This platform offers several built-in tools for marketing that can further enhance conversation with the target customers.
The affiliate marketing program from Goove is another great solution to make money by promoting Groove's services and products to the audience.
Groove.cm can be an effective solution for online entrepreneurs, course creators, business owners, digital marketers, e-commerce store owners, influencers, affiliate marketers, email marketers, niche website builders, webinar organizers, marketing agencies, small niche bloggers, consultants, coaches, and new entrepreneurs.
HBA funnel builder vs. Groove.cm: What Makes the Difference?
Both these software platforms for funnel building have plenty of unique features that offer enhanced efficiency to the users. When you are willing to choose the most relevant options in the market to lead your business, the below-listed features may help you better in decision-making:
HBA Funnel Builder: Extensive range of features
HBA Funnel Builder can help you to build and run your business online in just a few minutes. The page builder is capable enough to automate sales processes for businesses while capturing enhanced traffic online. Furthermore, it can save you more time while streamlining the cash flow, communication, and business growth. Below are a few relevant features of HBA to help you build knowledge about this platform.
Lead Capture Pages
HBA Funnel Builder can help you design Lead Capture Pages for your business to ensure enhanced conversion rates. This easy-to-use tool makes it simple to divert audience attention toward business for improved lead generation, which can further enhance returns in the long run.
Sales Pages
If you plan to promote your products and services online, HBA sales funnels can help you with that. There are plenty of templates that you can use to attract customers to your business. Moreover, they can ease the journey of the buyers on your platform.
Webinar Pages
In the present scenario, webinars appear the most impactful choice to motivate people to invest in your business. HBA Webinar Pages are the best solution for new business owners and affiliates to capture audience attention.
Membership Sites
One can also use the HBA funnel builder to create attractive and engaging membership sites. The advanced tools available in this package can help you achieve the desired impact on the potential members of your affiliate team. They can automatically bring you more returns in the long run.
Upsell Pages
You can also use HBA funnel upsell pages to make more money with your products and services. You can access several templates and design ideas to lead your promotional campaigns with a proven strategy.
Checkout Pages
HBA Funnel Builder can also assist new business owners and affiliates to create quick checkout pages to improve customer journeys on the business platform. These well-designed pages can enhance customer satisfaction with improved business returns. These checkout pages can also promise easy conversions with enhanced lead generation in the long run.
Countdown Timers & Analytics
HBA funnel builder comes with a simple countdown timer and analytics tool to enhance the experience of the business owners and new affiliates. These advanced tools can help you easily manage your business's growth stats.
Other than this, the HBA funnel builder offers several pre-existing samples of complete websites, along with entire sales funnels. These advanced tools and techniques can improve returns for your business with ease. One can also integrate HBA funnel builder tools with other popular tools in the market to achieve desired outcomes.
Groove.cm: Extensive range of features
Groove.cm provides easy access to many funnels, landing pages, and complete websites to help new business owners with growth opportunities. When it is getting tough to handle your customers and clients online, you can consider using stunning tools from Groove to enjoy fast returns.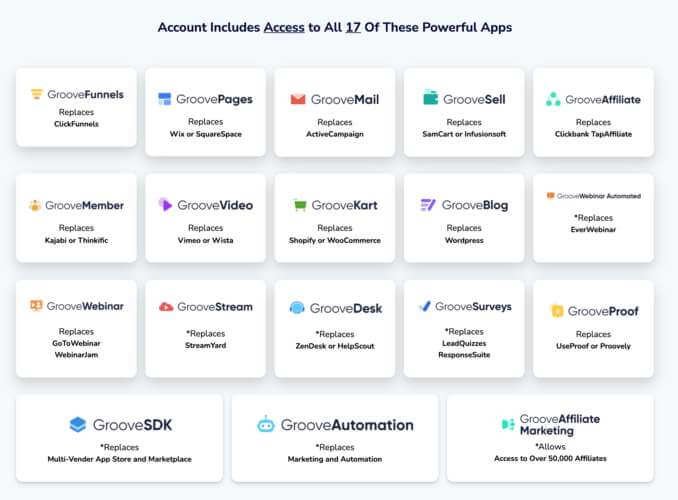 GroovePages
Groove.cm offers a simple drag-and-drop builder to design pages with 63+ different customizable elements. One can edit any element of GroovePages to enjoy enhanced control over design. It allows users to preview all pages across modern devices with specific adjustments quickly.
GrooveSell
GrooveSell can help you customize the checkout process with the ability to convert more leads. One can create multiple price points to drive higher conversions by offering real choices to the customers. They further offer transactional emails for a seamless customer experience while ensuring they receive the most adequate information.
GrooveMail
Groove.cm offers a world-leading email marketing solution with segmentation technology that is further combined with extremely high deliverability. It will make key to the marketing success of your business. GrooveMail can simplify email-based conversions with a simple drag-and-drop interface.
GrooveAffiliate
Groove.cm can help you recruit affiliates and partners for building your own army of affiliates in the competitive market. When you sign up, you will instantly become a Groove affiliate member, and then you can start promoting their packages to make money online.
GrooveMember
It is possible to scale your online membership and keep your clients engaged on the platform. You can start providing them with unlimited courses with a membership program with the help of GrooveMember. One can develop courses quickly with ready-to-go templates, login page matches, and membership sites.
GrooveVideo
Businesses and affiliate marketing agencies these days are looking forward to leveraging the potential of GrooveVideo to lead impactful video marketing campaigns. This tool makes sharing and uploading videos online to entertain potential customers easier.
Other than this, Groove.cm can help you enjoy an incredible range of services with GrooveKart, GrooveBlog, GrooveWebinar, GrooveSurveys, and GrooveProof. This extensive set of tools can ease your marketing experience for new businesses. Even if you are a new affiliate, you can boost your conversations with Groove.cm.
Unleash Your Writing Potential with Groove.ai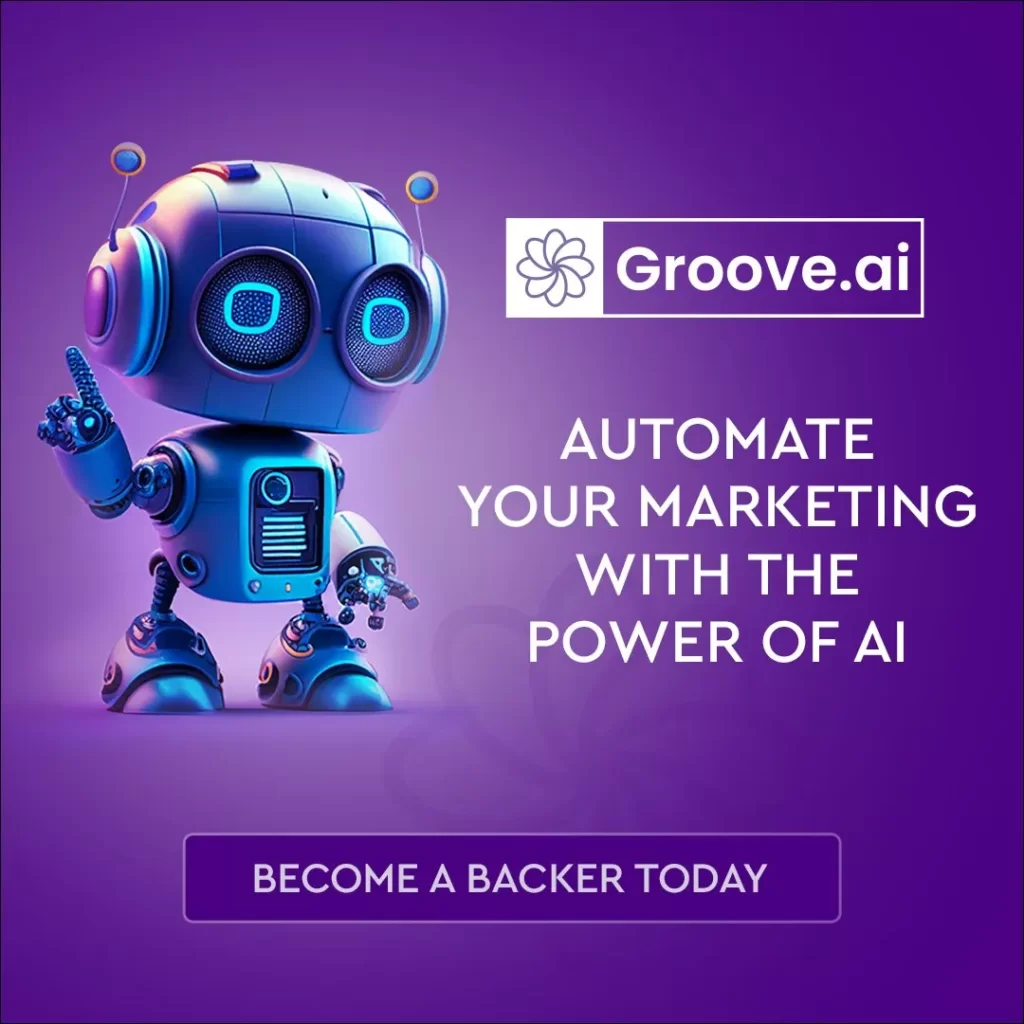 Unleash Your Writing Potential Today
Groove.ai's AI-Powered Copywriting Platform Can Help You Create Content that Engages Your Audience
Are you ready to unleash your writing potential and take your content creation to the next level? Let Groove.ai help you create content that engages your audience and drives results. Our AI-powered copywriting platform uses preset prompt engineering to generate copy that is tailored to your unique style and tone of voice, making it easy to produce high-quality content that truly represents your brand.
Create High-Quality Content in Seconds
With Groove.ai, you can create high-quality content in seconds, including blogs, articles, emails, press releases, website copy, funnel copy, landing pages, social media posts, video scripts, freemiums, reports, mind maps, outlines, process maps, worksheets, workbooks, and even books. Our platform is designed to help you save time and resources while producing content that engages your audience and drives results.
Start Your Content Creation Journey with Groove.ai
Start your content creation journey with Groove.ai today. Sign up for our free launch webinar and discover how our platform can help you unleash your writing potential and take your content to the next level. Our experts will walk you through all of the features and benefits of our platform, answer any questions you may have, and provide a special offer for webinar attendees. Don't miss out on this opportunity to transform your content creation process – register now!
HBA funnel builder vs. Groove.cm: Pros & Cons
Now you have gone through the relevant updates on features of both these competitive funnel builders. To help you understand these tools' quick highlights, we have listed a few pros and cons of both software solutions.
All In One $25 Business Special Products Included:
HBA Funnel Builder
Ultimate Email & Traffic Swipe File
FREEDOM LaunchPad
All In One Business (free Giveaway included to start promoting your business)
Only $25 HBA Funnel Builder Special Offer
HBA Funnel Builder Pros:
This amazing tool offers easy access to shopping carts, product catalogs, and catalog management.
Make it easier to develop a highly customized store with several attractive features.
Effective integration options to build your own e-commerce site without even requiring prior programming experience.
It comes with hundreds of professionally designed templates to present your company online.
HBA ensures easy downloading and installation while offering dependable technical support.
HBA funnel builder also has several pre-designed websites that you can choose to launch your online business.
The package includes several bonuses to ease your journey as a new business owner.
Offers training, courses, and demos to help beginners understand the entire marketing and promotion process online.
Complete training on how to drive traffic to your funnels (free & paid)
HBA Funnel Builder Cons:
You have to make a $25 investment to access the useful features of this tool & training.
It requires you to spend more time on training to understand the flow.
Groove.cm Pros:
The free version comes with lots of features that you can access to lead your business online without any major investment.
The free version is available only for one year.
Several apps on the Groove suite are designed to work together to support user needs.
Offers a wide range of integrations to ease user experience.
The software keeps on updating new features constantly.
The support team of Groove is very helpful and supportive.
You will be able to access blazing-fast and highly interactive pages that promise great results for SEO.
Mobile-friendly solution for growing businesses.
It comes with hundreds of unique templates that users can access easily.
OWN A WEBSITE/BLOG – FREE FOR LIFE!
If you are looking just for a blog that will rank on Google using free tools:
Build your blog/website for free.
Groove will host your blog for free.
You can have a different name but will need to buy it from NameCheap.
You can access landing pages, capture pages, websites, emails, membership, sale-affiliate software, video, survey, online shop/store, and many more, all for free using my invitation link on the Groove platform.
Groove.cm Cons:
The interface appears a little confusing and overwhelming for new users.
Several features are too basic and may not be useful for growing businesses.
Several features of Groove.cm are still in the beta version, or they will not work as required.
There is a lack of customization in the current version of Groove; however, this issue may be resolved in future releases.
Final Verdict
After going through the detailed discussion on both these funnel builder tools, you must now know the incredible features they offer to lead your business online. Although Groove.cm offers an extensive range of features to support business needs, most of them are very basic and still full of bugs.
Moreover, the interface may also appear confusing to new business owners. In this scenario, the HBA funnel builder is the best recommendation from my experience as an affiliate marketer.
User Experience is the #1 Rule in Business
Both are winners, in my opinion, but what gives value to a product/platform is the user experience, and if you have a minute, you can read my experience with both platforms (HBA funnel builder and Groove).
The toolsforaffiliatemarketing.com is my journey on the affiliate marketing road, and Groove.cm has problems paying the affiliate members. My waiting time to get paid by Groove was way more than the dates displayed on their website, which means you will wait months until they pay your commissions.
For example, I had a sale on 11 Feb 2022 and got paid on 19 Aug 2022 after hundreds of emails were sent to support. (I have a few friends still waiting for Groove to pay their affiliate commissions).
The first time I registered for the HBA funnel, $25/month, I got welcome messages on the Facebook group and invitations to Zoom calls or training. I got answers to all my questions, and even someone made a video with the solution to my problem.
How awesome is that?
The HBA product costs $25, and you receive $20 (80%) as an affiliate marker.
HBA funnel affiliate partnership sends my commissions weekly to my account, which never failed, and I have never been ignored.
Both platforms are in my top 5 tools to build an online business. Choose which one you think is the best for you. Groovefunnels is more directed to business, and HBA is more directed to getting you started building an online business working from home.
You can consider these 2 platforms as an alternative to Clickfunnels, especially now that Ckickfunnels has released the 2.0 version, which is more expensive than before, at around $297/month.
Only $25 HBA Funnel Builder Special Offer
What is Groovefunnels?
Groovefunnels is a sales funnel builder that helps businesses sell products and services online. It provides a platform for creating landing pages, email marketing campaigns, and affiliate programs. Groovefunnels also offers templates and tools for creating sales funnels.
What Is The Home Business Academy?
The Home Business Academy is an online business education platform that offers affiliate marketing training and tools to help you grow your business. The academy provides video lessons, PDF guides, and other resources to teach you how to create sales funnels and promote products as an affiliate. They also have a funnel builder tool to help you get started quickly and easily with templates that you can choose to use instantly.
Why should I select HBA for training in affiliate marketing?
HBA is the cheapest funnel builder on the planet, and their training is updated for 2022/23. $25/month with an 80% return means that for any sale you make, you receive $20. However, HBA has a few advantages. For one, their support is top-notch. I have never had a problem that they couldn't or didn't want to help me with. Second, their design templates are modern and easy to use. Third, they offer a wide variety of features that other builders don't.
How Do I Become an Affiliate Marketer?
You can become an affiliate marketer by registering at the home business academy. Take the online class (training) learn everything about marketing, and start building your business.
The home business academy will teach you how to be a successful affiliate marketer and how to build your business. You will learn the ins and outs of marketing, how to build websites, funnels, and courses, and how to create a successful online business.
Enter your best email and start your free training to activate your $25 online business.
HOME BUSINESS ACADEMY – FAQ
HBA REVIEW'S FAQ
Home Business Academy has a unique FAQ page with over 17 videos answering all the questions. The videos cover topics such as:
What are the products?
How does the compensation plan work?
Does it really work?
Will it work for me?
How much time does it take to build the business?
Are there any other costs?
How will I get leads?
Will I get help if I join The Home Business Academy?
How often will I get paid?
How will I get paid?
How is the Home Business Academy different from other home businesses?
What countries can The Home Business Academy products & Affiliate program be marketed to?
Who started the company?
Why did they start the company?
Is The Home Business Academy Debt Free?
Is this something I can count on long-term?
What if I don't have the money to get started?
To get the answer click here to redirect to the FAQ page.
Groove.cm – FAQ
Frequently asked questions
What is GrooveAffiliate Software, and is it part of GrooveFunnels?
What is GrooveDigitalAcademy, and does everyone get it?
What is GrooveFest?
What is GrooveFunnels, and what is included?
What is GrooveKart?
What is Groovekon?
What is GrooveMail, and is it part of GrooveFunnels?
What is GroovePages, and is it part of GrooveFunnels?
What is GroovePay?
What is GrooveSell, and is it part of GrooveFunnels?
What is such a Big Deal about GroovePages being compliant with Google's "Mobile-First Indexing?"
What is the advantage of the App-Store- Multi-Vendor MarketPlace?
What is the advantage of the App-Store- Multi-Vendor MarketPlace?
What is the difference between a Backer and a Beta-Tester?
What is The difference between Groove[Brand-X] and Groove[Brand-Y]?
What is the difference between GrooveFunnels and ClickFunnels?
What is the difference between GrooveFunnels and Kartra?
What is the GrooveFunnels SDK?
What is the Marketers Cruise?
What we import leads to GrooveMail?
To get the answer click here to redirect to the FAQ page.
THE ONLY LEAD GENERATION COURSE YOU'LL EVER NEED
And it's free! This comprehensive course will teach you everything you need to know about generating leads for your business.

*Disclaimer: Some of the links are affiliate links, meaning, at no additional cost to you, I will earn a commission if you click through and make a purchase. I appreciate your love and support!