What Is GrooveFunnels? Groove.cm [2023 Mega Review]
Build Your Online Business with Groove.cm Marketing Platform
If so, your search results helped you land on the right platform. Here we will discuss many amazing things about GrooveFunnels to boost your knowledge base.
Without any doubt, Groove.cm is a superior platform with tons of interactive features that promise fantastic performance.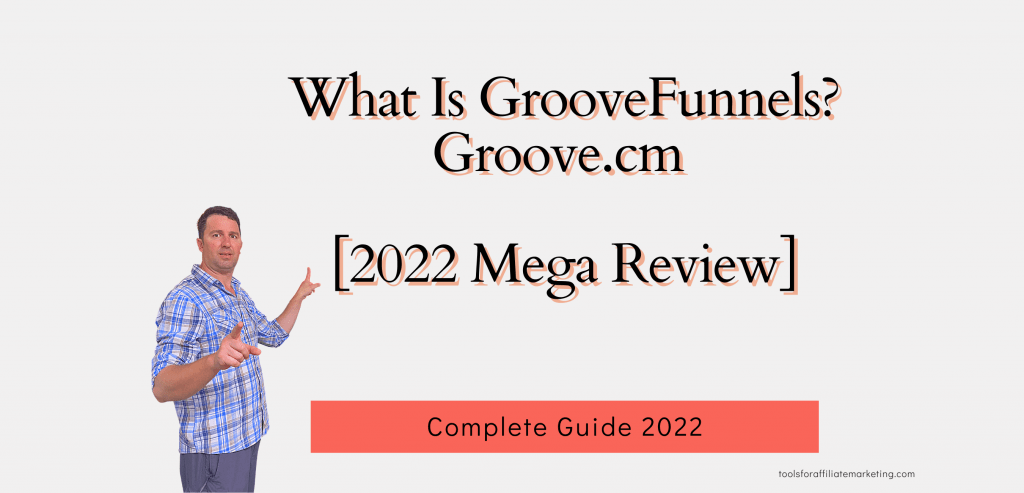 In this article, you will be able to find the best answer to the question, "What is Groove.cm aka GrooveFunnels?". Hopefully, while reaching by the end of this page, you will be able to get rid of all the doubts in your mind.
So, let us start with a detailed discussion!
What is GrooveFunnels – Groove.cm?
In simple terms, Groove.cm is a suite of essential apps designed to create websites and sales funnels for businesses. Experts call it a highly robust and superior-quality digital marketing platform with all-in-one features.
It can serve all those interested in building an online business with a massive collection of advanced tools and apps loaded into a single package.
The digital marketing experts call it their swiss army knife that can offer an all-in-one experience with easy integration of all essential tools.
Groove.cm Digital Marketing Platform – Review
No matter whether you are working on page builders, creating autoresponders, funnel builders, membership sites, webinar builders, video hosting platforms, product funnels, or membership site builders…
Groove.cm offers everything under a single roof.
Groove.cm is a software as a Service package from GrooveDigital that can help you run a business with stunning features.
Some of you may confuse about the difference between Groove.cm and GrooveFunnels. First, it is essential to mention that GrooveApps was the original name of the same product, which was later changed to Groove.cm by the developers at Groove.
What is Groove.cm?
GrooveDigital, Inc is the parent company of a wide range of Groove.cm products, tools, and brands. This workplace consists of a large number of in-house and virtual employees.
Some of the most popular software brands this company owns are GrooveKart, GroovePlay, GrooveAds, and GrooveFunnels.
Who Created GrooveFunnels?
As you have now gone through the parent company's details, it is vital to know about the legendary team that created Groove platforms.
Here are the names of some creative professionals who developed this all-in-one software solution:
Mike Filsaime
Mike is one of the main co-founders of GrooveDigital, and he is known as a pioneer in the marketing and software industry. He has developed many revolutionary online tools for leading online businesses and achieved more than 125 million dollars in sales.
Mike is also known as the original founder of some of the most creative online marketing platforms, such as Kartra. He has also played an essential role in developing many other online business software such as WebinarJab. However, the GrooveFunnels platform now has the potential to replace them both.
John Cornetta
John Cornetta, the second co-founder of GrooveDigital, has worked on several online commerce and print-on-demand projects. He has been active in the online industry for the past several years, and his profound knowledge of the e-commerce industry makes him one of the most trusted experts for growing businesses.
His expertise in the digital marketing industry connected him to the GrooveDigital platform and, along with other team members, invented GrooveFunnels. John has a vast experience of 20 plus years and is continuously involved with around 50 companies.
Mattijs Naus
Mattijs is working as the CTO of Groove. He has extensive knowledge of coding and building software products. Those solutions are suitable for entrepreneurs, marketers, online business owners, and start-up businesses.
Matt Serralta
Matt is another co-founder and COO of the famous company GrooveDigital. He has years of experience in the e-Commerce sector, making him one of the most important parts of the team. He has worked on many famous marketing tools and digital products. In addition, his more than ten years of experience in sales and executive-level management proved him one of the most creative developers n the GrooveDigital industry.
What is included in the Groove.cm?
GrooveFunnels is a stunning combination of several online tools that provide you with everything you need to build and lead an impactful online business.
There are so many tools and apps included in the Groove.cm Suite. The developers keep adding new features to this suite from time to time, along with new apps.
When you decide to stop duct-taping together a dozen different software applications to make your business work and can make a small payment today, you will be rewarded with Lifetime Access to our highest-level platinum account for life. You never have to make another payment for just one low payment.
Groove is the best Clickfunnels 2.0 alternative. The price of Groove – LIFETIME is equivalent to a 1-year subscription on Clickfunnels.
Lock in Your Savings for Life Now.
Note: You need to register for a free account and upgrade from your dashboard.
GrooveFunnels platforms are widely compared with ClickFunnels
However, it is now gaining massive popularity for its interactive solutions.
Email marketing platform – GrooveMail. No matter what kind of product or service you are offering to the audience, email marketing plays a vital role in the online business.
Sales platform – GrooveSell. This powerful affiliate marketing and sales tool can help you grow well against competitors in the market.
Funnel, page, and website builder, which is named GroovePages.
GrooveBlog changes the way people used to publish content online.
GroveDesk is an engaging and reliable helpdesk software with an impactful customer support program.
GrooveCalendar is another simple yet valuable app developed by professionals at GrooveDigital.
Video platform – GrooveVideo
GrooveSurvey allows business owners to develop a strong connection with their customer base.
GrooveQuizes software tool can help you produce online quizzes and tests to enhance user engagement on websites, funnels, landing pages, and other digital platforms.
Here is another impactful addition to the GrooveDigitial list of apps. There are two versions of GrooveWebinar: GrooveWebinar for Live Webinars and GrooveWebinars for Automated Webinars.
In simple terms, we can say that GrooveFunnels has almost every marketing tool that your business may need to grow.
This extensive list of apps is designed using the latest technologies and can promote advanced marketing practices. These seamlessly integrated solutions can help you lead a profitable business in the long run.
These offerings are available to the users immediately when he/she creates a GrooveSell account. Note that GrooveSell is a platform included in Groove.cm that helps end-users to buy different digital and physical products. You can create an account on this platform for free.
Many other features will be added to this platform by the end of 2023.
GrooveDesk to view history and manage customer transactions, GrooveSurvey for interactive quizzes, GrooveWebinars for hosting presentations, classes, live meetings, and webinars, and GrooveBlog for creating and hosting a knowledgeable blog.
The developers at Groove.cm platform are making efforts to make these latest apps, tools, and features to the end-users at a reasonable price.
Is GrooveFunnels Right Choice for You?
GrooveFunnels is designed to assist small business owners, content marketers, affiliate marketers, bloggers, and course creators.
It can work for almost everyone who has a product to sell in the market. However, some of you might be confused about who should invest in Groove.
Groove.cm is the right choice for you if:
You want to design landing pages and funnels.
You wish to run a reputed membership site.
You have a huge collection of services and products to promote and sell.
You want to create some valuable content online.
You a growing online marketer.
To send emails
To build courses and memberships till you back down
To create unlimited videos
To have every tool under the same dashboard
Also, Groove.cm is not meant for you if:
You are not interested in working with an all-in-one digital marketing tool.
You are not ready to experience the advancements in the digital marketing sector.
You don't have any products or services to promote or sell. (Promote Groove and 1000+ products from Groove Market-Place)
You are currently satisfied with other tools, such as Kartra and ClickFunnels, and are not in the mood to switch to save monthly payments.
Should I buy Groove?
The Premium plan of Groove.cm can offer you an extensive range of services with seamless integration of creative and interactive apps. This ambitious project has unstoppable momentum.
If you purchase it now, it means you will get the already-developed features immediately; however, those to be developed in the future will be delivered as soon as possible. When you buy the package, you will also get details about the expected launch dates of all these upcoming Groove Apps.
Groove.cm Apps Review
Many people may worry about whether they should invest in a platform still under development. Well, your payment offers you secured access to the entire package.
Getting early access to this digital marketing platform can help you gain an incredible opportunity to put your online business a few steps ahead of the competitors in the market.
You will be happy to hear that Groove offers an incredible range of packages and payment plans that can make your purchase experience pretty easier. Some of you may love to go ahead with Partner Programs, and many others may consider the Platinum Lifetime plan. The Affiliate Plan can further offer you a great opportunity to make money.
Pros and Cons of Groove.cm – Aka GrooveFunnels
You have gone through the extensive information related to Groove and its related apps. But it is equally important to go through the pros and cons of this package.
Before you make a decision about the final purchase of the Groove.cm system, we advise you to go through the detailed pros and cons below. This in-depth detailing may help you to make a confident purchase decision:
Pros of Groove.cm Suite
Here is the list of pros for GrooveFunnels that every buyer may be excited to know:
Truly valuable, off the charts:
Although there is so much competitive digital marketing software in the market there is something amazing about GrooveFunnels. Over the years, this has marked amazing strength with modern, fresh, and powerful features. Those who are looking for an incredible solution to take their business online will find this package worth considerable.
Another amazing thing to know about Groove is that it is offering everything at a one-time price. There is no need to make heavy monthly payments; you can buy everything at once and keep on enjoying amazing features in the long run.
Robust technology:
User reviews reveal that Groove.cm is one of the most incredible, powerful, and gorgeously designed digital marketing apps in the market. When you create pages using the GroovePages app, they can create a stunning impact on the viewers.
People love this package more for the clean and sharp work that leads to a breath-taking impression in the long run.
All-in-one software:
Without any doubt, it is a big pro in the business industry. You may find it difficult to access all essential products for online business development in a single place.
The professional at Groove took this opportunity to offer a solid solution to all growing business owners. The best part is that these apps are integrated and they can interact very creatively. It means you can save more in the long run without requiring to hop between different companies and software services. Getting everything on a single platform has its own benefits.
Experienced team:
Groove is a big name in the industry, and these professionals have years of experience. When we talk about the online SAAS platform, Groove.cm is one of the most trusted solutions in the market.
Mike Filsaime, the co-founder of Kartra, has years of experience in coding and building software tools. You can expect incredible performance with this software designed by top-notch teams.
Long-term vision:
Many SAAS companies are in the market, but they all work with a unique vision. You can trust the creative drive and projections of Groove.cm. They have designed ultimate apps and software tools year after year.
These professionals have funding, resources, a team, a huge fan base, and intense knowledge in the field. You can expect super product quality from these experts that can easily serve your specific needs.
Save money:
Groove suite is a creatively combined framework that can easily serve growing businesses worldwide. The biggest benefit of investing in this software tool is that it can help you eliminate recurring costs in the business.
It could otherwise lead to thousands of dollars. This saved money can be used for other growth projects in the business platform, or you can hire a skilled workforce to take your business to a whole new level.
Responsive interface:
Groove technology is an incredible industry standard that can help you easily grow in the competitive industry. The front-end features of this package can offer you a responsive and sleek interface to impress clients. Groove.cm is rated as a superior development kit that helps every developer to build extensions.
Impressive integrations:
As already mentioned, Groove.cm is a package containing many apps or tools. They are loaded with incredible features and are closely integrated. But another amazing thing to know about this package is that it can also be integrated with many other existing tools. People find these apps and tools easier to combine with other famous tools such as Shopify, MailChimp, Facebook, Zapier, Slack, Trello, GitHub, Salesforce, and Hubspot.
Cons of Groove.cm platform
Well, along with so many pros offered by this amazing software package, there are a few cons as well that you should definitely go through. Here we have listed a few of them to help you make a confident purchase decision:
The learning curve for the Groove system:
GroovePages is one of the most potential apps within Groove.cm package, but it requires more effort to learn for a beginner. There are a fairly large number of features and tools that you may need to access; however, one needs to spend more time mastering the app.
The best part is that you can find plenty of tutorials online to check out how it works on Groove Academy or Groove's YouTube Channel.
You need to wait for some future apps:
Groove.cm is out of beta ( time flies when you build your business with this brilliant platform) it means many apps are still under development, and they will be launched in the future. When you buy this package, you have to make payment for the apps that are not yet launched and then wait for the right time when they become accessible. With the Lifetime version, you get any updated version and tools forever.
The good news is that when you buy a package, you also get details about dates when the upcoming apps will be launched so you can be sure about their availability.
Is Groove.cm Scam?
Groove.cm has already taken over the marketing market, and more than 650,000+ users are currently using this platform.
Statistics reveal that the software tool will have around 1 million users by the end of this year. The signup rate increases with each passing day, and the project has become unstoppable. In the year 2021, Groove.cm pocketed 35 million dollars, which definitely is not a scam or copycat platform, and they gonna stay here.
Groove.cm Key Takeaway
At present, Groove.cm Platform is out of the Beta phase and offers incredible performance. This all-in-one package can help you grow your business fast while beating competitive forces around. Buying this package at the current phase can help you save a huge amount while ensuring an unstoppable journey for business in the long run.
It is good to visit the Grove.cm platform and create a free account on the page. Soon you will be able to place an order for the package and start enjoying its incredible features online.
---
---
---
What Is Groove.cm Aka – GrooveFunnels?
– part II
Software development is a multi-billion dollar industry, so it is not surprising that new tools are often released to meet the growing demand. GroovePages is a website and funnel-building software that allows you to create super crisp and beautiful-looking funnels and complete websites from start to finish.
When it comes to online businesses, there is no exception.
Marketing tools are essential for any company, including traditional businesses looking to go online, existing digital companies, or any individual Internet marketer who wants to build an income from home.
However, with so many choices out there, which one is the most suitable?
Taking a closer look at the marketing software community, no shortage of options will come up in your research. There are tools for creating websites, building sales funnels, and developing shopping carts so payment can be processed online.
Apps include in Groove.cm Platform:
Available now:
GroovePages
GrooveFunnels
GrooveBlog
GrooveKart
GrooveSell
GrooveMember
GrooveAffiliate
GrooveMail
GrooveWebinar*
GrooveStream*
GrooveConference*
GrooveVideo
GrooveDesk*
GrooveCalendar*
GrooveSurvey*
GrooveProof
GrooveFunnelMapping*
GroovePipe*
When you decide to stop duct-taping together a dozen different software applications to make your business work and can make a small payment today you will be rewarded with Lifetime Access to our highest-level platinum account for life. You never have to make another payment to Groove for just one low payment.
While these are essential tools, the problem that many business owners face is that those products do not seem to be the most suitable for them. For example, traditional business owners may find the available products overly complicated, especially if they do not have the technical skills to run the systems.
Then, there may also be aspiring entrepreneurs who are just starting out, and the high cost of all the available tools means that they are out of their budget.
Finally, there are just too many tools that a new business owner needs, and being required to subscribe to dozens of tools on paid monthly plans while needing to understand and manage all the accounts, can quickly become overwhelming.
Because of all these reasons, that's why Groove.cm was created. Groove is a suite of online business tools designed for business owners but without the complexity and the expensive price tag.
What is Groove? Aka GrooveFunnels
Business owners are always interested in finding an all-in-one solution to their digital marketing needs. It allows them to execute potential operations in the competitive online world without hiring pricey techs.
The professionals at Groove are ready to serve you with a quick and advanced system to convert potential visitors into leads online. Millions of entrepreneurs are utilizing software solutions designed by GrooveDigital and are satisfied with the results. However, if you are new to this big name, it is good to check the detailed review below.
What is Groove.cm?
Groove.cm is better known as a parent organization for all the impressive Groove software. It is operating into three categories: Services, Software, and Funnels. The Groove Brand is currently marketing itself worldwide with the name Groove.cm.
Groove.cm, owned by Mike Filsaime, is a software advancement solution that establishes a user-friendly, affordable, and effective all-in-one software application service platform. Growing businesses can use these tools to develop, grow, and deal with the competitive online world.
The company started serving the public to a large extent after its release of GrooveKart, which is capable enough to beat Shopify. The main reason behind its popularity is that one may need to access a wide range of software tools to keep Shopify running perfectly; however, Groove comes with an all-in-one package to keep things running with high performance.
Groove.cm is a parent name for GrooveKart and GrooveFunnels; however, GrooveKart is a standalone product that works for different problems compared to the GrooveFunnels package.
Make the switch from Shopify to GrooveKart with the click of a button. Shopify charges up to 2% of your sale on top of your monthly fees. With GroovKart, you can pay under $0 monthly for what may cost you $500 with Shopify. 550,000+ People Use GrooveKart To Sell Their Products Online. Make the switch now!
The term GrooveApps brings all the essential apps under the same name, which are created with the Trademark name "Groove". However, after developing an app and launching them into the market, they changed the name to Groove.cm. Beginners may often confuse both names, but they represent the same thing.
All 17+ Apps of Groove.cm
We already mentioned that there are plenty of apps under the Groove trademark, and they are all launched by the creative professionals at Groove.cm.
If you are interested to know more about all these apps, it is good to go through the detailed review below:
GroovePages
GroovePages can be called a flagship tool from GrooveDigital, which allows users to create professional funnels, websites, and landing pages. If you plan to sell digital products to a potential audience, this tool allows the best solution to develop funnels with high conversion rates.
With GroovePages, you can do the following things:
Participate in powerful affiliate programs.

Offer Downsells, Upsells, and Order Bumps.

Boost sales for specific digital products with 1-Click upsells.

Develop potential checkout options to ease the buyer's journey.

Build a highly functional brand website with simple navigation features.

Sell unlimited products using highly converting unlimited funnels.
As soon as you create an account on the website, you gain immediate access to GroovePages. This app has several engaging templates and pre-built themes that make your funnel and website design process much easier.
The templates can be customized to get the desired look; you can add or remove text boxes as per requirement. You can make it public as soon as your platform is ready with text, images, business logo, and other elements.
GrooveSell
Here comes another essential tool that you gain access to the right when you sign up for Groove.cm. This powerful affiliate marketing and sales tool can help you grow well against competitors in the market.
GrooveSell is a well-designed shipping cart system that works almost like Shopify, SamCart, PayKickStart, etc. Using this app, you can set up your personal online store with ease and start selling a variety of digital products and services.
This app is widely recommended for influencers, coaches, speakers, passion project experts, Web and software developers, course creators, authors, thought leaders, and consultants.
Along with the easy-to-manage shopping cart system, this platform comes with a robust affiliate marketing program and detailed reporting mechanism. It can also help you develop clean analytics of all the potential online activities.
With GrooveSell, you can create valuable product sales funnel using custom checkout pages, shopping carts, downsells, upsells, and order bumps.
GrooveAffiliate
Here comes the full and pro version of the GrooveAffiliate. This flexible and robust affiliate management tool can work effectively for online marketers and business owners.
In case if you are interested in creating a channel of affiliate marketers to promote your digital product or online course, GrooveAffiliate can serve your needs better.
It provides easy access to some of the most valuable affiliate management centers. You can continuously update how many affiliates have joined your program to promote your products, the ongoing conversion rates, and many other analytics available directly on the dashboard.
You can set unique affiliate commission rates and get custom tracking links for all the campaigns and promotions.
Groove.cm also has its own affiliate program, which provides 40% commissions to the paid members and 20% to the free members.
GrooveMail
No matter what kind of product or service you are offering to the audience, email marketing plays a vital role in the online business. Stats reveal that it usually takes 3 to 7 touchpoints to set up an incredible journey with the audience and convert visitors into high-paying customers.
Email marketing offers a personal solution to stay connected with customers and prospects so that you can enjoy more sales. You will be happy to hear that GrooveMail allows users to perform both sequence broadcasting and automation. It can also handle voice SMS and text broadcasting.
It is basically a full-featured CRM and email marketing system. It allows business owners to use the host of automation based on the unique behaviors of the recipients. For instance, it automatically sends a follow-up message if the recipient has not yet opened the previous email.
With GrooveMail, you can also split-test all the subject lines and email contents. One can also track all the conversations leading to higher conversion rates. It can import almost 25000 email contacts; you can send practically 25,000 emails daily. Some of the core features of GrooveMail include import leads, HTML emails, and robust analytics.
GrooveMember
GrooveMember is meant for digital marketers to create effective membership sites to boost their impressions online. It comes with an interactive Online Course Platform and Membership Content Management System. You can host your virtual summits, membership sites, and courses online using this system.
This platform comes with various levels of access and drip content. You can control whom to offer paid or free access using the gated member area. It also enables business owners to create landing pages and websites using easy drag-and-drop features. This platform also allows easy hosting of existing promotional videos and relevant posts.
It is expected that GrooveMembers will also offer gamification options in the near future to enhance the overall experience of your young audience. It may also include certification options. You can easily integrate the GrooveMembers platform with GrooveMail, GrooveAffiliate, and GrooveSells, allowing easy delivery of courses with unique categories and subcategories.
GrooveVideo
You cannot ignore the power of video marketing. It promises fruitful results to all businesses with interactive and engaging content delivery. Using the GrooveVideo platform, you can turn videos into potential marketing tools, automate all the processes, and optimize videos for effective lead generation.
It also permits easy video sharing on social media platforms. In case you are not interested in posting your videos on YouTube, it is possible to host using GrooveVideos with personalized player controls, player skins, and auto-play options.
GooveVideo makes it much easier to add a call to action, tags and prompts into the system. Other than this, few advanced features such as analytics and A/B testing make it easier to engage end-users with the creative video content.
Using GrooveVideos, you can avail of advanced analytics such as drop-offs, scrubbing, watch time, and split-test video variations. Furthermore, it allows business owners to embed videos easily over GroovePages, WordPress blogs, and membership portals to boost business impressions in the market.
GrooveBlog
GrooveBlog changes the way people used to publish content online. Mike has years of experience in the field of online marketing, and he understands the importance of publishing well-optimized content online. GrooveBlog allows business owners to target a specific audience from set demographics on the Facebook platform.
The prime objective of every business is to target the right audience with the most compelling content. Using GroovePages, you can publish content that Google loves. Furthermore, GrooveBlogs simplifies the process of posting this valuable content that can achieve a higher rank online.
Many of you might be using WordPress already, but the great news is that GrooveBlog can be easily integrated with this content management system. It means you can publish the most effective content on your WordPress blogs and websites using the GrooveBlog editor.
Experts recommend this software solution to businesses planning to run paid ads and light blogging.
GrooveDesk
GroveDesk is an engaging and reliable helpdesk software with an impactful customer support program. If you plan to use the GrooveMember software tool to set up a feature-rich membership site to sell your digital products or send support tickets to the members, GrooveDesk can help you better handle communication.
GrooveDesk is better known as a built-in helpdesk with a robust ticketing system. It can help you to keep your tickets well organized by different departments such as sales support, billing support, and technical support. With this, your professional agents can respond more effectively and quickly.
Other than this, GrooveDesk also makes it easier to collaborate with different agents to lead the conversation. Note that GrooveDesk is well-connected to GrooveSell to have easy access to the full profile of the customers, billing actions, and transaction history.
GrooveDesk manages and stores all the conversations on the cloud so that you can download and analyze them anytime. It also promises seamless integration with GrooveMail to ease the conversations.
GrooveCalendar
GrooveCalendar is another valuable yet straightforward app developed by professionals at GrooveDigital. This tool is designed for you if you are working as a freelancer, coach, or consultant.
GrooveCalendar can be easily integrated into GrooveMail as well. Using this tool, you can easily book an appointment and maintain an email workflow or sequence. It also helps to trigger email automation; as a result, you can send the right emails to the right audience at the right time.
GrooveCalendar also allows people to sell consultations and schedule meetings. It allows users to set a series of reoccurring appointments and events using text and email-based reminders. You can also set reminder notifications for some registration confirmations, rescheduling, cancellations, and post-event notifications as well. One can also mark specific dates when not available for work, such as Christmas or New Year's Eve.
The grooveCalendar platform allows users to create a calendar for almost every business model, including the live event model, gym subscription model, recurring class model, and consultant model. In case if you are running a yoga studio or language school with several classes and teachers, it is possible to set up detailed schedules of all classes on your public calendar.
GrooveSurvey
GrooveSurvey allows business owners to develop a strong connection with their customer base. You can easily integrate these surveys to your site and funnels while utilizing that information to engage your audience even more.
GrooveSurveys makes creating surveys with multiple-choice options easier while grabbing the audience's attention toward your upcoming service, product, or content topic. It can also help you to generate valuable leads from surveys that could be later converted into high-paying customers.
GrooveSurvey works more like SurveyMonkey so that you can create professional-like surveys on your website. Furthermore, you can integrate those surveys with GrooveMail to start building lists, email leads, and automated email conversations. All the responses generated through these surveys can become an integrated part of your email follow-up using GrooveMail.
GrooveQuiz
GrooveQuizes software tool can help you produce online quizzes and tests to enhance user engagement on websites, funnels, landing pages, and other digital platforms. Using this advanced tool to create custom content to engage users while establishing a solid authority in the market is possible.
Business owners may find it easier to create fun-rich and interactive quizzes using GrooveQuize for enhanced customer acquisition and lead generation. Furthermore, it is possible to build your email lists using a valuable customer database.
GrooveWebinars
Here is another impactful addition to the Groove.cm list of apps. There are two versions of GrooveWebinar: GrooveWebinar for Live Webinars and GrooveWebinars for Automated Webinars.
Using the first one, managing multiple presenters while handling live audio or video Q/A for viewers is possible. The free pre-designed templates for webinar landing pages are easier to access. It works almost the same as GotoWebinar and WebinarJam; however, its features are much more advanced and interactive.
With GrooveWebinars, you can access two viewing options, show on camera, screen, or both. The system works with secure rooms, and no unauthorized person can gain access to it. This app can be easily integrated into GrooveMail and GrooveFunnels systems for enhanced results. The
The GrooveWebinars for Automated Webinars app allows easy scheduling of automated webinars. You can turn them on using one-click access and avail instant stats on watch time, chats and drop-offs. The pre-design templates further make it easier to handle live events.
Other than these 17 important apps, you can use a few more advanced solutions such as GrooveKart, GroovePay, GrooveSolos, and GrooveAds for enhanced returns in the business industry.
Now you have gone through the detailed description of all Groove.cm apps. This information may help you to choose the most useful apps to support your online business. It is also possible to get all in one package at a discounted price in the form of GrooveFunnels.
You can visit the official website of Groove.cm online and check out different offers available for online business owners. These apps are well-integrated with each other, so you can enjoy full-service solutions without any trouble.
Go ahead with the lifetime deal of Groove.cm, and you will soon be able to rule the market. You can rely on the vast experience of Groove professionals to lead an impression in the digital marketing world.
Groove.cm Suite Platform
In fact, it's quite the opposite because Groove.cm is not only easy to use, it is also free.
When members sign up for a free Groove.cm account, they get immediate access to a website creator, funnel builder, and shopping cart software, allowing them to have everything they need to start selling products and services online.
This is especially helpful for those with little to no technical knowledge because the entire suite of tools is so simple to use that even computer-illiterate folks can copy and paste, drag and drop and click and scroll their way to creating professional-looking websites with sales funnels capable of taking online orders.
Not only that but the free Groove.cm account can also add unlimited products, create sales funnels, build branded websites with full navigation, use custom domain names, sell products in just one click, and offer upsells, downsells and order bumps to customers.
Astonishingly, Groove.cm also has a powerful affiliate program built-in, which means that members can easily start their own affiliate programs and have their own affiliates promote their products for them.
Such a robust software suite is typically unheard of in the software development industry, much less one that is being made available for free.
For those who are looking for the new best way to build funnels and sell digital products, and would like their own complete digital products and services online sales system for free, now is the time to get started with Groove.
Unlimited products
Unlimited product funnels
Unlimited checkout loads (bandwidth)
Unlimited affiliates
Unlimited customers
Unlimited support
Unlimited payment gateways.
And all of this is free. That's right, free for life.
No credit card required – ever
No monthly fees
No surprise bills
Full feature set
Every upgrade they ever do.
The bottom line is:
You can do anything with Groove.cm that you can do with any digital marketing website creator, funnel builder, and shopping cart out there.
You can build a complete business using nothing but the free product you get with GrooveFunnels, plus your social media pages.
And while the folks at Groove.cm hope that one day their free account users will decide to upgrade to the full suite of tools that comes with the Groove dashboard (which includes email service, membership sites, video marketing, a helpdesk, calendar, and all the tools you need to manage and grow a robust business), Groove.cm will always remain free to use for their new customers.
Whether you already have membership services for marketing tools and are looking to reduce your monthly bills, or you are just starting your online business and your budget is tight… you would still want to check out Groove.cm. Do it today while it's still free.
Does GrooveFunnels have free hosting?
You'll now also get free hosting…on the FREE Groove.cm account anyways. So it's in your best interest (since you'll be saving money) to grab a free account and host your sites there.
Will my pages have a FREE SSL?
You'll get a free SSL certificate by syncing up with a CloudFlare account, which you can do for free.
Will I be able to import Funnels with GrooveFunnels?
Yes, you will. Whenever you're creating a page with GroovePages, you have different options available to you. One of these options is an exclusive GrooveFunnels technology, which allows for the integration of ANY page on the web.
Will I be able to share funnels with GrooveFunnels?
Like some of the other platforms, you'll be able to share your link directly or through email.
Is Groove.cm a website builder?
GroovePages is a page and website builder, Groove.cm is the all-in-one software platform that includes the page builder.
Everything you need to sell products and services online
Free – Unlimited Products
Free – Build Brand Websites with full navigation
Free – Custom Domains
Free – Bandwidth and hosting
Free – Sell products with 1-Click upsells
Free – Upsells, Downsells, and Order Bumps
Free – The worlds most powerful affiliate program
Powerful automated, behavioral-based email marketing based on tagging (optional with GrooveMail)
Membership site platform (optional with GrooveMember)
Powerful Video marketing built right in (optional with GrooveVideo)
How Much Is Groove.cm?
Groove.cm just introduced the monthly plan:
Groove.cm is FREE. However, when it launches in late summer, it will cost $79/month and $239/month for Starter and Pro plans, respectively.
Groove is the best Clickfunnels 2.0 alternative. The price of Groove – LIFETIME is equivalent to a 1-year subscription on Clickfunnels.
Lock in Your Savings for Life Now.
Note: You need to register for a free account and upgrade from your dashboard.
Hopefully, this Groove.cm intro has given you enough information to check it out. Especially if you are looking for something as an alternative to Clickfunnels or Kartra.
Right now, you not only get GroovePages, but you also get GrooveSell, GrooveMail, GrooveMember, GrooveBlog, GrooveVideo, and GrooveKart for Free!
GrooveSell is a complete and robust shopping cart and affiliate program.
Complete affiliate system
Product and Affiliate Marketplace
Content Delivery Made Easy
Get Your Lifetime Access to Groove.cm Platform (see the photo below).
Don't Be a Writing Zombie – Let Groove.ai Bring Your Copy to Life!
Fed Up with Lifeless Copy?
Are you tired of writing copy that falls flat? Let Groove.ai bring your copy to life with our AI-powered copywriting platform. Our deep learning technology uses preset prompt engineering to generate copy that is tailored to your unique style and tone of voice, making it easy to produce engaging content that truly represents your brand.
Create Compelling Content in Record Time
With Groove.ai, you can create all types of content at lightning speed. From blogs and articles to emails, press releases, website copy, funnel copy, landing pages, social media posts, video scripts, freemiums, reports, mind maps, outlines, process maps, worksheets, workbooks, and even books, our platform can help you create compelling content that resonates with your audience.
Join the Writing Revolution with Groove.ai
Don't be a writing zombie – let Groove.ai bring your copy to life. Our platform is designed to help you save time and resources while producing high-quality content that engages your audience. Plus, our wholesale pricing model means you can save thousands per year compared to leading AI companies.
So why wait?
Join the writing revolution with Groove.ai and sign up for our free launch webinar today. Our experts will walk you through all of the features and benefits of Groove.ai, answer any questions you may have, and provide a special offer for webinar attendees. Don't miss out on this opportunity to transform your content creation process – register now!
Groove.cm Alternative BUDGET Platforms
Are you looking for a Groove.cm alternative?
If you're in the market for a funnel builder, there are many options to choose from. However, not all of them are created equal. We'll take a look at some of the best alternatives to Groove.cm on the market today.
If you're not familiar with Groove.cm, it's a popular funnel builder that allows users to create custom sales funnels and track their results. While it's a great tool, it can be expensive and difficult to use for some businesses. If you're looking for a free alternative, here are some of the best options.
1. Systeme.io (FREE)
Systeme.io is one of the popular free funnel builders on the market today. It allows users to create landing pages, sales funnels, and more. The best part is that it's completely free to use and offers many features.
Thanks to its wide range of features and easy-to-use interface, Systeme.io can help you create a custom sales funnel in no time at all. The tool is also great for tracking and measuring your results. Systeme.io offers two ways to create a sales funnel: You can either choose to use a template or start from scratch.
Using a template allows you to get started immediately. All you have to do is choose a design and modify it with your own information. You can also use one of the many pre-designed templates to get started. These are all free, so you can test them out before committing to one. You can also create a funnel from scratch.
This is the way to go if you are uncomfortable with any templates. It takes a bit more time but allows for complete customization. You can choose from various styles and colors that best fit your brand. If you are not sure what you want, start with one of the templates instead of building from scratch. Click here to learn more about Systeme.io
2. HBA Funnel Builder
If you're looking for a way to take your business to the next level, the HBA Funnel Builder is the perfect tool for you. With this easy-to-use software, you'll be able to create custom marketing funnels that are proven to convert. Plus, the HBA Funnel Builder makes it easy to track your results so you can see what's working and what's not. HBA Funnel editor is the best funnel builder for affiliate marketers, as you get 80% commissions from sales. Click here to learn more about the HBA Funnel Builder.
Are you a beginner in affiliate marketing or want to learn how affiliate marketing works?
Register below for a free marketing course plus super bonuses
*Disclaimer: Some of the links are affiliate links, meaning, at no additional cost to you, I will earn a commission if you click through and make a purchase. I appreciate your love and support!