HBA Funnel Builder Vs. Systeme.io – 2023 Authentic Review
So, you are planning to launch a new business online. That's definitely a great idea. You may be interested in grabbing several opportunities for building brand awareness in the market.
It is a way to build the seasoned value of the brand while enhancing its online presence by a considerable level.
Which Funnel Builder Platform To Choose in 2023?
Digital media and social media influence the current audience. They need some active strategies to promote products and services online. When you have several competitors in the market, it is necessary to use reliable software tools to impress the audience.
You may find several development suites in the market to lead your branding tasks, but here we have listed two top-rated solutions to help you understand their comparative performance.
This article will provide detailed information on HBA funnel builder vs. Systeme.io so that you can make a confident decision about selection among both these competitors.
They are loaded with an extensive range of features, and each one of these has specific pros and cons as well.
Therefore, the detailed review below must help new business owners understand the best solution to lead their brand reputation in the digital world.
Spare some time to go through the details below, and soon you can make a confident investment.
HBA Funnel Builder vs. Systeme.io: Overview
We have selected HBA funnel builder, aka (Home Business Academy) and Systeme.io for review in this article. Both these platforms have received a great reputation in the competitive market over the years.
Below we have introduced each one of them to build your understanding. If you are looking for a comparison of HBA vs. Groove.cm click here to discover a complete review.
What is HBA Funnel Builder?
HBA funnel builder is a business-specific software suite launched by Home Business Academy (HBA). This tool has come recently into my hands, but it is gaining a huge reputation due to its variety of features that enable users to create engaging landing pages, sales funnels, and websites to achieve enhanced conversion rates.
Whether you are planning to launch a new business, are running an affiliate marketing program, or want to impress the audience with the latest digital products on your eCommerce store, the HBA funnel builder tool can help you generate leads in very less time.
Paul Hutchings, a famous digital marketing coach, and business expert, established Home Business Academy. He and his team have created several support systems and coaching solutions for new business owners to help them lead their brands online. This company has also launched its affiliate program that you can access with the HBA funnel builder.
The best part about this program is that it offers up to 80% commissions on successful promotions of HBA products. In this way, new business owners can access multiple sources of income to support the growth of their businesses in the long run.
Besides this, the HBA funnel builder comes with several customizable funnels that are also easy to use. They can help you create sales pages, lead capture pages, membership sites, webinar pages, checkout pages, upsell pages, sales funnels, and websites as well.
There are plenty of high-converting templates that beginners can access and customize further to meet the specific demands of their businesses.
What is Systeme.io?
Systeme.io is promoted as a one-stop automation destination for a leading variety of marketing strategies online. This potential marketing platform can help you lead your new business or scale the existing one with a great brand reputation.
There are plenty of tools and easy-to-use features to ease your journey as an entrepreneur; the list includes abilities to sell products, and services, lead affiliate programs, design membership programs, create webinars, build sales funnels and send unlimited emails to subscribers.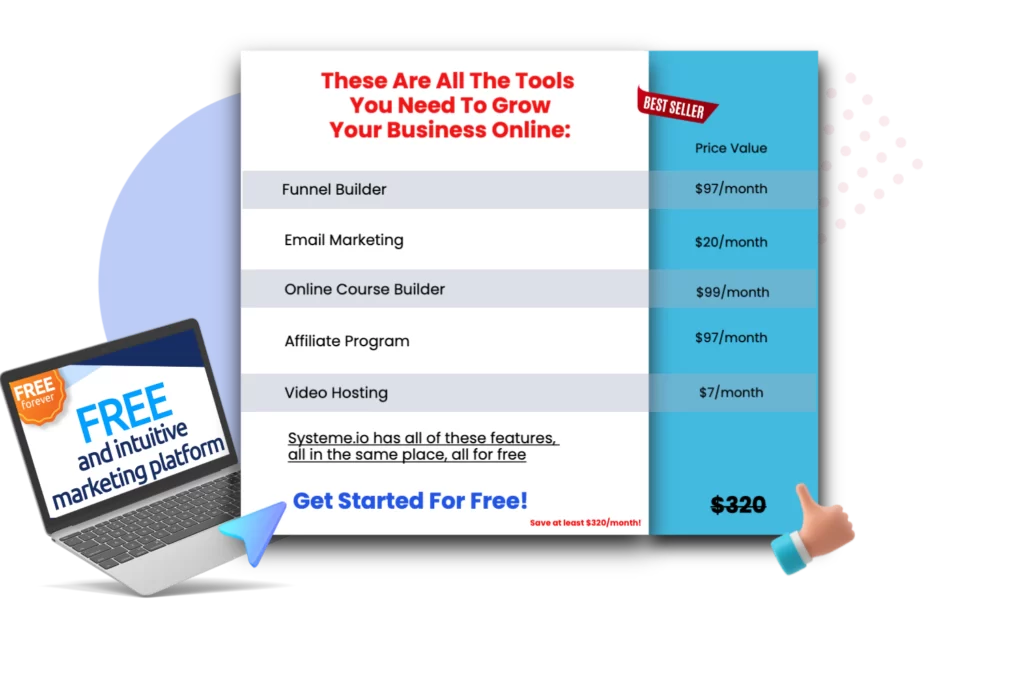 Although this software suite was launched in 2018, it has obtained the great trust of the audience in the business industry worldwide. Several business owners are using it to design professional sales funnels with straightforward design features.
There is no need to learn specific technical skills or coding languages to build sales funnels; this software suite has all interactive features to ease the growing needs of business owners and marketing teams worldwide.
The plug & play features of the systeme.io platform make it easier to create impressive and interactive pages online. It also allows customers to conveniently drag and drop images, logos, videos, and sales copies to target landing pages to serve the audience.
Furthermore, the advanced funnel builder tools, templates, and customization options can enhance your marketing capabilities. I have written a tutorial on how you can create 5 automated income streams for free with Systeme.io.
HBA Funnel Builder vs. Systeme.io: What is the difference?
There are plenty of interesting things that you would like to know about both these software suites for business.
Below we have listed a few amazing features to boost your knowledge base.
Features of HBA Funnel Builder Review:
HBA funnel builder is known for an extensive set of features that can easily support various business operations. It offers convenient integration with plenty of business-friendly software tools to lead your brand awareness campaigns.
Below we have listed a few amazing features of the HBA funnel builder to help you grow:
Landing page builder
The HBA funnel builder suite includes a landing page builder and website builder that can help you create impactful lead pages to impress an audience online.
You can access several pre-made templates to design interactive landing pages for enhanced conversion rates. "Done for you" funnels to promote the HBA products from the start.
Sales funnel builder
The package also includes an easy-to-use sales page builder that allows business owners to enjoy enhanced lead generation online.
These tools do not just assist in building sale pages; they can integrate payment gateways such as Stripe and PayPal (plus another 18) to sell products and services online.
Webinar page builder
If you want to train your team of affiliates to work efficiently with product promotion activities, it is good to use the HBA webinar page builder tool.
It can also help you to provide live training and demos to the members to improve their performance.
Capture page builder
It is also possible to design capture pages with instant pop-up sequences to divert more audience towards your sale or landing pages.
These capture pages can ensure enhanced interaction with prospects while quickly converting them into loyal customers, and the opt-in form looks professional and easy to edit.
Membership site builder
If you are willing to sell some online courses to potential clients or customers online, it is good to take help from a membership site builder.
It consists of several design tools and features to help you grow in the competitive affiliate market. You can have free and paid courses connected to the funnels.
Affiliate Program
You can also consider joining a high-paying affiliate program from HBA funnel builder. Every successful promotion can help you achieve up to 80% commissions.
It can boost your chances to make money online that you can further use to support your new business.
Responsive and mobile friendly
The HBA funnel builder tool is rated high for its responsive and mobile-friendly design. Is connected to a lightning-fast server online to lead your business operations with enhanced convenience.
Training and demos
HBA funnel builder also offers step-by-step training on accessing and using every feature of this suite for business promotion. You can also receive 24×7 hour support from these experts to lead your brand online.
Other than this, the advanced tools make it easier to create any kind of offers, membership sites, and pages to convert customers.
Features of Systeme.io Platform:
Systeme.io is designed to help entrepreneurs and small business owners launch, grow and scale online businesses.
The simple and affordable marketing tools available in the Systeme.io suite make it easier for beginners to design interactive websites and blog spaces and sell products online.
Below we have listed a few essential features of systeme.io:
Sales funnels
The optimized sales funnels of Systeme.io can guide prospects through your business and transform them into potential customers in the future. Besides this, every step of the sales funnel brings your audience closer to the business, and they are directed to the funnel to make a purchase.
There are four fully customizable options for designing a sales funnel with a few clicks, and you can run evergreen webinars to automate your business. For example, you can access my "Bussiness in a box" with templates, front-end offer, and videos ready-made for you.
Affiliate Program
The affiliate program of systeme.io is quite straightforward and simple to use. It can help you set up a long chain of affiliates while managing payouts and commissions.
They can help you easily promote your products and services while tracking your sales online. Systeme.io also allows easy sharing of links to spread awareness further among the target audience.
Email marketing
Systeme.io's built-in autoresponder is awesome. They can be used to import contacts instantly to the platform and start sending unlimited emails online.
This strategy can further ease your business's lead generation and conversion process.
Webinars and courses
Systeme.io can also assist new business owners to launch some digital products, such as courses and webinars online.
The simple-to-use tools enable managing students and building course content online. These efforts can further help you grow your audience and improve sales in favor of your business.
Payment integration
Integrating PayPal and Stripe on the systeme.io platform can ensure the convenient processing of customer orders worldwide.
Besides this, Systeme.io allows users to design mobile responsive pages and emails to boost customer retention. You can integrate with these processors if you can't use PayPal or Stripe – MercadoPago, Razorpay, or Flutterwave.
Now you have gone through the detailed feature comparison of both these software suites. It may help you understand which tool can meet your specific branding and marketing requirements in the competitive world to build a successful online business easily. 
HBA Funnel Builder vs. Systeme.io: Pros and Cons
After going through several interesting features of HBA funnel builder vs. Systeme.io, it is time to discuss their pros and cons. This information may help you to understand which one of these tools is more relevant for your business.
HBA Funnel Builder pros:
HBA funnel builder is accessible at a very low fee.
The founders are ready to provide 24×7 hour support and live training.
The affiliate program of HBA offers 80% commissions to all exclusive members.
The package is available with a 3-day money-back guarantee.
Plenty of simple-to-use drag-and-drop tools can ease the marketing process for businesses.
Ability to create high-converting sales funnels online.
Native and custom domains
Customize the appeal and look of funnel pages with pre-existing templates.
Add op-in order forms, upsells, and pages with a few clicks.
Integrate HBA funnel builder with third-party payment processors and email marketing tools.
HBA Funnel Builder cons:
It requires you to spend more time on learning; however, you can access HBA training material and courses for that.
Systeme.io pros:
Comes with integrated email auto-responders.
Offers custom landing pages and domains.
The affiliate program of Systeme offers 50% commissions to all exclusive members
24×7 hour email support.
No need to hire expensive designers.
Systeme.io cons:
Limited features to lead potential marketing campaigns.
Require users to spend extra time learning.
HBA Funnel Builder Price Plan
Home Business Academy funnel builder offers you a plan for only $ 25 per month with all the bonuses included on this link.
All In One $25 Business Special Products Included:
HBA Funnel Builder
Ultimate Email & Traffic Swipe File
FREEDOM LaunchPad
All In One Business (free Giveaway included to start promoting your business)
Only $25 HBA Funnel Builder Special Offer
Systeme.io Price Plan
The pricing for Systeme.io starts with Free and goes up to $97.0 per month.
Systeme.io has 4 different plans:
Free Plan with limited features.
Startup at $27.00 per month. (limited features)
Webinars at $47.00 per month. (limited features)
Unlimited at $97.00 per month. (everything unlimited)
Systeme.io also offers 30% off if you buy a yearly plan.
***The support will move your business to the Systeme platform free of charge if you get any yearly plan.
OWN A WEBSITE/BLOG – FREE FOR LIFE!
Sign up for Free on Systeme.
Build your blog/website for free.
Build funnels, capture pages, and membership courses to sell your course.
Send free emails to your team or your email list.
Systeme will host your blog and funnels for free.
You can have a different domain name but will need to buy it from NameCheap.
You can access landing pages, capture pages, websites, emails, membership, sale-affiliate software, video, survey, online shop/store, and many more, all for free using my invitation link on the Systeme platform.
Final Verdict On Funnel Builder for Affiliate Marketers
Now you have gone through a detailed comparison between the HBA funnel builder and Systeme.io. These tools can help you create some high-converting pages for business online.
But as they have many unique features, you must carefully select which can meet your business requirements.
One of my best recommendations is to consider using Systeme.io due to its all-in-one package.
It can help you enjoy a convenient subscription at an affordable price with a 50% affiliate marketing program, or choose HBA to receive 80% commissions from your sales. The choice is yours!
Do You Want To Start An Affiliate Business?
The HBA funnel builder can easily support you with step by step training that actually works in 2022/23. Home Academy Business will teach you how to start an online business with free templates, free lead magnets, and digital products to promote.
The 80% commission from any sale you make is positioning the HBA funnel builder as one of the most profitable funnel software to promote.
You can choose the most relevant plan online and start designing some catching funnels to achieve desired outcomes with your promotional campaigns.
It is very hard to decide on a winner because I use both platforms as an affiliate marketer. The free & paid courses, pop-ups, and subscription forms that you find on this website are built in Systeme. I use HBA funnels for promotions on social media, email lists, and other platforms.
Sometimes I build a funnel on Systeme.io promoting HBA because I want to use the Systeme autoresponder and the opposite. In the end, both are in my top 5 platforms that I'm promoting, they are paying on time, and the support is awesome.
Get a funnel-building tool that does all the things Clickfunnels does but without breaking the bank.
If you're looking for a funnel builder that does all the things, Clickfunnels does, but without the price, then HBA funnel builder and Systeme.io are your best bet.
Both of these tools offer great features at a fraction of the cost of Clickfunnels, making them the cheapest funnel builders on the market.
Systeme.io vs. HBA Funnel Builder – Which One is Right for Me?
Systeme.io is an all-in-one sales and marketing platform that enables businesses to increase their sales and grow their customer base. It offers many features, including email marketing, automated lead generation, CRM, and more.
HBA Funnel Builder is a powerful marketing tool that helps businesses increase their sales and conversions. It offers many features, including websites, membership, online shop, landing pages, A/B testing, and more.
HBA is the way to go if you're looking for a cheap funnel builder. Additionally, Systeme.io offers everything you need under one dashboard, making it the more convenient option.
What Is an Affiliate Marketing Funnel?
Affiliate marketing is performance-based marketing in which a business rewards one or more affiliates for each visitor or customer brought by the affiliate's marketing efforts.
An affiliate marketing funnel is a defined path that potential customers take when they are interested in a product or service. This funnel is created through a marketing campaign designed to lead potential customers to purchase the product or service effectively.
What Is An Affiliate Marketing Funnel?
An affiliate marketing funnel is a sales funnel that is used to promote and sell affiliate products.
The affiliate marketing sales funnel typically consists of a sales page, where the potential customer can learn more about the product, and a landing page, where the customer can purchase the product.
What Is Affiliate Marketing?
Affiliate marketing is a type of marketing where an affiliate promotes a product or service in exchange for a commission. An affiliate link is used to track the affiliate's promotion.
An effective affiliate marketing funnel includes attracting potential customers and converting them into buyers. Affiliate marketers use various marketing techniques to promote their products or services.
How do I create a funnel for affiliate marketing?
If you want to create a funnel for affiliate marketing, you first need to find an affiliate program that matches your potential customers with the products or services you offer.
Once you've found an affiliate program, sign up and create a landing page for your potential customers.
On this landing page, promote your affiliate product and make it easy for potential customers to learn more about your offering.
By making it easy for potential customers to find and purchase your affiliate product, you'll be able to set up an effective funnel for affiliate marketing.
How to create Sales Funnels?
Sales funnels are a process that companies use to convert prospects into customers. Companies can better track their progress in acquiring new customers and properly allocate their resources by creating a sales funnel.
There are four basic steps to creating a sales funnel:
Identify your target audience
Create compelling content
Drive traffic to your funnel/content
Convert prospects into customers.
The first step is to identify your target audience. This can be done by identifying the needs and wants of your target market. Once you have identified your target audience, you can create compelling content to drive your website or blog traffic. The third step is to convert prospects into customers. This can be done by providing a free trial or a discount for your products or services. And the last step is to make sales on autopilot.
Sales funnels are a great way to increase your product or service sales. A successful sales funnel can help you increase your sales and build customer trust. An effective sales funnel can also help you create a successful marketing campaign.
What are the Benefits of an Affiliate Marketing Funnel?
An affiliate marketing funnel is a sales funnel for your affiliate marketing business.
It is an effective way to attract potential customers and convert them into online sales. As an affiliate marketer, you can use an affiliate marketing funnel to increase your online sales.
How Does an Affiliate Marketing Funnel Work?
An affiliate marketing funnel is a system that helps you convert leads into customers. Content marketing begins with generating awareness about your products or services.
Once you have a lead's attention, you need to direct them to an affiliate link where they can purchase the product or sign up for the service.
As an affiliate marketer, you earn a commission on every sale that you generate. If you do a good job of converting leads into customers, those customers will become brand ambassadors and help promote your products or services to their social networks, resulting in even more sales.
How To Drive Traffic To Affiliate Sales Funnel?
A few key ways to drive traffic to an affiliate sales funnel are social media marketing, email marketing, and search engine optimization (SEO). Each traffic source has the potential to reach a large number of potential customers.
As an affiliate marketer, it is important to identify which method or combination of methods will work best for you and your potential customers.
For example, if you are promoting a physical product, then using SEO to rank high in search engine results for keywords related to your product is essential.
If you are promoting a digital product, then using social media marketing and email marketing to reach potential customers is key.
Regardless of your methods, always remember that the goal is to reach as many potential customers as possible to increase your chances of making sales.
How can I help you build an effective marketing sales funnel strategy?
A sales funnel is a process that helps you to convert potential customers into paying customers. It is important to have an effective sales funnel strategy in place to succeed in online marketing.
There are various ways to build an effective sales funnel. One way is to promote your product or service through affiliates.
Affiliate marketing is a type of marketing where you promote someone else's product or service and earn a commission when a sale is made.
Another way to build an effective sales funnel is to create a marketing strategy that targets your ideal customer. When you clearly understand your target customer, you can create a marketing strategy that will appeal to them and help you convert them into paying customers.
Benefits of the marketing funnel
The affiliate marketing funnel is great for potential customers of your product or service.
By higher affiliates, you create an affiliate marketing funnel which can create an affiliate marketing campaign for potential customers.
Creating an affiliate marketing funnel can also be used to create an affiliate marketing campaign for potential customers.
The marketing funnel is a process that businesses use to identify and target potential customers. The funnel allows businesses to track the progress of their marketing campaigns and measure their success.
The funnel also provides a way for businesses to nurture leads and convert them into customers.
A marketing funnel is essential for any business that wants to succeed in the competitive marketing world.
Step 1: Create Awareness and Desire for Your Product or Service
The first step of the marketing funnel is creating awareness and desire for your product or service. There are two main ways to do this:
One way is through traditional marketing methods, such as advertising and public relations. The other way is by creating a product that the market already wants to buy.
Step 2: Capture Customer Information During this step
You want to capture your prospect's information in exchange for a free offer. This offer can be a free e-book, report, or video series. Remember that you want to create an irresistible offer to make your prospect say, "Yes! This is the one I want!"
Step 3: Make a list of the decision-makers
This is one of the most important steps in your lead-generation campaign. If you know that you want to generate leads for a specific business, you can use this information to create an effective advertising campaign.
This is also the step to decide how much money you want to invest in your lead-generation campaign.
Step 4: Create an advertising strategy for each target market.
You can use the information from Step 2 in this step. Your goal is to create a compelling advertising message that will generate leads and make you money.
Top Affiliate Marketing Mistakes That You Must Avoid
1. Not Building a List
One of the biggest affiliate marketing mistakes is not building a list. A list helps you capture leads who are interested in what you have to say and sell. Without a list, you're essentially leaving money on the table.
2. Not Offering an Incentive
Another mistake is not offering an incentive for subscribers. Why would someone subscribe to your list if there's no benefit for them?
By offering an incentive, such as a free ebook or report, you'll increase the chances that people will sign up for your list.
3. Not Promoting Your Affiliate Links
The final mistake is not promoting your affiliate links. If you don't promote your links, no one will click on them, and you won't make any money.
Make sure to promote your links regularly through social media, email marketing, and other channels. Build a blog on Systeme free of charge and start writing reviews on products that you love.
Then promote the blog to help you convert people into customers.
HBA Funnel Builder vs Systeme.io: A Comprehensive Comparison of Leading Sales Funnel Platforms
The Search for the Perfect Sales Funnel Platform
Choosing the right sales funnel builder is pivotal to your online business's growth. Today, we place two leading platforms, HBA Funnel Builder and Systeme.io, under the microscope to help you decide better.
HBA Funnel Builder: Streamlined Simplicity
HBA Funnel Builder promises a straightforward, no-nonsense approach to funnel building. It's designed for businesses seeking a platform offering ease of use, speed, and efficiency in creating effective sales funnels.
Systeme.io: Comprehensive Marketing Suite
Systeme.io presents a comprehensive all-in-one marketing solution that goes beyond funnel building. If you're looking for an integrated platform to manage sales funnels, email marketing, and course creation, Systeme.io stands out.
Digging Deeper: Unique Selling Points of Each Platform
HBA Funnel Builder: Speed and Efficiency
HBA Funnel Builder's allure lies in its simplicity and speed, allowing beginners to create high-converting funnels quickly. This streamlining can be a major plus for businesses looking to launch quickly.
Systeme.io: The All-Rounder
Systeme.io impresses with its breadth of capabilities. Its marketing automation features, email campaign tools, and course creation suite make it a comprehensive solution for businesses looking for a multi-faceted platform.
Imagining the Potential: Your Business with Each Platform
HBA Funnel Builder: Quick and Effective Funnel Building
Picture your business rapidly creating effective sales funnels without the complexities often associated with such platforms. That's the promise of HBA Funnel Builder.
Systeme.io: Integrated Marketing Mastery
Imagine the convenience of managing your sales funnels, email marketing, and online courses from a single platform. That's the potential of Systeme.io.
Your Decision: Choosing the Right Platform for Your Needs
HBA Funnel Builder or Systeme.io: Your Business, Your Choice
Understanding the unique offerings of HBA Funnel Builder and Systeme.io, your decision should align with your business's specific needs. If you value simplicity and quick funnel building, HBA Funnel Builder is an excellent choice. However, if you're looking for an integrated marketing platform with a wide array of tools, Systeme.io would be a better fit. Take a closer look at each platform today and elevate your sales funnel game!
And because you have reached the end of this review, I invite you to attend this online course to learn more about affiliate marketing.
Learn how to generate traffic and commissions, plus access the bonuses that will help you with your marketing business.
*Disclaimer: Some of the links are affiliate links, meaning, at no additional cost to you, I will earn a commission if you click through and make a purchase. I appreciate your love and support!