GroovePages Vs. Clickfunnels: Which One to Choose? (2023-Review)
GroovePages Vs. Clickfunnels
Which One to Choose?
*Upgrade 2023 – Are you interested in building sales funnels to grow your business in the competitive market? Well, that's a great idea. But to succeed, you need to choose the best sales funnel builder platform online.
There are so many software tools in the market that you can choose to take your business to a whole new level. However, here we will talk about two main funnel platforms that are gaining huge popularity worldwide.
The detailed comparison between GroovePages and ClickFunnels below will help you choose the best one for your business.
GroovePages Vs. ClickFunnels – Overview
About GroovePages
Groove.cm is an all-in-one platform that delivers landing pages, funnels, and complete websites. It works with advanced technology and delivers the best to the customers.
GroovePages is basically a part of the software application suite which is popularly known as Groove.cm. GrooveDigital designs this application and currently serves a huge market customer base.
GroovePages has many amazing features, such as GrooveMail – an email application, and GrooveSell – an interactive selling platform. However, it can be better identified as a storehouse of features ensuring web pages load immediately.
All these goals can be achieved with the support of a fast and secure cloud platform. The great news is that beginners or non-tech-savvy people can even use this platform because it works with simple drag-and-drop tools.
About ClickFunnels
ClickFunnels is another top-ranked funnel builder in the market, and it is proven as a boon to business owners with its automated sales process. It makes product selling much more convenient as you can easily target the audience.
People who are excited to lead their business with great ambitions in mind will definitely benefit from this software.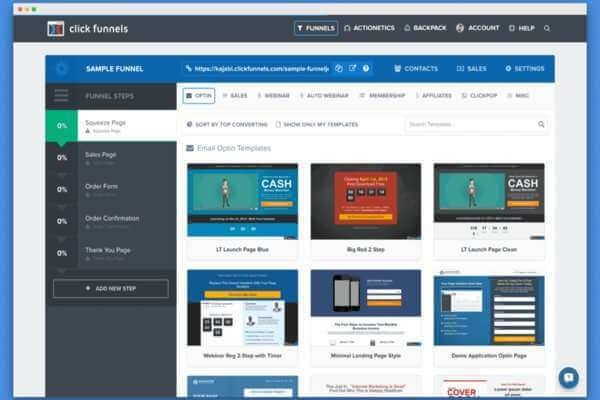 The best thing to know about ClickFunnels is that even non-technical users can easily handle it. Even if you have no idea about designing and coding, you can still use this tool to create landing pages, opt-in pages, membership sites, webinars, and many more.
GroovePages Vs. ClickFunnels – Features:
Features of GroovePages:
GroovePages is a web page builder that uses a progressive JavaScript Framework. As a result, people find it much more efficient than the old builders that use an inefficient framework such as Bootstrap.
The GroovePages platform has plenty of creative features, including customized coding, drag-and-drop design, and easy customization.
Landing pages, attention-grabbing popups, blocks, A/B testing, webinar funnels, superior templates, free bandwidth, free hosting, multiple integrations, countdown timers, and many more.
The great news is that developers are still improving the platform, and few advanced features are expected to be updated in the future. One of the best future additions to this platform will be GrooveSell, a shopping cart that can help you gain easy access to e-courses, digital products, and sell services.
There are many premium add-ons with extra features, such as GrooveVideo, GrooveDesk, GrooveCalendar, GrooveSurvey, GrooveBlog, GrooveMember, GrooveWebinars, GrooveKart (The Shopify Killer), and GrooveMail.
GroovePages also offer integration with various email platforms and payment gateways so that your business can enjoy smoother functionality.
Features of Clickfunnels:
ClickFunnels is known for its interactive dashboard, making monitoring business KPIs easier. Besides this, you will enjoy easy conversion tracking, multi-currency transactions, API connectors, visitor tracking, campaign analysis, communication management, email and CRM autoresponders, web forms, membership database management, and pre-build funnel templates as well.
Beginners may find using a simple drag-and-drop interface much more convenient. Furthermore, it assists in contact list segmentation, email marketing, subscriber management, and collection.
One can easily insert graphical content on web pages using this funnel builder, which is also loaded with plenty of landing page templates.
Affiliate management and tracking also become pretty simple with ClickFunnels, allowing multi-channel communication for enhanced engagement.
The contact databases are easier to manage with ClickFunnels. Businesses even find it their best choice to handle promotional and direct email campaigns.
The online page editor assists in easy improvements, whereas rule-based workflow ensures convenient design. Experts also recommend this platform for scheduled emails, social media integrations, SEO, and text message management.
The third-party integrations also become easier with ClickFunnels and can assist users with activity monitoring, web traffic monitoring, delivery tracking, and email auto respondents.
This platform allows easy integrations with autoresponders such as Constant Contact, Drip, ConvertKit, ActiveCampaign, and Aweber as well. The payment gateway integration is also pretty simple; it can be connected to Apple/Android Pay, NMI, Keep, EasyPayDirect, and many more.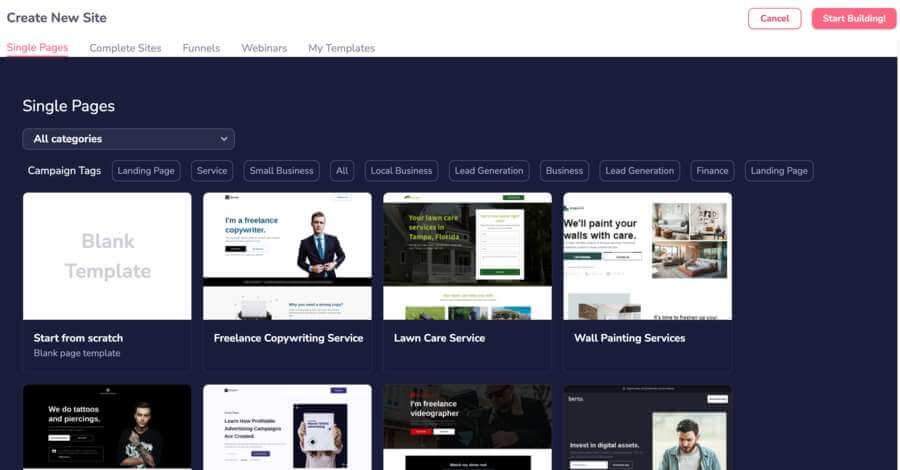 Similarities between GroovePages and ClickFunnels
While comparing both these platforms, it is equally important to talk about their similarities and differences. So let us start by highlighting the similar features of these platforms:
Easy to Use
Both these platforms are rated high in terms of easiness. There is no need to have a specific technical background or coding knowledge. These funnel builders can help you create pages instantly using simple drag-and-drop tools.
Beginners can handle this platform easily while enjoying a hassle-free funnel creation experience.
Online course membership
You will be happy to hear that both these platforms allow the easy creation of membership portals to run online courses. Note that GroovePages also has a GrooveMembership app, a membership CMS with easy customization options.
Conversely, ClickFunnels also has a built-in membership area that can be used to monetize knowledge.
Ready-made funnel templates
No matter which one of these platforms you use, starting from scratch is no need. There is an extensive range of built-in templates that you can choose with ease. Moreover, these fully customizable templates can be adjusted easily to meet specific branding needs.
Email marketing solution
GrooveMail is an extension to the services of GroovePages, and it is basically a functional and engaging email marketing CRM. This tool allows easy creation of email marketing campaigns, segment leads, and instant scheduling of follow-ups.
On the other side, ClickFunnels has a built-in follow-up funnel feature, allowing instant customer engagement via emails and SMS. (you can choose any email platform)
Affiliate management tool
Affiliate programs are the best choice when you want to acquire new customers for your business. But beginners may find it difficult to manage their affiliate programs.
Well, both these software platforms offer creative affiliate management tools. GrooveSell offers affiliate management software for free; however, with ClickFunnels, you can upgrade to this service by paying $279 per month.
The specially designed affiliate management tool for ClickFunnels is named Backpack. Most people prefer recommending GrooveSell, since it is free and allow easy integration to commissions, affiliate tracking, and marketing materials supplies.
Simple learning curve
Both these platforms offer a steep learning curve with ease-to-use tools. Spending more time with these tools can help you learn more about it.
ClickFunnels keep users informed with online courses and books; however, on the other side, GroovePages make live weekly training sessions much easier.
Sales platform
You will be happy to hear that ClickFunnels come with an inbuilt shopping cart that is loaded with an efficient check-out system. Business owners can sell products safely online without looking for third-party software.
On the other side, GroovePages has a GrooveSell platform, which makes affiliate management and sales management much more convenient. In addition, it allows easy reception of payments for physical and online products and services.
Affiliate Program
Both these platforms are rated high for their impactful affiliate programs; they can help you make a high income. In addition, ClickFunnels provide 20%, 30%, and 40% commissions on every client.
Groove comes with two affiliate programs (20% and 40% plus tier 2) where free members can access one while another is suitable for paid members only.
Differences between GroovePages and ClickFunnels
After going through so many similarities, let us now check the differences between GroovePages and ClickFunnels platform:
Video hosting
GroovePages is a clear winner for this parameter since it has the GrooveVideo app, a dedicated solution for video hosting needs. But for ClickFunnels, you need to associate with some third-party software to handle video hosting needs.
GrooveVideo also offers extraordinary tagging abilities, customization options, and a call to action to make every video go viral online. Other than this, it can also help you do A/B testing and get an in-depth analysis for all content collections.
Scope and Size
ClickFunnels offers good scope for learning and developing familiarity with the basic concepts of sales funnels; however, it suffers from some design limitations.
On the other side, GroovePages is growing really well in terms of size and scope; it gets thousands of signups daily and offers full power to control online marketing campaigns.
A/B Testing
ClickFunnels is loaded with a unique feature that easily optimizes marketing campaigns and sales funnels. This feature is widely known as A/B testing, allowing users to perform split testing on various funnels.
One can quickly identify which version of funnels works better. But GroovePages doesn't offer such a feature directly; however, it is expected to get updated soon.
Calendar
ClickFunnels may disappoint you on this ground because it doesn't have a calendar tool. You can think of integrating this tool externally, but it will put more burden on your limited budget.
But if you are using GrooveFunnels, you can access the GrooveCalendar app for instant scheduling of appointments. They can also be integrated easily with sales funnels.
Helpdesk
GroovePages will soon get its GrooveDesk platform allowing easy submission of support tickets.
At the same time, you can access an extensive knowledge base and provide real-time assistance via chat.
But ClickFunnels doesn't give any such helpdesk, and you cannot even expect to get this functionality soon.
Blog and SEO
As already discussed, GroovePages is made up of advanced JavaScript, which assists in the fast loading of pages. It can preload the entire HTML structure without even requiring server pinging.
Note that SEO is directly linked to the website loading speed; hence websites designed with GroovePages are highly optimized. Conversely, ClickFunnels uses advanced technologies but doesn't offer the above-listed benefits.
When you are interested in taking your business to the top while beating competitive forces around the SEO feature of GroovePages can be a great addition to your functional platform.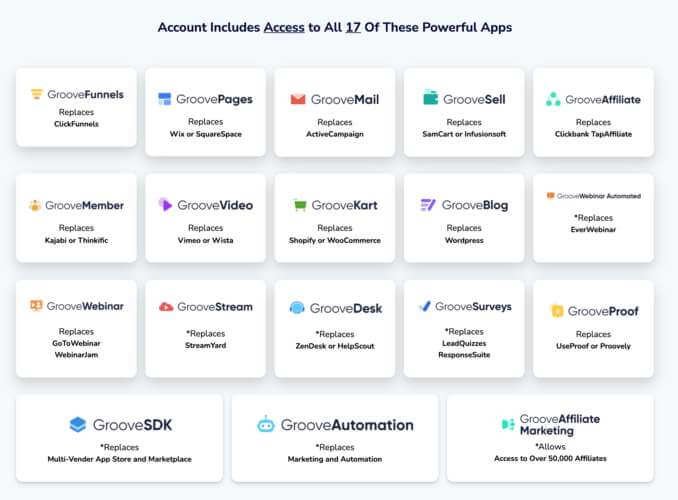 GroovePages Vs. ClickFunnels: Pros and Cons
After going through the similarities and differences, here we have highlighted the pros and cons of both these platforms:
GroovePages Pros:
Free web hosting service
Unlimited custom domains
Unlimited funnels
Unlimited web pages
Several page elements
Use friendly advanced options
Easy access to royalty-free stock images
Mobile-first optimized and responsive design
Under the same hood with other 17+ apps makes life much easy
Google cloud platform, which promises super-fast page speed and higher reliability
On the Lifetime version, you get everything unlimited, which means you pay a one-time fee and use it forever.
Groove Funnels Pricing
Groove Funnels Pricing has four plans to choose from:
Free ($zero)
Start-Up ($39.99 – paid annually)
Creator ($83 – paid annually)
Pro ($124 – paid annually)
Premium ($166 – paid annually)
Premium + (Lifetime Offer – Owned for Life / $2497 one-time payment)
Groove is the best Clickfunnels 2.0 alternative. The price of Groove – LIFETIME is equivalent to a 1-year subscription on Clickfunnels.
Lock in Your Savings for Life Now.
Note: You need to register for a free account and upgrade from your dashboard.
Free Plan
The Base Plan is free for everyone, especially for beginners who want to start their online business.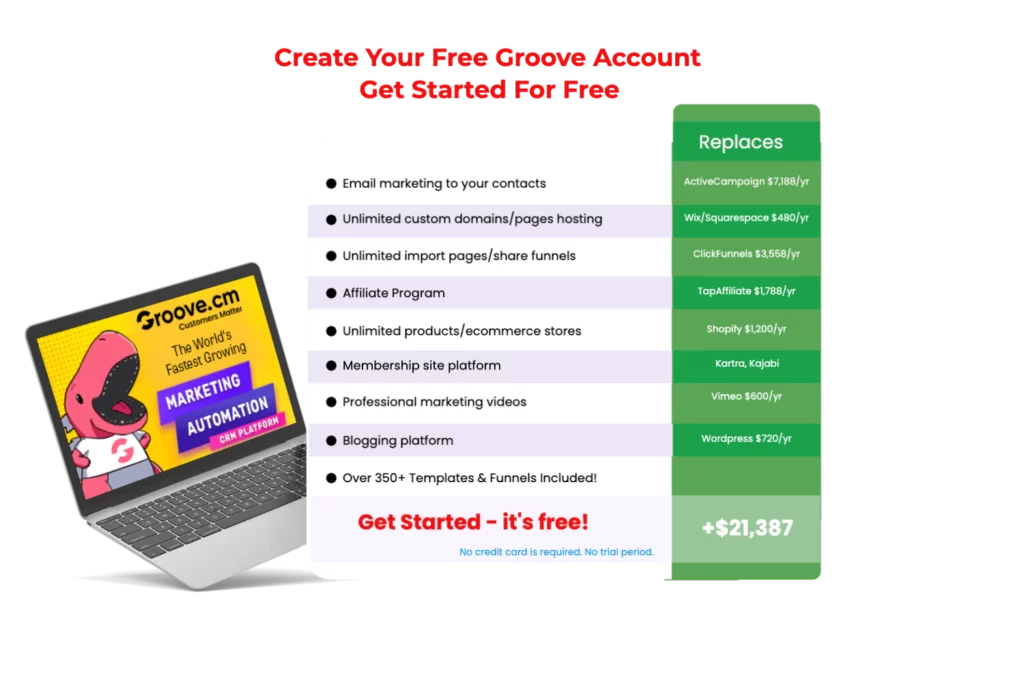 It is Free and contains several features:
GrooveSell
GrooveAffiliate
GroovePages
Affiliate Program 20% recurring commission.
GrooveMail – Autoresponder
GrooveKart (online shop)
GrooveVideo (Video platform)
GrooveMember (Membership Site).
Start Plan
The Start-up Plan contains some of the popular apps needed for beginners to start running and running an online business.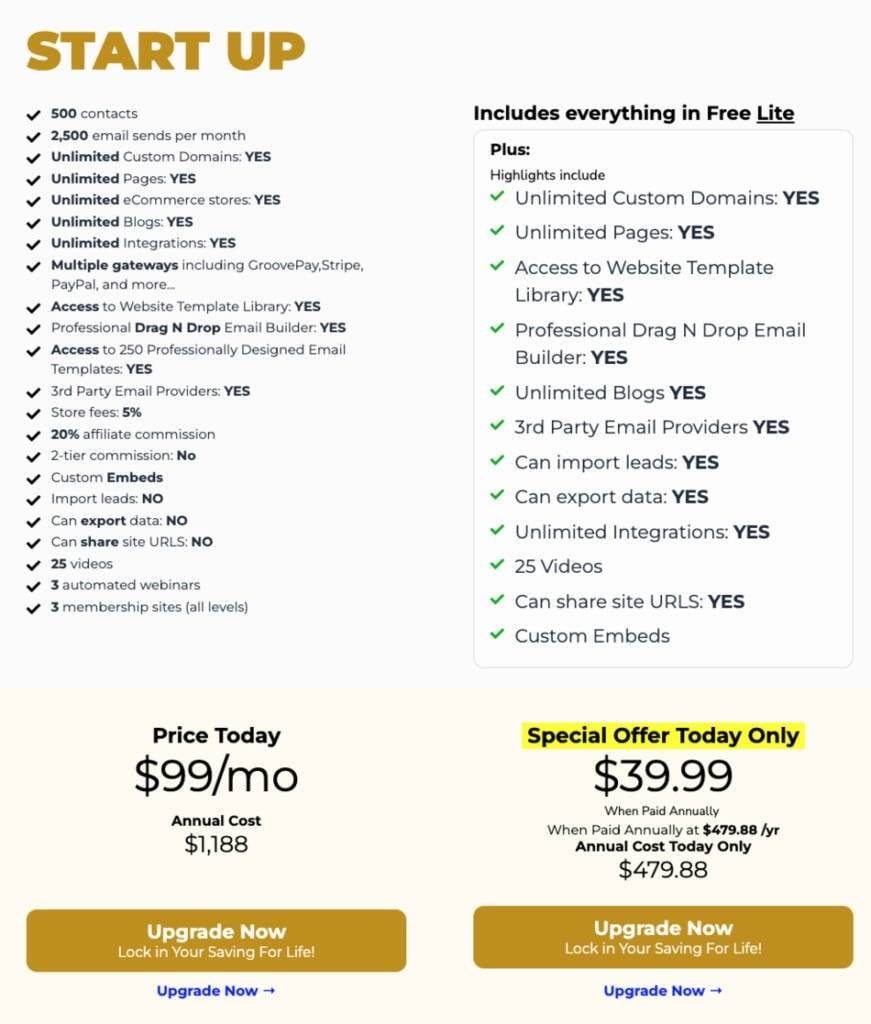 Groove is the best Clickfunnels 2.0 alternative. The price of Groove – LIFETIME is equivalent to a 1-year subscription on Clickfunnels.
Lock in Your Savings for Life Now.
Note: You need to register for a free account and upgrade from your dashboard.
Groove Creator Plan
On the Creator Plan, you get GrooveMail with 5k contacts and can send 50k emails monthly. As an affiliate marketer, you get 30% off your sale. Unlimited funnels, blogs, and 50 videos storage.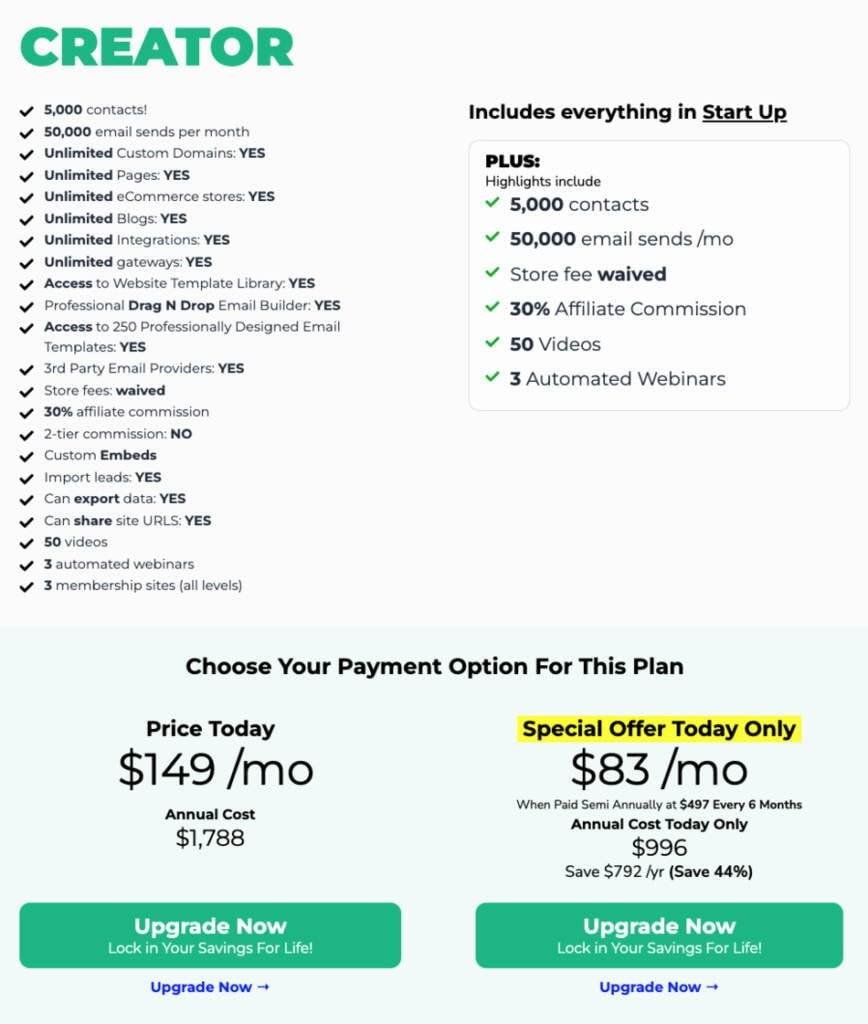 Creator Plan has most of the core apps that every professional must run their online business in the internet market.
The features include:
GrooveSell
GrooveAffiliate
GroovePages
GrooveMember, GrooveBlog
GrooveVideo, GrooveDesk
GrooveMail, GrooveCalendar
Groove Pro Plan
On the Pro Plan, you get GrooveMail with 30k contacts and can send unlimited emails monthly. As an affiliate marketer, you get 40% off your sale. Unlimited funnels, blogs, and video storage.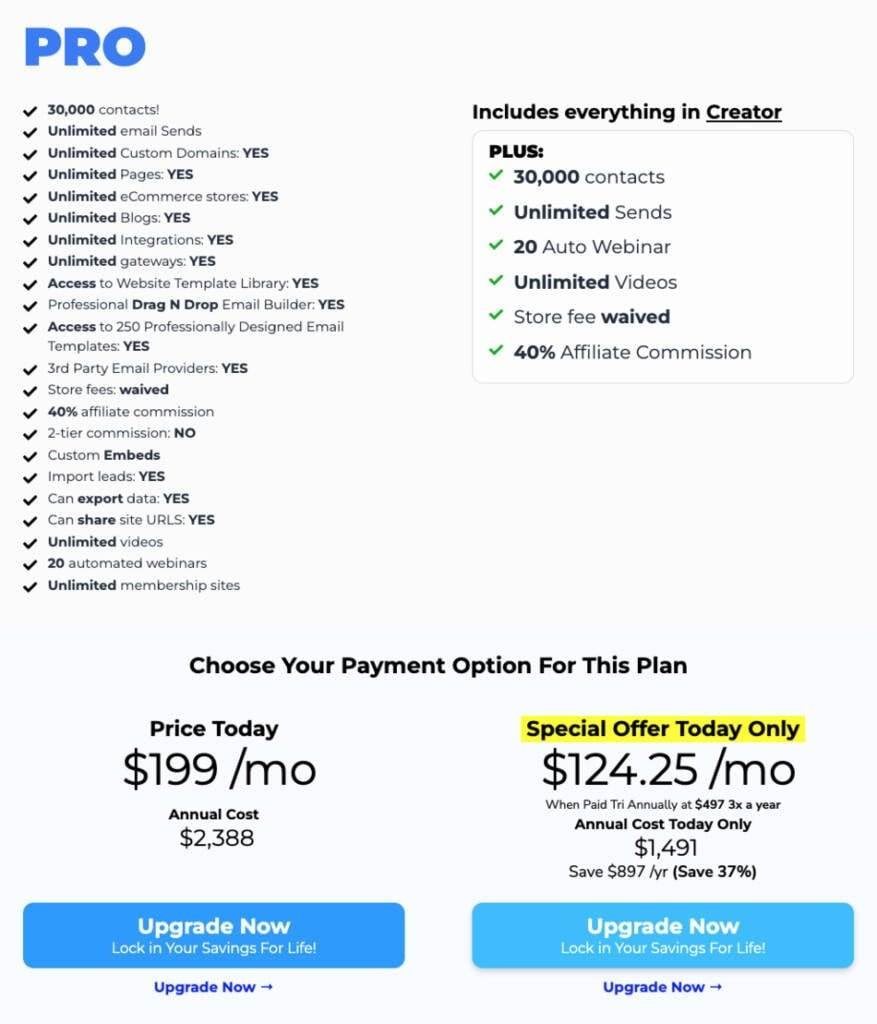 Groove is the best Clickfunnels 2.0 alternative. The price of Groove – LIFETIME is equivalent to a 1-year subscription on Clickfunnels.
Lock in Your Savings for Life Now.
Note: You need to register for a free account and upgrade from your dashboard.
Groove Premium Plan
On the Premium Plan, you get GrooveMail with 50k contacts and can send unlimited emails monthly. As an affiliate marketer, you get 40% off your sale, and then everything is unlimited.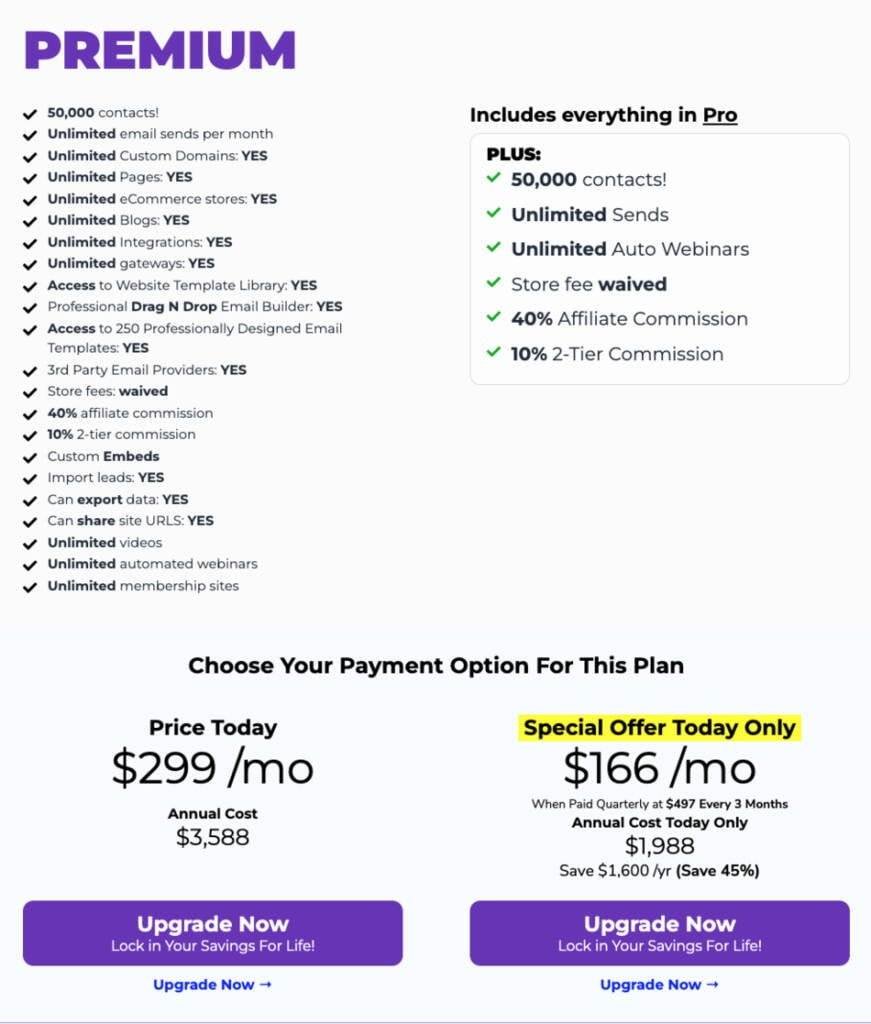 Platinum+ Plan
On the Premium Lifetime, you get the Premium plan plus everything unlimited access to GrooveDesignerPro. One-time payment of $2497 to have a CRM platform for Life.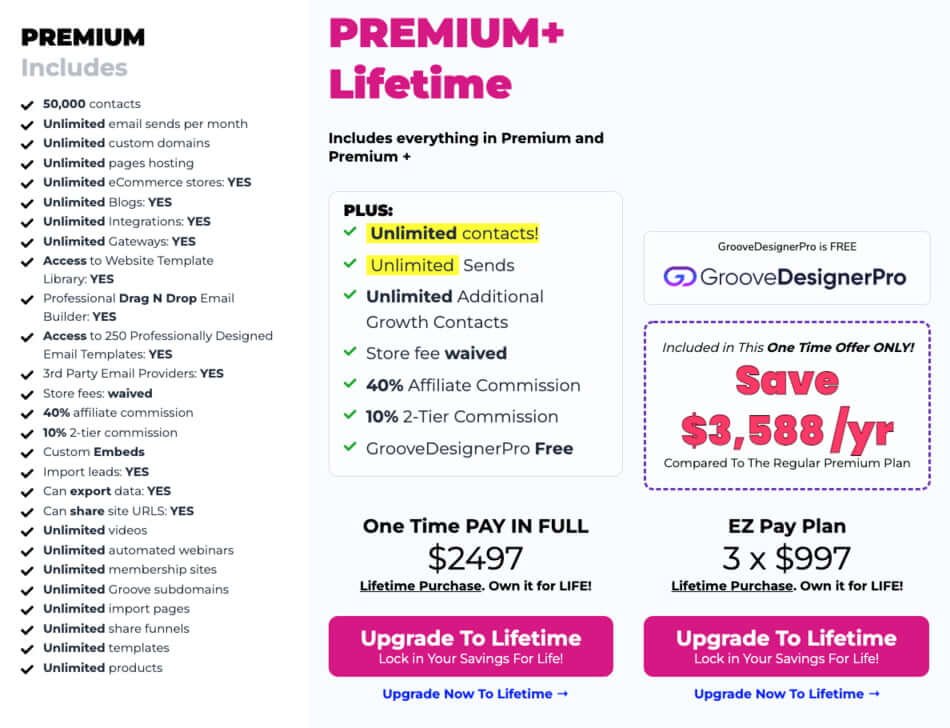 Groove is the best Clickfunnels 2.0 alternative. The price of Groove – LIFETIME is equivalent to a 1-year subscription on Clickfunnels.
Lock in Your Savings for Life Now.
Note: You need to register for a free account and upgrade from your dashboard.
GroovePages Cons:
It doesn't offer any agency license at present Agency will be available in late 2023.
ClickFunnels Pros
Convenient to design funnels
It comes with a big list of integrations
Saves much time by offering flexible edits
Easy access to professional templates
It comes with 14 days trial program
ClickFunnels Cons
The standard monthly plan has limited features and pages
It appears a little complicated to use for beginners
Quite expensive for those who need unlimited funnel options and pages
If hosting fails, all the pages and funnels may go down.
GroovePages Vs. ClickFunnels: Final Verdict
After going through a detailed comparison of these tools, you might have developed a clear understanding of what benefits you can avail yourself of by choosing one over another.
It can help you grow your business without restriction, as GrooveDigital and Clickfunnels offer an extensive set of software tools, almost the same.
Update: Clickfunnels has released the 2.0 version with more or less the same feature as Groove. I create a course where I show you how to use all the new features of Clickfunnels 2.0. You can access it here. If you are new to CRM platforms, I can send you a free video report where I explain everything about Clickfunnels 2.0 (click the image below).
Get Started with Groove (Free Course)
Are you looking to get started with online marketing? If so, our free course for Groove is perfect for you!
Our course features 20 over-the-shoulder videos that will guide you through every process step, from setting up the platform to collecting leads and educating customers.
With our course, you'll learn everything you need to know to succeed with Groove. We cover all the essential topics, including selling products and services, building pages, hosting content, email marketing, and more.
Best of all, our course is entirely free! So by registering to a free account today, you will get your free copy today (the Groove platform automatically delivers the access). With our help, you'll be able to build your online business easily and confidently.
So, if you want to learn how to use the Groove (Groovefunnels) platform to grow your online business or become an affiliate marketer, take advantage of this free course offer. You can start your online marketing journey today by securing your free account.
Don't Let Your Writing Be a Snooze Fest – Wake it up with Groove.ai!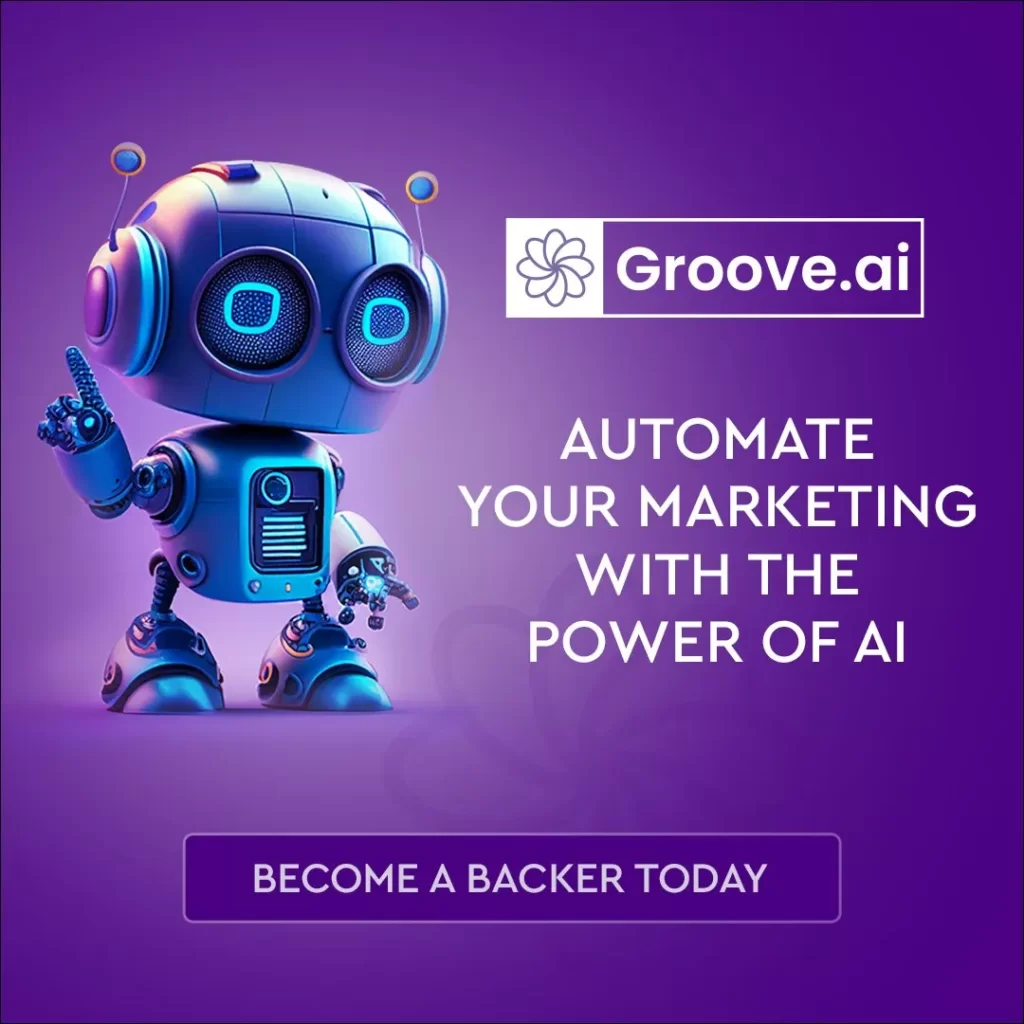 Tired of Boring Copy?
Get Engaging, High-Quality Content in Seconds
Are you tired of writing copy that doesn't engage your audience? Say goodbye to boring copy and hello to Groove.ai – the AI-powered copywriting platform that creates engaging, high-quality content in seconds. Our deep learning technology uses preset prompt engineering to generate copy that is tailored to your unique style and tone of voice, making it easy to produce content that truly represents your brand.
From Blogs to Books, Groove.ai Has You Covered
With Groove.ai, you can create all types of content, from blogs and articles to emails, press releases, website copy, funnel copy, landing pages, social media posts, video scripts, freemiums, reports, mind maps, outlines, process maps, worksheets, workbooks, and even books. Our AI-powered copywriting platform can help you create compelling content that resonates with your audience.
Don't let your writing be a snooze fest – wake it up with Groove.ai. Our platform is easy to use and can help you save time and resources while producing high-quality content that engages your audience. Plus, our wholesale pricing model means you can save thousands per year compared to leading AI companies.
So why wait?
Join the Groove.ai revolution and sign up for our free launch webinar today.
Our experts will walk you through all of the features and benefits of Groove.ai, answer any questions you may have, and provide a special offer for webinar attendees. Transform your content creation process and start seeing real results – register now!
*Disclaimer: Some of the links are affiliate links, meaning, at no additional cost to you, I will earn a commission if you click through and make a purchase. I appreciate your love and support!